Urec is back! And we are committed to keeping our facility safe and clean as we reopen our facility to campus.
Preparing for Your Experience
Welcome back! We are excited to have you back on campus recreating this fall!  To prepare, we ask that you become familiar with some of our updated policies and procedures set in place to provide a safe atmosphere for you. We ask that you schedule your workout times through LibCal. Learn how to use LibCal here.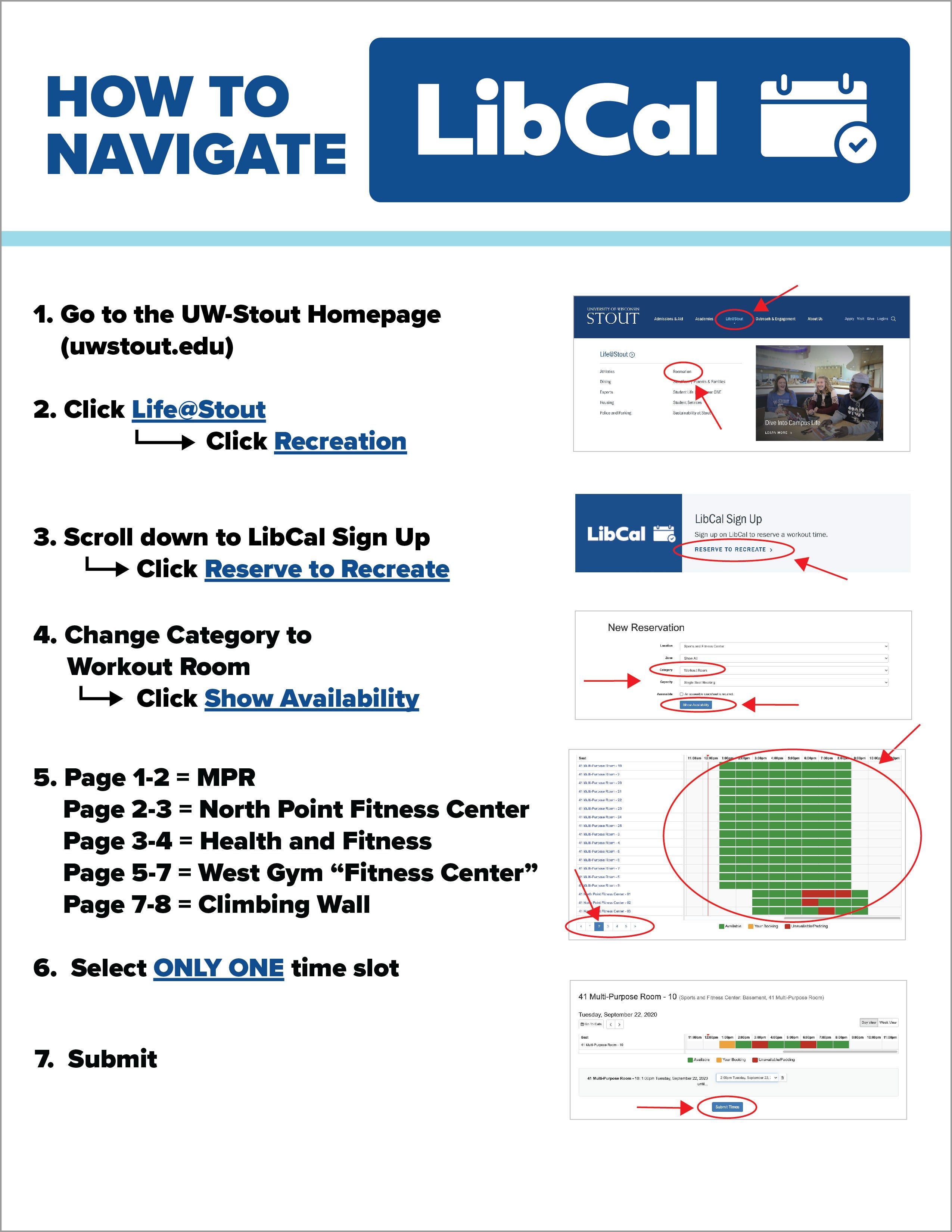 Important Dates & Time Sensitive Info
*All hours are subject to change *
Current Hours and Open Dates
HFC & West Gym

Sat.-Sun. 11am-9pm

Mon.-Thurs. 6am-9pm

Fri. 6am-8pm

North Point

Sat.-Sun. CLOSED

Mon.-Fri. 3pm-10pm

MPR (Multi-Purpose Room)

 

 

Sat.-Sun. 11am-9pm

Mon.-Thurs. 11am-2pm / 7pm-10pm

Fri. 11am-2pm

Climbing Wall

Sun.-Fri. 3pm-9pm

Sat. CLOSED
Phase Two: Re-Opening of Athletic and Urec Facilities
By utilizing UW-Stout Athletic and University Recreation facilities, you understand and agree to the following: 
Reopening in Phase Two of the Athletic and Urec Facilities is scheduled for Sunday, September 6.
During Phase Two, the Health & Fitness Center, the West Gym "Fitness Center", North Point Fitness Center, MPR, Golf Room, Stout Adventures, Intramurals, and Johnson Fieldhouse will be open to students, faculty and staff on a limited and by reservation only. At this time, the facility is not open to community members and retirees, with the exception of Stout Adventures equipment rentals.
No membership fees charged throughout the fall semester for current UW-Stout students.
Entrance to the Sports and Fitness Center will be through the East main entrance across from the outdoor track.
All workout sessions will be limited to one 45-minute time slot per person per day to begin at the top of the hour.
All athletic team locker rooms, general locker rooms, training rooms and classrooms will not be available.
No street shoes permitted in any of the facilities, please observe the "two-shoe policy".
All visitors are required to wear a face covering upon entering and leaving the facility. You must wear a face covering during your workout session.
What's Available During Phase Two
Golf Room - driving range and putting green
Health & Fitness Center -  treadmills, ellipticals, steppers, upright and recumbent bikes, rower, dumbbells (5 through 70#), adjustable benches, jump ropes, squat racks, bench press, preacher curl, selectorized equipment, medicine balls, boxes, kettlebells
Intramurals - limited and altered sport offerings available, please visit IMLeagues for current offerings
Johnson Fieldhouse - one collegiate size court; two people per hoop 
Multi-Purpose Room - 200m track, 4 courts
North Point Fitness Center - treadmills, ellipticals, stepper, bike, rower, dumbbells (5 through 50#), adjustable benches, squat racks, selectorized equipment, medicine balls
Stout Adventures - two 30-foot climbing walls, bouldering wall; outdoor equipment rental; virtual clinics
West Gym "Fitness Center" - treadmills, ellipticals, stepper, upright and recumbent bike, dumbbells (3, 5, 8, 10, 12 and 15#), adjustable benches, Hampton bars; in-person group fitness classes are held in this space
Social Distancing Guidelines
By utilizing University Recreation facilities and operations, you understand and agree to the following: 
Provide 6 feet of distance between you and other participants or staff members
Wash or sanitize your hands before entering and prior to exiting the facility
Limit gathering in common spaces to 10 or fewer people
Participation will require a reserved spot to limit the number of individuals in a space
Workouts will be limited to one-45 minute time slot per person per day. 
All workouts will begin at the top of the reserved hour
Facility Use Guidelines
By utilizing UW-Stout Athletics and University Recreation facilities, you understand and agree to the following: 
All visitors are required to wear a face covering upon entering and leaving the facility. You must wear a face covering during your workout session.

Lifting to be done in a safe/weight appropriate manner as to not require a spotter
All users must clean equipment they touch after each use and place in designated area to be sanitized by staff
No person-to-person contact of any type is permitted
Be courteous and limit your workouts to 45 minutes
No pick-up basketball games will be allowed in Johnson Fieldhouse or MPR
No food or drink can be taken in, with the exception of a water bottle
No open recreation or fitness equipment checkout will take place
Do not leave any personal belongings or clothing in the Sports and Fitness Center facilities. Items will be disposed of at the end of the day
Users are highly encouraged to follow CDC guidelines outside of the facility to mitigate risk of transmission
Operational Changes & FAQ
Changes in Operational Services
North Point Fitness Center will experience limited hours of service to maintain staffing

Participant capacities will be placed on each individual space

A reservation will be needed to participant in some if not all operations

No open recreation or fitness equipment checkout will take place
New Protocols
Reserve a workout time, walk-ins will only be allowed at the top of the hour if a spot is available
New Policies
Workouts will be limited to one-45 minute time slot per person per day; check with the staff as your workout nears it's expiration to see if there are available spots to extend your workout
Cleaning Operations
You can expect an increase in cleaning throughout all facilities

Members will be asked to assist in the cleaning of their own equipment, while staff will disinfect all equipment