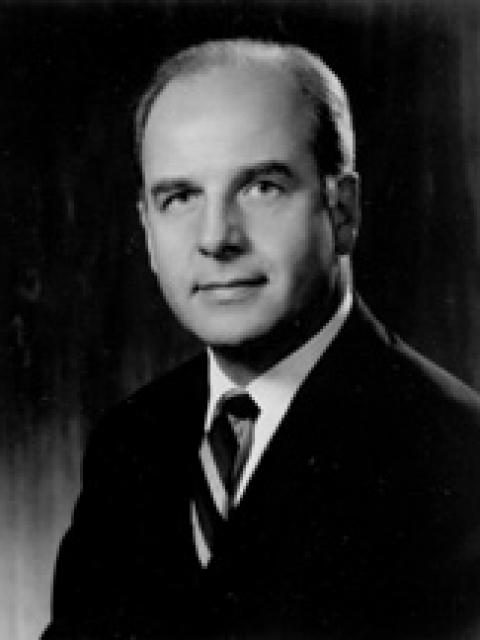 Wisconsin's Proud
Earth Day Roots
50 Years of Earth Day, Thanks to Wisconsin's Gaylord Nelson
This year marks the 50th anniversary of Earth Day, an event founded by Wisconsin's own Gaylord Nelson. Nelson served as Wisconsin's 35th Governor and became nationally known as "the Conservation Governor" for his efforts to protect natural resources and waterways, create environmental jobs, and increase Wisconsin's outdoor recreation infrastructure.
In 1962, Nelson was elected to the United States Senate. Noticing an absence of environmental consciousness at the federal level, he worked for years to push for laws that protected the environment. In spite of a growing public concern about the planet, many of Nelson's arguments were not popular with his fellow lawmakers. But in the late 1960s, Nelson started to urge for a "national day for the environment" and on April 22, 1970, Earth Day was born.
Gaylord Nelson was originally from Clear Lake, Wisconsin, just 41 miles northwest of UW-Stout. Following his time in the U.S. Senate, he continued to fight for our planet. In 1995, he received the Presidential Medal of Freedom in recognition of his work for the environment. As Wisconsinites, we are proud to call him one of our own. 
PBS Wisconsin / Wisconsin Biographies
Social Distance Sustainably
You can be sustainable and #saferathome!
Plan and plant a garden to grow your own food. Use your own yard, a (socially distanced) community garden space, or try container gardening! Growing your own food is a great way to have fresh, healthy food without having to set foot in the store.
Go for a walk or hike! Just be sure to keep 6+ feet apart from people you meet in the outdoors.
DIY! Make some of your most commonly used items with sustainable ingredients like detergent or dish soap.
Take a virtual yoga class or work out at home. Not going to the gym or the yoga studio saves gas, which saves on carbon and money.
Do bodyweight workouts instead of using weights or machines. Try one of the many YouTube yoga classes or workouts.
Cook your own sustainable meals. Use ingredients from local farmers, the local food co-op, or organic and fair trade ingredients. And use smaller pots/pans because they require less energy.
Do the #RunWithRec Virtual Run/Walk. From April 19-25, run or walk 1 mile, 5K, 10K. Register for free with University Recreation!
Learn something new using your LinkedIn Learning account through UW-Stout. There are hundreds of free classes at your disposal, including many sustainability classes or lessons.
Take a bike ride on the Lake Menomin Loop (or any route that suits you)! Make sure your tires are adequately pumped before heading out.
Turn your living room into a movie theater. Watch a movie in the dark with some popcorn. Keeping the lights low or off saves energy. And while you're at it, grab a blanket and turn down the thermostat a bit. You save 1% of your total heating bill for every degree you reduce your thermostat.
Meditate! Take some time to breathe. There are lots of apps to help you get started with meditation, including some with student discounts.