Students learn leadership theory, time management skills, basic Soldier skills, map reading, and many other skills from experienced Army leaders.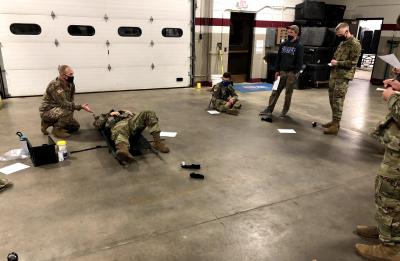 Students also attend a two hour laboratory every week where they apply their classroom experience in a practical environment. These labs are planned and managed by our most talented upperclassmen, under the supervision of faculty. This setup allows the students to learn from their peers and take an active role in their own learning.
Army ROTC Course Requirements
Course
Course Title
Typically Offered
Cr.
MSL-101
Foundations of Officership
Fall
1
MSL-102
Basic Leadership
Spring
1
MSL-201
Individual Leadership Studies
Fall
2
MSL-202
Leadership and Teamwork
Spring
2
MSL-301
Adaptive Team Leadership
Fall
3
MSL-302
Leadership Under Fire
Spring
3
MSL-350
Leader Development and
Assessment Course Field Experience
(Credit for Business Administration Only)
Summer
2
MSL-401
Developing Adaptive Leaders
Fall
3
MSL-402
Leadership in a Complex World
Spring
3
Military Leadership Minor
Our program offers a Military Leadership Minor that any student can pursue without joining the military.
Available Courses | Credits
| | | |
| --- | --- | --- |
| Course | Course Title | Cr. |
| MSL 101 | Introduction to the Army | 1 |
| MSL 102 | Foundations of Agile and Adaptive Leadership | 1 |
| MSL 201 | Leadership and Decision Making | 2 |
| MSL 202 | Army Doctrine and Team Development | 2 |
| MSL 301* | Training Management and the Warfighting Functions | 3 |
| MSL 302* | Applied Leadership in Small Unit Operations | 3 |
| MSL 401* | | 3 |
| MSL 402* | Company Grade Leadership | 3 |
*Enrollment restricted to Contracted Cadets