Being a UW-Stout Career Services partner provides you the benefit of closely collaborating with Career Services to identify your strategic focus for your recruitment at Stout and to build deep connections on campus. As a partner you will secure your recruitment activities with UW-Stout for the upcoming academic year and have increased company branding and visibility on campus and online through additional marketing efforts and networking opportunities.
Current benefits reflect restrictions due to COVID-19. As guidelines change, benefits will be expanded to include on-campus engagement opportunities.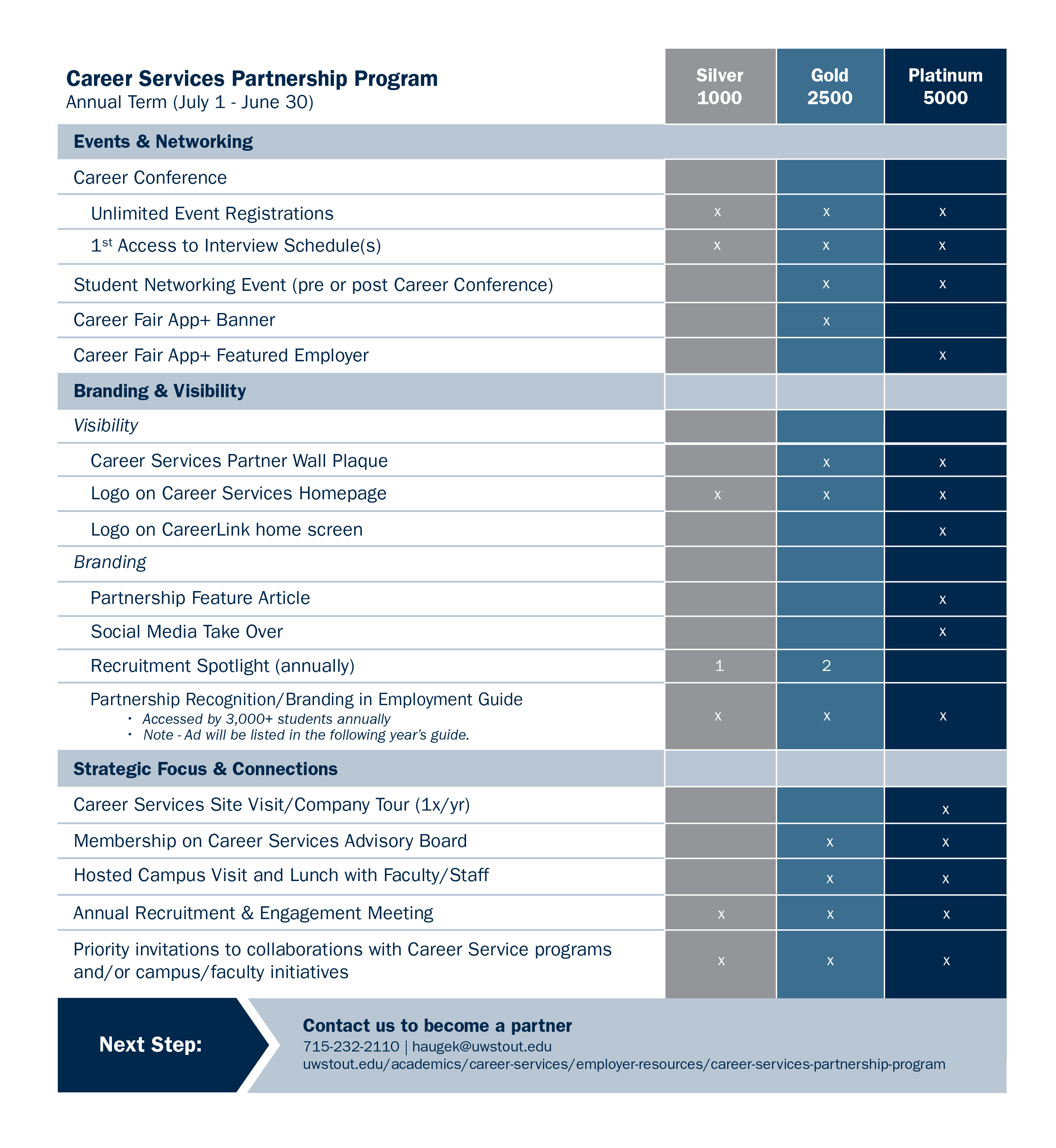 Additional Details
Events & Networking 
Career Conference 
Career Conference. Registration includes access to all  

Interview Schedule(s): Marketing of and support for your post conference interviews

Student Networking Event: A virtual networking event to take place the week prior or after the virtual Career Conference 

Career Fair Plus App Banner: Employer logo/recognition within the Career Fair Plus App that students use (Gold Level). A Banner can be an image of anything of the fair organizer or employer's choosing. 108x404 pixels

Career Fair Plus App Featured Employer: Logo on splash screen, top of the employer list, & highlighted in the employer list (Platinum Level) 
Branding & Visibility 
Visibility 
Partner Wall Plaque:  Company logo, displayed in Career Services office, size/type yet to be determined 
Logo on Career Services Website Homepage: Employer logo to be displayed on the homepage of the Career Services website 

Logo on the CareerLink home screen: Employer logo to be displayed on the student landing page of CareerLink 
Branding 
Partnership Feature Article: Customized article/story that features company details and recruitment successes.     

Social Media Takeover: Take over the Career Services social media accounts for a day (Platinum Level) 
Recruitment Spotlight: Customized approach to a social media post – could be company, intern, job, alumni or event, award or recognition  
Strategic Focus & Connections 
Career Services Site Visit/Company Tour (1x/yr): Virtual visit with Career Services staff and company staff 

Membership on Career Services Advisory Board:  Membership on advisory board; discuss recruiting challenges, student needs, and programming; no voting authority, nor decision making, simply advisory opinions and suggestions; held in spring semester. 
Campus Visit and Lunch with Faculty/Staff: Virtual visit with UW-Stout faculty/staff and company staff 

Annual Recruitment & Engagement Meeting: Touchpoint event for partners to more fully connect to campus.  Receive robust campus updates.   

Priority invitations: Employers in the program will be first to know about/be invited to collaborations with Career Services programs and/or campus/faculty initiatives. 
*Current benefits reflect restrictions due to COVID-19. As guidelines change, benefits will be e