Your voice. Your vote.
Anyone who meets applicable voting requirements is eligible to participate in local, state, and federal elections. The following resources and tools are to help UW-Stout students participate in state and federal elections while enrolled and living in Menomonie, Wisconsin.
Three ways to vote on April 4th, 2023.
Voting at the polls - Polls are open from 7am - 8pm. Find your polling place.
In-person voting by absentee ballot - Contact your municipal clerks office to learn more.
Voting absentee by mail - Request your ballot online or by mail.
> Check out the Absentee Voting Guide for more info!
> Make sure you request your ballot 21 days before a state, local or other election. 
You must be registered to vote in order to participate in the election process!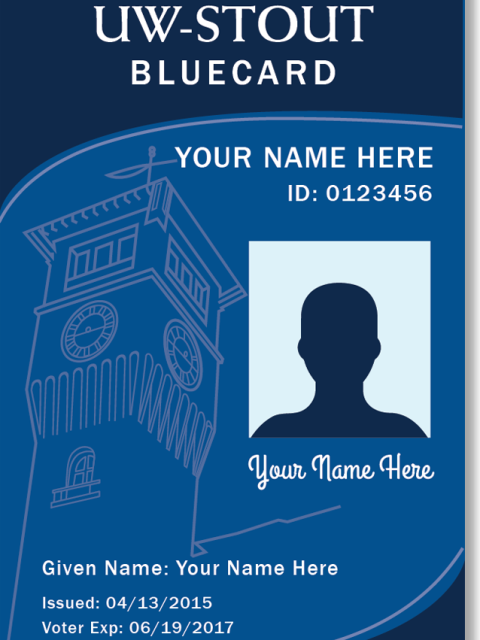 Photo ID Requirements
Wisconsin now requires photo identification when voting. There are many accepted forms of ID including your Stout BlueCard!
For your BlueCard to be accepted, card can be current or expired within 2 years of issue date (expired after 2/20/21) and must be accompanied by a separate document that proves your enrollment at Stout.
Campus Card (110 Price Commons) is open till 8:00pm on election day to help students get an updated BlueCard.
Volunteer as a Poll Worker
Wisconsin is looking for citizens to serve as poll workers for the Tuesday, April 4th primary election. Many veteran poll workers are unable to work the polls so younger citizens are asked to step up.
Send them an email with Poll Worker Applicant in the subject line. Include your contact information and a share why you're interested in volunteering.
To be a poll worker, a person must:
Be a qualified elector of the county in which the municipality is located (i.e., an adult citizen of the United States who has resided in the election district for 10 consecutive days and is not otherwise disqualified to vote)

Be at least 17 years-old

Be able to read and write fluently in the English language

Not be a candidate for any office to be voted on at the polling place at that election
Poll workers do everything from check-in voters, help people register to vote, check photo IDs and process absentee ballots. Local clerks will provide training prior to election day.
Disclaimer: This information is meant to give UW-Stout students basic information needed to vote in Wisconsin. It is not intended to be a comprehensive guide to all voting rules or provide election information of other US states.
For a more comprehensive information on voting in Wisconsin, visit Wisconsin Elections Commission.