Safe Space Training
Safe Space now available online!
Safe Space Training is now available online as a Canvas course. Open to anyone with a uwstout.edu email, simply follow this link to self-enroll in the course: https://uwsto.instructure.com/enroll/M9738W
After completing the course, send your score to LGBTQIA+ Program Coordinator at qube@uwstout.edu to receive your certificate.
Don't have a Stout email? Email Nicole to get registered in our Community Safe Space course.
What is a Safe Space?
A Safe Space is a place in which lesbian, gay, bisexual, transgender, questioning, intersex, and asexual/aromantic (LGBTQIA+) individuals and their allies are affirmed and supported, and where discussions of sexuality and gender issues can occur openly and constructively. The mission of the Safe Space Program is to proactively create a safe campus environment for LGBTQIA+ students, faculty, and staff at the University of Wisconsin-Stout.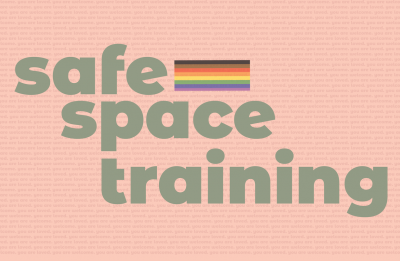 Where on campus can I find Safe Spaces?
Everyone who completes UW-Stout's Safe Space Program receives a Safe Space certificate to display in their office, classroom, or residence hall room. Every time you see the Safe Space certificate, you know allies are close by.
Who should attend Safe Space Training?
Everyone! Whether you've been a long-term ally or you're just learning what an ally is, attending Safe Space Training is a great learning experience. UW-Stout faculty, staff, administrators, students, and community members are all encouraged to attend. If you have attended before, we recommend that people retake Safe Space Training every four years to stay up to date with evolving language and challenges. Even attendees who are LGBTQIA+ may learn new things about the LGBTQIA+ community and other identities within it. (By the way, an ally is simply a person who advocates for and supports LGBTQIA+ individuals.)
Safe Space Training at UW-Stout
Launched in 2001, UW-Stout's Safe Space Program is an Ally training designed to help students, faculty and staff of any sexual orientation or gender identity/expression better support and advocate for LGBTQIA+ individuals. The training is facilitated by the LGBTQIA+ Program Coordinator and includes a student panel whose members share stories of their experiences as LGBTQIA+ and allied people and answer participants' questions. The training is designed to help participants learn how to identify and combat homophobia and heterosexism on the campus, and better familiarize them with the LGBTQIA+ community.
Objectives
The Safe Space Program is designed to help individuals become LGBTQIA+ allies who are aware of and sensitive to the issues, needs, and concerns of the LGBTQ community.

Safe Space Allies:

Understand the damaging effects of homophobia and heterosexism in the university community.

Provide a safe and affirming environment for LGBTQIA+ persons by contributing to an LGBTQIA+-friendly atmosphere and personal relationships based upon respect, fairness, and trust.

May serve as resources of knowledge and information regarding the various needs, concerns and experiences of LGBTQIA+ persons within the university community.

Listen, ask questions, and strive to increase their general knowledge of LGBTQIA+ issues in their daily lives.
Support Groups
The Qube offers several support and discussion groups meeting a wide variety of needs for several different populations on a regular basis.
All groups are drop-in/drop-out with no prior need for registering or signing up, and you may join or leave as you please. All groups are also confidential and feature competent facilitators who can ensure support and guide meaningful discussion and conversation.
Past support groups have included Open Door, QTPOC, and Afternoon T.
To see when our groups meet, check out our events listings on CONNECT.
Inclusive Forms Initiative
Inclusive forms and survey instruments are a win-win proposition at UW-Stout, ensuring that departments, offices and organizations don't inadvertently limit the information received, while contributing to the welcoming and inclusive campus environment we all value. Contact the LGBTQIA+ Program Office for a quick and easy assessment of your forms/instruments, complete with suggestions for simple revisions that will enhance their effectiveness and inclusivity!
Other Services
The Qube offers many additional services. To learn more about them, check out the Qube's full website on CONNECT. For additional information on any of the services provided by the Qube, please contact our staff at qube@uwstout.edu.