Cybersecurity Internship Program through the Wisconsin Fast Forward Grant
Funded by Wisconsin's Department of Workforce Development
UW-Stout received a $298,771 Fast Forward grant designed to provide paid industry internships to UW-Stout students who are seeking to enhance their skills in the field of information technology and cybersecurity.  The official news release from Wisconsin Governor Evers can be found here.
Benefits of the Cybersecurity Internship Program: 
Springboard your professional career, preparing you for your career in cybersecurity and IT
Develop career readiness skills in the workplace while working in professional positions with job duties and projects related to cybersecurity and/or information technology
Create professional connections with regional employers
Student Information
POSITION REQUIREMENTS 
Type of Work: Will vary based on employer needs but all positions will be related to Cybersecurity and/or Information Technology
Wage: Determined by the employer - Average wage $20.00 per hour ($17.00 minimum wage per hour)
Hours per week: Will vary by position (Average 10-20 hours per week)
Duration: Will vary by position, all hours must be completed by 6/30/2024. 
Location: Will vary by employer needs, the position may be on-site, remote, or hybrid
STUDENT ELIGIBILITY 
All UW-Stout students are eligible
STUDENT APPLICATION PROCESS 
Submit a centralized application via Canvas. Your application materials will be reviewed and considered by participating employers.

 

Applications Include: 
Letter of Interest/Cover Letter – Explain interest in this program and define previous IT and Cybersecurity experience.
Resume 
One Professional Reference (Name and Contact Info)
HIRING/SELECTION PROCESS: 
If/when a participating employer is interested, they will reach out to the student(s) and conduct hiring processes in alignment with their organization's policies/practices. Employers will make hiring decisions and notify candidates when selected.
Employer Information
PROGRAM BENEFITS TO OUR EMPLOYER PARTNERS
Bottom line: Intern wages will be reimbursed by the grant. Hiring a cybersecurity intern is an effective way to develop high-quality future employees 
Innovation: UW-Stout's Polytechnic approach allows students to bring innovative ideas, energy, and a fresh perspective to the workplace 
Return on Investment (ROI): Develop a pool of qualified candidates building a pipeline to potential professional employees with an improved employee retention
CYBERSECURITY INTERNSHIP POSITION QUALIFICATIONS:
For the internship position to qualify for this grant program, the following requirements need to be met: 
Position needs to be related to cybersecurity and/or information technology

Hours per week will vary based on employer need, UW-Stout will fund up to 240 hrs. of work. 

​​​​​​​Duration will vary based on employer needs, all reimbursable hours must be completed by June 30, 2024.

Minimum wage of $17.00 per hour is required, UW-Stout will reimburse up to $20.00 per hour 

Employee-Employer Relationship (W-2 Employment)
Get Started:
Program Basics
WHAT MAKES THE CYBERSECURITY INTERNSHIP PROGRAM DIFFERENT? 
UW-Stout has received a Fast Forward Grant from Wisconsin's Department of Workforce Development. This grant will help hosting employers pay the intern's wages. This grant gives employers an opportunity to host a UW-Stout student intern without worrying about finances. 
HOW DO I SEARCH FOR A POSITION? 
Students will not conduct a traditional job search; instead, they will 

apply

with a single application and participating employers will review application materials and contact candidates of interest.
WHERE WILL I BE WORKING? 
Positions may be onsite, hybrid, or remote. 
CAN I ONLY WORK FOR THE PARTICIPATING EMPLOYERS? 
Yes, participating employers have been recruited and vetted to participate in this grant-funded program.
HOW LONG IS THE INTERNSHIP? 
It will vary by company. The grant will fund up to 240 hours of work. Some positions will be short, others will be long. All work must be completed by June 30, 2024. Students should work to understand the position and expectations prior to accepting the job. 
DO I HAVE TO ENROLL IN CREDIT TO PARTICIPATE?
No, students are not required to enroll in credit for this work experience. If a student is interested in seeking credit for this work experience, they will be eligible for UW-Stout's Co-op and Internship Program. To start the course enrollment process for work experience credit, please contact 

coop@uwstout.edu

  (F-1 International students will need to enroll to access CPT)
DO STUDENTS WORK AND TAKE CLASSES AT THE SAME TIME? 
Most students will work part-time and enroll in coursework; hours per week will vary. 
WILL I BE REQUIRED TO PARTICIPATE? 
No, this is a voluntary program. If interested, apply as directed above. This grant will serve 35-40 students during the 2023-2024 academic year. 
DO THE POSITIONS POSTED ON HANDSHAKE QUALIFY FOR THIS PROGRAM? 
No, these grant-funded internship positions are not posted on Handshake. UW-Stout has a select group of employers who have expressed interest in participating in this program. Student application materials will be sent directly to the participating employers for review and consideration. 
WHAT HAPPENS IF I GET OFFERED A JOB I DO NOT LIKE? 
Do not accept the position? Tell the employer thanks but no thanks.
WHAT HAPPENS IF I GET HIRED? 
Congratulations! Your employer will notify UW-Stout. You can also notify Professor Holly Yuan 

yuanh@uwstout.edu

  Decide if you want to earn academic credit for this work experience, if so report your position in the 

Co-op & Internship Portal

to start the enrollment process. Begin to work with your employer to plan your arrival date, and weekly schedule and discuss required training and onboarding etc. 
On The Job
WHAT KIND OF WORK WILL I BE DOING? 
This position will contain actual work experience in the field of cybersecurity. 
WILL I BE PAID? HOW MUCH MONEY WILL I MAKE? 
Yes, students will be paid and receive normal paychecks from the company. Minimum wage is $17.00 per hour.  Your employer will be reimbursed for your wages via the grant. 
WILL I BE ABLE TO TAKE A VACATION/DAYS OFF? 
Be prepared to work the entire position from the start date to the end date. Before accepting the job be sure to ask about the daily schedule, expected start date/end date, and possible days off. If you have a previous commitment (i.e. family wedding) be sure to communicate that scheduling issue upfront so the employer is aware of the issue.
WILL I HAVE A BOSS?
Yes, you will have a supervisor who will ultimately be responsible for you and the work you complete.
WILL I BE THE ONLY INTERN? 
Maybe, some companies hire multiple interns while others may only hire one at a time. If being around other students is important to you, be sure to ask questions during the hiring process.
WHAT DO I DO ABOUT HOUSING? 
If this internship position requires a move, students must plan to avoid conflicts with on-campus or off-campus rental contracts. Housing and living expenses are the responsibility of the student. Some employers assist with locating housing and/or housing/relocation expenses. Issues with UW-Stout housing contracts should be discussed with the Housing Office at 170 Price Commons or at 

housing@uwstout.edu

 / 715-232-1121
WHO DO I CONTACT AT UW-STOUT IF I NEED HELP DURING MY WORK EXPERIENCE?
Professor Holly Yuan oversees this grant-funded internship program.
Basic Questions
HOW MUCH PAPERWORK IS INVOLVED WITH HOSTING AN INTERN? 
UW-Stout strives to keep the paperwork minimal for our employers. Employers will need to complete:
WHAT ARE THE BASIC EXPECTATIONS OF EMPLOYERS DURING THE WORK EXPERIENCE? 
Supervision: Students are expected to gain practical experience in their field of cybersecurity and/or information technology and should have a supervisor who has expertise in the same or similar field.

Location: Students can work on-site, hybrid or remote.

Technology/Equipment: Employers are required to provide any technology/software/equipment the student will need to perform their job.

Invoice: Provide monthly proof of payment from a payroll ledger (i.e. timesheet, proof of payment, hourly rate per student)
WHAT ARE THE RESPONSIBILITIES OF THE SITE SUPERVISOR (STUDENTS' SUPERVISOR)? 
Foster the development of practical cybersecurity and/or information technology experience for students, ensuring that the internship program offers a "real-world" learning environment.

Provide onboarding and training for the students.

Provide meaningful work assignments in the areas of cybersecurity and/or information technology

Communicate with your student regarding work schedules, supervision, safety regulations, appearance, personnel policies, and other procedures.

Employ the student during the period agreed upon with the student.

Provide a safe work environment free of discrimination and harassment.

Provide ongoing guidance and support to the intern throughout the duration of the work experience.

Inform UW-Stout of any performance problems or work-related injury concerning the student so possible adjustments can be made. Call Holly Yuan (715) 232-1697 ASAP
WHAT ABOUT SALARY AND BENEFITS? 
Wages will vary by company and position. A minimum wage of $17.00 per hour is required, UW-Stout will reimburse up to $20.00 per hour

Benefits will vary by company. In most cases, positions will be part-time in nature so students will most likely not be eligible for benefits 
DOES THE EMPLOYER PROVIDE HOUSING? 
Housing arrangements are the responsibility of the student. Employers provide assistance as a perk/benefit on occasion. 
Employment Details
HOW DO I RECRUIT & HIRE A STUDENT? 
Students will complete a centralized application (letter of interest, cover letter, professional reference). Interested employers will receive all application materials for review, and conduct hiring in accordance with your company's individual hiring processes/procedures. Upon hire, complete the 

Cybersecurity Internship Student Hired Form

 
CAN I HIRE MORE THAN ONE INTERN?
Yes, we encourage you to hire multiple interns as we believe our students generally learn a lot from their peers and feel comfortable working in a group.
CAN THE STUDENT WORK FULL-TIME?
Yes, as your employee, the student can work full-time but the grant will only reimburse 240 hours of work. All reimbursable hours must be completed by 6/30/2024. If your student is working full-time, they may want to consider enrolling in the UW-Stout Co-op and Internship Program to maintain full-time student status. 
CAN THE STUDENT WORK PART-TIME?
Yes, as your employee, the student can work part-time, the grant will reimburse 240 hours of work. All reimbursable hours must be completed by 6/30/2024. Many students will be enrolled in coursework; part-time may be a perfect fit. 
CAN START-UP COMPANIES PARTICIPATE? 
Yes!  A legitimate employer partner, including a start-up/entrepreneurial, is defined as an operating business that has progressed sufficiently in its business development process so that it can provide:

Business Name & Address

Company website or verifiable web presence

Identify a key contact w/ e-mail address

Federal Employer Identification Number (EIN) and State EIN (when required by the State)

Proper Licenses and Permits to operate (local and state level)

Provide supervision of student(s) by a professional with experience
CAN I HIRE AN INTERNATIONAL STUDENT? 
Yes, International Students are eligible for the Cybersecurity Internship Program 

Degree-seeking international students with an F-1 Visa status are eligible for this program if they enroll in UW-Stout's Co-op & Internship program. The Office of International Education (OIE) at the University of Wisconsin-Stout has been granted authorization by the Department of Homeland Security (DHS) to issue Curricular Practical Training (CPT) for students in F-1 status. International student employees hired by an employer will provide CPT, I-20 documentation stating their eligibility for the approved work period. CPT authorizations are location and date-specific. These students are not required to obtain additional or separate work authorization. International Reform and Control Act requirements apply when hiring international students. For more information, please refer to General Resources I-9 Central available at 

https://www.irs

. gov/individuals/students/students-page-foreign-students

Non-degree-seeking students in J-1 status may work in the U.S. if the academic training is related to the course of study. Academic training is limited to part-time when attending classes. Documents to be filed with the employer include a copy of the passport, I-94, and, DS-2019
WILL STUDENTS BE EARNING ACADEMIC CREDIT FOR THIS WORK EXPERIENCE?
Maybe. Students will not be required to enroll in credit at UW-Stout; however, these students will be eligible for UW-Stout's Cooperative Education & Internship program so some students may choose to enroll and earn credit for this work experience. Learn more about UW-Stout's Co-op & Internship program 

here
Department of Defense Cyber Scholarship Program (DoD CySP)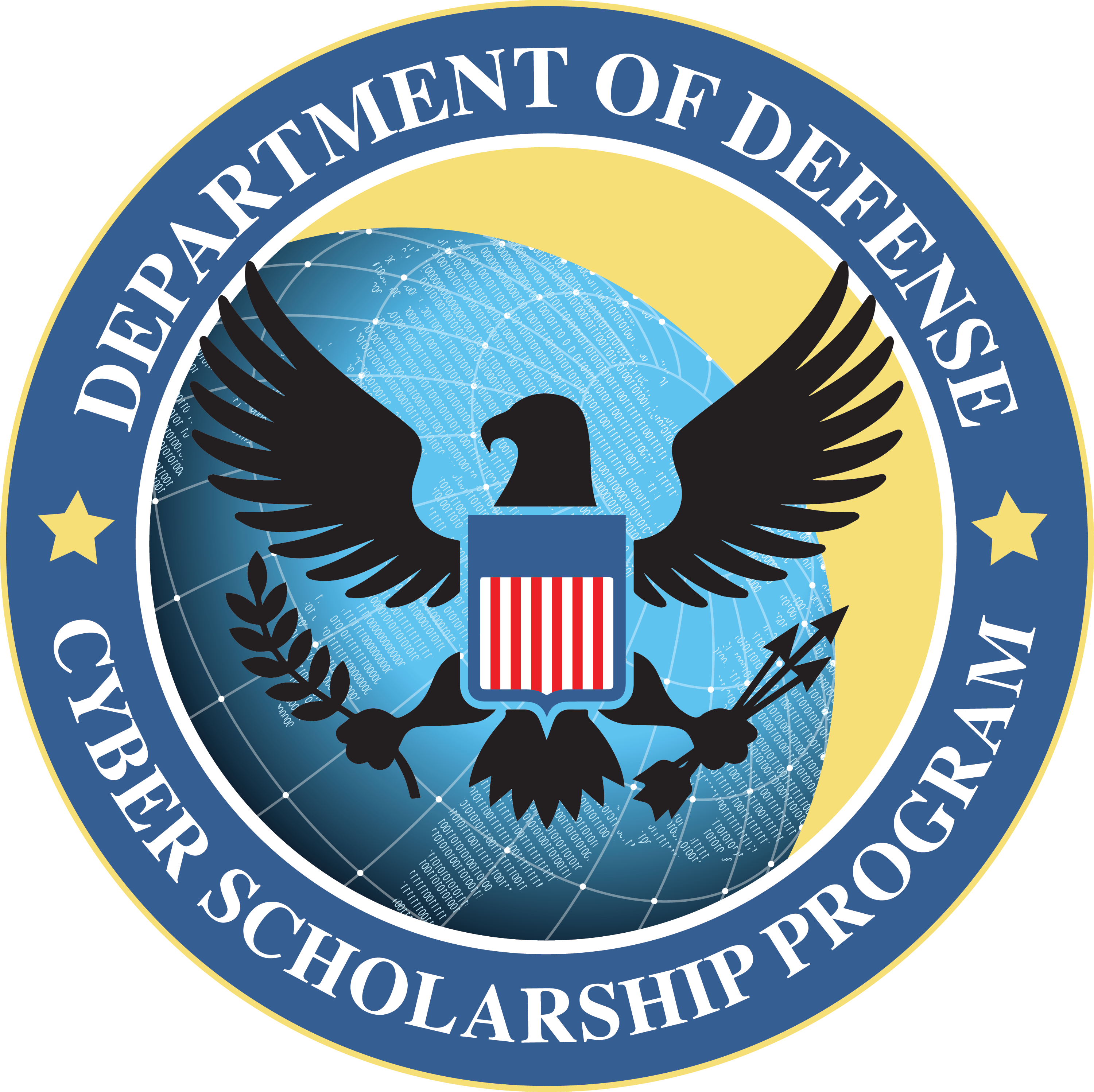 Do you want to pursue a challenging and interesting profession in Cybersecurity?
Do you want to work for the Department of Defense and help defend our nation's cyberspace?
Do you want to have your education paid for?
The University of Wisconsin-Stout, a designated National Center of Academic Excellence in Cybersecurity (NCAE-C), will participate in the Department of Defense Cyber Scholarship Program in 2022.  We had a record of success of helping our students get this scholarship in the past.
Scholarship Benefits
An undergraduate student will be paid a stipend of $27,000 per academic year (BS degree) and a graduate student will be paid a stipend of $32,000 per academic year (MS/Ph.D. degree).
The scholarship will pay for full cost of tuition, required fees, books, and a stipend to cover room and board.
The DoD will also provide sponsors who will maintain contact with the student during the scholarship period, and who will facilitate the student's entry into internships and eventual DoD employment.
The application is open to all students at UW-Stout who have declared a major in a cyber-related academic discipline, including but not limited to: BS-AMCS, BS-CEE, BS-CNIT, BS-CS, BS-Cybersecurity, BS-ICT, MS-IAM, and MS-ICT.
View the New Student Application
Download the CySP Resume Template
The next application round will be due February 1, 2023.
If you have any questions please contact Dr. Holly Yuan via email at yuanh@uwstout.edu
Cybersecurity News & Other Opportunities
---
Trending Cybersecurity News
In the rapidly evolving digital age, the threat landscape continually changes, making it crucial for businesses and individuals alike to remain updated with the latest cybersecurity news. Staying informed about external cybersecurity news is more than just a good-to-know; it's a matter of operational survival. 
Follow Trending Cybersecurity News 
Free Cybersecurity Training
There are many resources available for free for people to learn the foundations of cybersecurity. The SANS Institute is one of the most trusted sources for cybersecurity training and resources, and they have many resources available for free. Click the link below to explore these resources.
SANS Free Cyber Security Training
Cybersecurity Activities & Competitions
There are many different cybersecurity activities and competitions that students can participate in both before and during college. Below are some resources for some popular activities.
Cyber Clubs @ UW - Stout
Women in IT & Security (WITS) Club
Empowering the next generation of female leaders in IT and security, our club offers: 
Direct collaboration with mentors in the IT and cybersecurity field.

 

Solid networking and support among fellow club members.

 

Hands-on projects spanning IT & cybersecurity.

 

Community outreach initiatives.

 

Unique opportunities to forge connections with local industries.

 
Upcoming activities include hosting professional speakers, student-led projects beyond the curriculum, fundraising events, and attending both national and local conferences, such as WiCyS. 
Join WITS to expand your network and deepen your understanding of IT & cybersecurity. Everyone is warmly welcomed. 
For further details or inquiries, reach out to our advisor:  
Collegiate Cyber Defense League (CCDL)
Embark on a cybersecurity journey with CCDL. Our mission includes: 
Providing students with hands-on experiences in the realm of cybersecurity.

 

Teaming up with the Blue Devil Team to refine skills in both cyber defense and offense.

 

Building connections within the IT & Cybersecurity Industry.

 

Participating in some of the most fun and challenging cybersecurity competitions, including the Collegiate Cyber Defense Competition, NCAE Cyber Game, Hacking the Building, and more.

 
Join the UW-Stout Blue Devil CCDL Cybersecurity Club to fortify your network and deepen your understanding of cybersecurity. We welcome enthusiasts of all experience levels. 
For more details or questions, connect with:  
UW-Stout Blue Devil CCDL Team
In the past four years, the UW-Stout Blue Devil CCDL Team has made impressive achievements: 
Triumphing in 3 of the 4 Wisconsin Collegiate Cyber Defense Competitions.

 

Maintaining a consistent rank within the top 4 teams, when competing against formidable state-champion teams from states such as Illinois, Iowa, Kentucky, Michigan, Minnesota, Missouri, Ohio, and Indiana, in the regional CCDC competitions. 

 
Whether you're just starting out or are a cybersecurity expert, joining our team offers unparalleled opportunities to network, hone your cybersecurity skills, and compete against the nation's best in competition.