Student Health Services provided by Prevea Health: 
Located on North Campus 103 1st Ave W; the bus stops here on request and there is patient parking at the building.  
Most services including office visits, labs, immunizations (including flu shots), and TB tests are covered by the fees students pay.
Hours are M-F 8am - 4:30pm during the Fall and Spring Semesters.  Summer and break hours are Monday, Wednesday, Friday 8am -3:30pm.  When Student Health is closed students can be seen for basic urgent care services at the Prevea locations in Menomonie, Altoona, Chippewa Falls, and Rice Lake by showing their student ID.
Appointments can be scheduled at the Student Health Website or by calling 7152321314.  
Medical Records Prior to January 1, 2022
For Student Health Services records prior to January 1, 2022 use this medical release of information and fax to 71523232103.  Questions may be directed to the Student Health Promotions Manager at 7152322114.  
Student Health Services Advisory Committee
The Student Health Advisory Board (SHS) compromised of staff and students from the University of Wisconsin-Stout and designated Prevea Health employees, serves to identify and offer feedback and suggestions as it relates to the delivery of student health services on the UW-Stout campus. The group is convened by the Student Health Promotions Manager.  UW-Stout has the following areas as representatives to the Student Health Advisory Board:
Dean of Students Office Representative – Appointed by Dean of Students

Athletics Representative – Appointed by Athletics

Housing – Appointed by Dean of Students

LGBTQIA+ Program Coordinator – Appointed by Dean of Students

Wellness Pro/Peer Health Educator Student Representative

Counseling Center – Appointed by Counseling Center Director

Student Representatives (2) – Appointed by Stout Student Association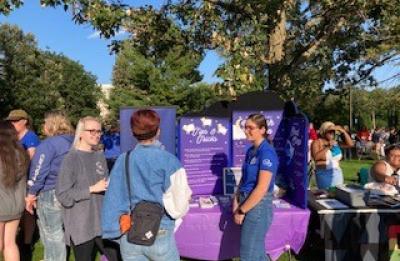 Wellness Peers Reaching Out (PROs)
The Wellnes PROs are a group of undergraduate students with a passion for sharing information health and mental health on campus.  You will find them tabling in the MSC or Price Commons, conducting house calls in the residence halls, and participating in large scale health and wellness events on campus.  In addition they present programs for students on the following topics: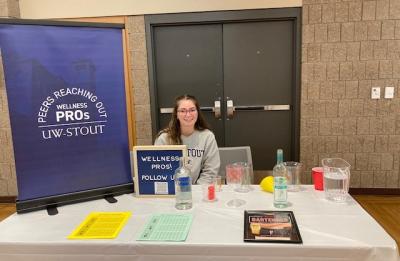 Time Management
Healthy Relationships
RELAX 
Milk, Cookies, and Condoms
Master Bartender
Test Anxiety
If you have an idea for a program topic for the PROs, please submit here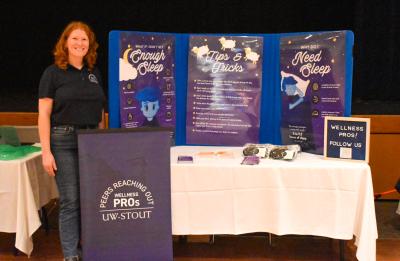 Campus Wellness Events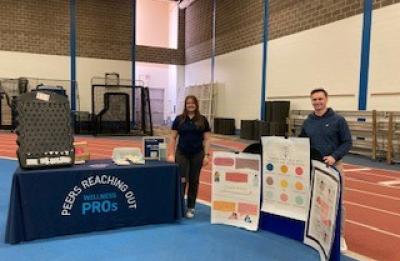 Many wellness events happen on campus each year.  Examples include:
Check Up (Mental Health resources and screening)
Fireside and Chill
Wellness Fair
Sexual Health Carnival 
Fresh Check (Mental Health and Suicide Prevention)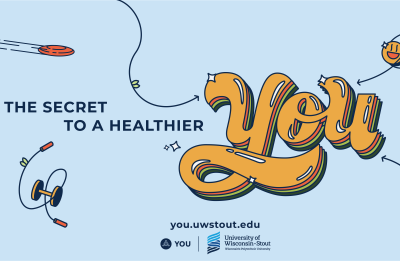 you.uwstout.edu is a self-help and well being platform.  YOU helps students navigate life and campus on their terms with independent goal setting, skill building, links to campus resources, and evidence based content on well-being topics.  
Testing
Students are encouraged to bring home antigen tests with them to campus.  
COVID-19 test kits are available through University Housing for residential studens and to off-campus students and employees in the Dean of Students office 130 Bowman Hall.  .
Vaccination
Walgreens Online Scheduling
Mayo Clinic Health System Red Cedar appointments 7152355531
Prevea Health appointments 7153094451
Medicine Shoppe Pharmacy Walk In 
Dunn County Health Department 7152322388 Have vaccine appointments only for those with no health insurance or insurance that will not cover vaccine.  
COVID Treatment Resources
The Wisconsin Department of Health Services as launched a statewide COVID-19 treatment telehealth service.  Anyone 18 and older with mild to moderate COVID-19 who is at risk for disease progression can use free consultation and prescription telehealth service to increase access to COVID-19 antiviral treatments.  
Masking
There is no campus masking requirement.  No one should face repercussions for their personal decision to mask or not mask.  UW Stout will continue to provide well-fitting masks to student and employees who request them using the PPE Requisition Form.