Investing in Our Students & Wisconsin's Workforce
Fully Funded by the State of Wisconsin
Recognizing the pivotal role Heritage Hall will play in addressing Wisconsin's workforce needs in hospitality and tourism, mental health and wellness, child care, education and manufacturing industries, our Heritage Hall Renovation Project has been fully funded by the State of Wisconsin. Once completed, the project will help UW-Stout, Wisconsin's only Polytechnic University, to build on its already unmatched graduate employment rates and enhance UW-Stout's contributions to Wisconsin's economy, its taxpayers, and our students.
Project Highlights
Renewed Heritage Hall's applied learning and research spaces;
Expanded development of career-focused degrees, certificate programs, and market-driven professional development offerings; and
Enhanced business and industry collaborations.
Updated Construction Timeline
The project's design is currently being finalized with bid for construction planned for Fall 2024. Construction on Heritage Hall will begin in 2025. Once completed, the project's second phase, demolition of more than 30,000 sq.ft. of the current Vocational Rehabilitation Building will begin.
$13.5M in Private Support for the Heritage Hall Renovation Project
Renovation Project Details
Based on the analysis of multiple options by the Core Team, the following renovation of Heritage Hall is proposed.

 
 

Overview

Major renovation of the existing building with two small additions. Highlights include the following:

Major demolition of interior partitions – clean slate renovation offering maximum flexibility for new spaces.
Demolition of the 1954 portion of Vocational Rehabilitation.
MEP Systems would be completely replaced.
New fire sprinkler protection system would be provided.
New roof would replace existing 23-year-old roof.
New code compliant and accessible restrooms with increased fixture counts and the addition of single use restrooms.
Existing windows and entrances replaced with new higher performing window and entrance systems.
Increased daylighting by adding new higher performing exterior windows.
Program locations and adjacencies improved throughout the building.
The north entrance with a new prominent canopy will become an inviting, comfortable, easily accessible entrance that draws in the greater community coming to the campus for clinical services.

Specifications

Square Feet: Existing Building = 133,383 GSF
Existing building demolition = 31,390 SF
New Additions = 10,000 GSF

Total Project Cost: $138.9M

Heritage Hall Renovation & Addition Brief

An independent 2020 feasibility study by HGA Architects evaluated the building's components. 
Implementation Plan Summary
This UW-Stout Heritage Hall Feasibility Study establishes a program, test-to-fit concept design, and budget for a renovated facility. This study will be used by the State of Wisconsin DFDM, UW System Administration (UWSA), and UW-Stout to determine the timing, funding, and next steps for this project. The project will require all State, UW System, and UW-Stout approvals and funding in order to move forward.
Phasing
Due to the significant extent of the renovations, including full systems replacement, this project is anticipated to be completed in a single phase. The demolition of the original 1954 Vocational Rehabilitation building will be a part of this project and could be completed near the end of the Heritage Hall renovation to allow its programs to move into the renovated Heritage Hall building.
The oldest set of dormitories on campus are currently being used as office and classroom swing space and could be available to serve this project during the renovation. The project does include some specialty labs that may require maintaining functionality during renovation/construction or the use of modular units.
Construction Schedule
The duration of construction time for demolition and minor exterior renovation of the Vocational Rehabilitation building, renovation, systems replacement, and addition work to Heritage Hall is estimated to be 18-24 months.
Challenges & Opportunities
Some of the major project considerations include:
Site: Significant changes in grade from the north to the south which contributes to the limited exposure to exterior windows and daylighting within the building. Any renovation will want to include improvement to this current condition.
Building Access: At present there are multiple points of entry to the building which will require improvements to their access and visibility. The final solution must provide better caretaker access for the Infant/Toddler program. At present access for caretakers dropping off children to this program is on the east side of the building adjacent to the existing surface parking lot. The current condition provides no rain cover at the entry and requires caretakers to navigate stairs with the children.
SF Opportunities: The program has identified a GSF need of approximately 112,000-115,000 GSF for the EHHHS programs that are anticipated to inhabit Heritage Hall. The existing building currently contains approximately 133,000 SF. This provides an opportunity to increase the percentage of collaboration space for students, provide flexibility/growth for the future, or provide additional programs or other departmental UW-Stout spaces to come to the building.
Condition of Existing Systems: As described in the Existing Conditions Assessment Report, the existing MEP Systems are original to the building and at the very end of their life. Since the project/renovation is not anticipated to come online until 2026 (at the earliest), some maintenance or repair costs will likely need to be allocated over the next several years to keep these systems functioning.
Temporary swing space for the programs currently in Heritage Hall will need to be located on campus for the duration of the renovation.
Existing Conditions & Recommendations
While 2,000+ UW-Stout students pass through Heritage Hall each year, the near 50-year-old building was given a failing grade in nearly every category by a 2020 independent feasibility study conducted by HGA Architects. The building remains structurally sound, but Stout students prepare for careers serving the people of Wisconsin in a building no longer up to the task. Most of the building systems are original and either obsolete and difficult to repair or near the end of their life. With the project/renovation not anticipated to come online until 2026 (at the earliest), some maintenance or repair costs will likely need to be allocated over the next several years to keep these systems functioning.
Primary Deficiencies
Inadequate insulation, code and ADA issues, few windows, existing glazing and roof at end of life, spaces no longer satisfy functional requirements
Concrete structural framing in good condition, but with low floor to floor heights (12'-8")
HVAC equipment and controls are all past life expectancy and require replacement
Primary service, generator and fire alarm are all past life expectancy and require replacement
All plumbing piping must be replaced - dead end pipes bring risk for contamination, the building lacks a fire protection system
Summary of Existing Conditions
Summary of Existing Conditions
Most mechanical, electrical and plumbing engineering (MEP) systems are original to the building and past life expectancy. Following is a summary of the major recommendations for building components and system replacements or repairs.

Building Component Recommendations

Replace glass window and entrance systems
Add additional glazing to the building façade
Replace roof and add additional insulation
Minor tuck-pointing and control joint repair
Replace non-compliant restrooms
Replace elevators
New stair guardrails
Replace interior finishes

Plumbing Systems Recommendations:

Replace sanitary waste system
Replace domestic hot water system
Replace grease interceptor
New fire pump and full sprinkler system

Electrical / Fire Alarm Systems Recommendations:

Replace primary, secondary and switchboard system
Replace feeders, panel boards and distribution
Replace emergency generator
Replace lighting and lighting control systems

Mechanical System Recommendations:

Replace HVAC System (variable air volume system)
Replace distributed AHUs
New Central outdoor air intake shaft to roof
Replace campus chilled water distribution
New zone level VAV box reheat coils
Replace controls systems
Summary of Utilities Serving the Building
The existing campus steam, chilled water pipe, and service size is adequate to accommodate a major building renovation or new building construction. The existing medium voltage and primary electric feeder size is adequate to accommodate a major building renovation, however it is recommended that the primary electric feeder serving the building be replaced due to it's age and because the service feed is shared with two additional buildings.
The existing MEP systems are original and at the end of their life expectancy. Even if no architectural renovation of Heritage Hall were to be under-taken the MEP systems within the building are in dire condition and there is no question that these systems will require replacement, likely in the coming 3-10 years.
Industries & Academic Programs Enhanced by the Heritage Hall Renovation Project
History of Heritage Hall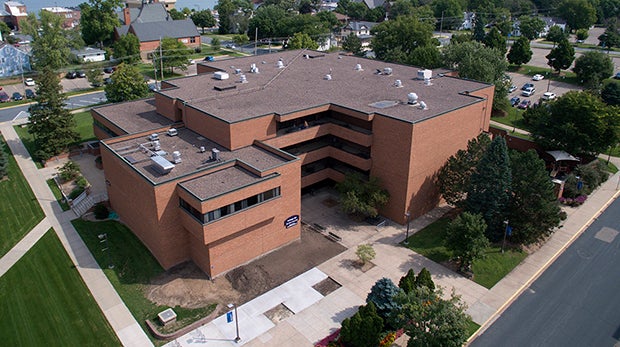 Constructed in the early 1970s as an academic facility for home economics instruction, Heritage Hall was built at the end of the Mid-Century Modern period and features a concrete structural frame and brick façade. Its design also reflects the beginning of the energy crisis of the 1970s when building glazing was reduced to save on heating and cooling costs. As a result, Heritage Hall has minimal windows (only 11% of the façade is glazing) with almost all classrooms and offices having no access to daylight.
Heritage Hall's exterior envelope includes a palette of face brick, medium bronze aluminum framed entrances and windows, cast-in-place concrete retaining walls, Portland cement soffits, a ballasted EPDM roof and copper roof coping. The building has undergone several renovations since the initial construction; however, the building's exterior character remains intact and still represents the original building design. Most of the exterior building elements are original to the building.

Functionality of the approximately 133,000 sq. ft., four-story building has changed over the decades as programs evolved, class sizes grew and teaching methodology changed. The building currently includes 17 general assignment classrooms, 95 faculty and staff offices, and 35 classrooms and research laboratories, in addition to 2 laboratory dining facilities—the Weidner Center and an Infant/Toddler Lab.