UW-Stout's Bachelor of Science degree in Rehabilitation Services (formerly Vocational Rehabilitation) prepares you for a rewarding career where you'll identify, provide or coordinate services for people with disabilities. If you are interested in human services related to counseling, psychiatric rehabilitation, social work or substance abuse, our program may be the right fit for you.
Graduates of the B.S. Rehabilitation Services program have excellent job prospects, both in the number of openings and in the diversity of positions available.

/

UW-Stout
The program is dedicated to promoting your academic and career success, self-growth and leadership development. As part of your educational experiences, you'll learn about the many types of services provided to clients.
We offer:
Hands-on learning in the classroom and through two practicums providing services in the community
An experienced faculty and a national reputation for preparing graduates to work effectively with older adults and people with disabilities
Networking with community agencies
Affiliation and collaboration with the Stout Vocational Rehabilitation Institute
100% employment rate
Concentrations:
Individualized: Focuses on the student's area of interest, ie. Physical Therapy or Occupational Therapy.
Faculty are highly skilled, caring individuals. They are committed to providing quality education, giving personal attention to students, and to helping students develop personal and professional skills that help them best serve their clients.
100% of Our Graduates are Employed or Continuing Education
Two practicum experiences are required for graduation. A carefully planned sequence of experiential learning is integrated into the major beginning with an introductory pre-practicum course. The first community-based experience will develop skills and understanding of careers working with persons with disabilities and the final applied experience is developed to enhance the chosen area of concentration.
"UW-Stout was truly my second home. I could not say enough wonderful things about my program and the professors I worked with. Professionally and personally this was one of the best experiences of my life and the growth I have experienced has been tremendous!"
-- Alexa DeMoe

B.S. Rehabilitation

M.S. Clinical Mental Health Counseling
Use the Request Information form to receive a program summary and learn more about the Bachelor of Science degree in Rehabilitation Services.
Vocational Evaluation Laboratory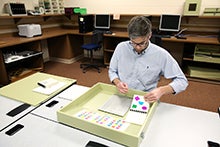 The Vocational Evaluation laboratory located in the Vocational Rehabilitation building includes current assessment systems designed to help the rehabilitation professional identify the potential of individuals with disabilities. Computers, assessment software, situational assessment and work samples are utilized.
Objectives & Outcomes
The Department of Rehabilitation and Counseling provides academic and experiential coursework leading to a Bachelor of Science Degree in Rehabilitation Services. The mission of the B.S. in Rehabilitation Services program is twofold: first, to prepare men and women for careers as specialists in a variety of rehabilitation settings. A second objective is to provide a comprehensive broad-­‐based education for those persons wishing to pursue advanced professional study in rehabilitation. All students enrolled in the B.S. in Rehabilitation Services program must also complete a concentration, specialization, or minor as a requirement of the program.
Program Objectives
There are three basic broad objectives of the B.S. in Rehabilitation Services:
Students will have a thorough understanding of the "Foundations of Rehabilitation," which includes philosophy, values, and professional ethics.
Students will have a comprehensive understanding of people and disabilities as they relate to rehabilitation.
Students will understand and demonstrate professional behaviors in the application of the rehabilitation process as it applies to persons with disabilities or who are disadvantaged.
Expected Objectives Upon Graduation
Understand the underlying philosophy of rehabilitation in America.
Recognize the historical significance of legislation in the development and evolution of the vocational rehabilitation movement.
Demonstrate an understanding of the rehabilitation process.
Examine the medical, psychological, social, behavioral, and vocational implications of disability.
Demonstrate knowledge of the importance of planning in the rehabilitation process.
Evaluate community agencies and resources devoted to helping persons with disabilities through vocational rehabilitation and independent living services.
Demonstrate skill in communicating professionally and effectively with clients, referral personnel, colleague, and representatives of rehabilitation resources.
Recognize the needs of the diverse client population.
Discuss the family's impact on the client and the rehabilitation process.
Identify the ethical and professional responsibilities of rehabilitation professionals.
Understand the importance of advocacy and improvement in the rehabilitation process.
Examine the current and future role and functions of rehabilitation professionals.
Career Opportunities
Graduates of the program have excellent job prospects, both in the number of openings and in the diversity of positions available. Salaries have shown a steady increase over the past several years. Three-year follow-up studies show steady advancement and salary increases.
The Rehabilitation Services program prepares you for dynamic careers in the human services field. You'll select coursework that will prepare you for positions such as:
Case Manager
Work Experience Coordinator
Behavioral Specialist
Job Placement Specialist/Employment Counselor
Rehabilitation Specialist or Technologist
Independent Living Coordinator
Case Manager/Social Worker
Residential Counselor
Community-Based Specialist
Activities Program Director
UW-Stout Graduates at Work
Behaviorist Counselor
Supported Employment Program, Eau Claire, Wis.

Job Placement Specialist
Eau Claire Job Center

Residential Counselor
at Correctional Program in Wittenburg, Wis.

Disability Case Manager
Private Rehabilitation Center, Madison, Wis.

Vocational Specialist/Social Worker
Mental Health Center, Baraboo, Wis.

Counselor
Opportunity Partners, St. Paul

Manager of Residential Services
Lutheran Social Services

Jail Program Coordinator
Triniteam, Eau Claire, Wis.
RS Advisory Board
2020 RS Advisory Committee
| | | | |
| --- | --- | --- | --- |
| Maria  | Alm | Interim Dean | CEHHHS |
| James | Arenz | Alumni & First Year Advisor/Testing Coordinator | UW Stout Advisement Center |
| Asha | Bahr | Alumni, Qualified Rehabilitation Consultant | O'Hara & Hunter Consulting, Inc. |
| Kira  | Blake Sullivan | Community Development Case Manager | Goodwill Industries of North Central Wisconsin (NCW) |
| Julie | Bruggenthies | Workforce Resource, Menomonie | Workforce Resources |
| Colleen | Etzbach | RS Program Director |   |
| Kristal | Gerdes | CEHHHS Associate Dean | CEHHHS |
| Tom | Hallgren | Alumni and Social Worker | Pepin County Social Services |
| Dr. Daniel  | Kelsey | Department Chair and Program Director | CEHHHS/Rehabilitation and Counseling MS RC |
| Kyle | Kleist | Alumni and Resource Counselor | Center for Independent Living for Western Wisconsin |
| Holli | Linn |   | Lutheran Social Services |
| Ellie  | McKee | Alumni & CLTS/CCS Facilitator | Dunn County Dept of Human Services |
| Carleen  | Nyre | Consultant | Workforce Resources, Inc. |
| Greg | Quinn | Veterans Service Officer | Dunn County Veterans Service |
| Dr. Jeffrey  | Sweat | Interim Department Chair | CAHSS/Social Science |
| Brian | Vanderwyst | Director, LE CDC |   |
| Kyle | Walker | Stout Vocational Rehabilitation Institute | UW-Stout |
Preparing for Rehabilitation Services Degree
If you are a high school student contemplating a career in rehabilitation services, you should take college preparatory classes. Effective communication skills are important, so technical writing and speech courses are recommended. You are strongly encouraged to gain related experience by volunteering in community work or joining organizations like ARC (an advocacy group for persons with cognitive disabilities).
Learning Experiences
Courses in the program cover three areas: general education studies, professional studies and concentrations. Instructional methods include both classroom and field-based experiences. Classroom experiences provide you with a theoretical foundation. Field-based experiences allow you to apply what you have learned. Concentrations allow you to focus newly acquired skills on a specific clientele or service delivery system. Five main concentrations are offered through the program.
Enjoying Student Life
The campus learning environment includes a wide variety of activities. Intramural sports, social clubs, sororities and fraternities, honor societies and professional organizations are all included. The student professional organization related to the Rehabilitation Services program is the Stout Vocational Rehabilitation Club.