UW-Stout's Bachelor of Science Degree in Golf Enterprise Management (GEM) is the only program of its type to be endorsed by the National Golf Course Owners Association. Our faculty of golf enterprise professionals will prepare you for a rewarding career in golf management and golf-related businesses.
The UW-Stout Golf Enterprise Management (GEM) program was developed at the request of golf industry professionals to address their management needs.

/

UW-Stout
You will graduate from UW-Stout with a broad array of skills and knowledge, including:
Events management, such as tournaments, league play and golf outings
Food and beverage management
Turf management
Selection and maintenance of equipment and supplies needed to keep your courses in prime playing condition
Retail sales
Service management
Marketing your courses effectively to create customer loyalty and recruit new customers
Human resource management
This degree is about the business of golf, not the game of golf — there is no player aptitude requirement for admission.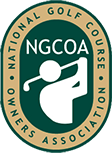 The National Golf Course Owners Association endorses the UW-Stout GEM program — the only endorsement of its kind ever conferred by the NGCOA. The NGCOA is the only trade association dedicated exclusively to golf course owners and operators. NGCOA members include owners, operators and general managers of daily-fee, semi-private, private and resort courses of all sizes. While diverse in its makeup, the association offers information and inspiration on how to operate golf facilities as efficiently and profitably as possible.
The future success of the industry depends on the availability of golf business professionals who have a keen understanding of financials, marketing, economics and sales. At the same time, the tradition of golf must be maintained, with a strong focus on player development, agronomy and - most importantly - customer service. These are the skills you'll learn in this unique program.
"The GEM Program allows us to learn about the business of golf and grow our skills that will lead us to careers in the hospitality industry. I enjoyed being able to study abroad and learn not only about myself but also about the world around me."
-- Ryan Glodowski

B.S. Golf Enterprise Management 
Use the Request Information form to receive a program summary and learn more about the Bachelor of Science degree in Golf Enterprise Management.
Application and Transfer Information 
Application
To apply for the online Bachelor of Science degree in Professional Communication and Emerging Media – Applied Communications concentration, you need to apply to UW-Stout.
Financial Aid
Students who are attending another institution, but are planning to receive their degree from UW-Stout, may be eligible to receive aid from UW‐Stout. In these cases, UW‐Stout is considered the Home Institution and the other campus is considered the Visiting Institution.
Transfer Students
Note: When filling out the application form, be sure to make a note in the student comment section that you intend to apply to the "online program." 
Preparing for Your Golf Enterprise Management Degree
High school courses such as business and communication — as well as mathematics and human relation skills - are recommended. Taking speech, marketing and computer classes will also help prepare you for this field of study.
During your first few semesters course will be a combination of general education and major foundation courses. General education courses include English composition, speech, mathematics and economics. As you progress, you'll learn about business, retail, plant and earth sciences, industrial management and service management.
As You Progress
Golf management - and related golf businesses — are complex activities that require a broad array of skills and knowledge. Courses in your junior and senior year focus on food and beverage management, retail sales, service management, turf management, marketing and human resource management.
As a course manager, you'll also need to know how to handle events management, such as tournaments, league play and golf outings. You'll learn to select and maintain the equipment and supplies needed to keep your courses in prime playing condition, and market your courses effectively to create customer loyalty and recruit new customers.
With help from your program director, you'll choose 29 elective credits to prepare for your specific career goals and objectives. You may decide to take a minor or specialization to fulfill the elective credits. Minors in areas such as business administration, human resource management, tourism, or Spanish give you the edge over the competition when looking for employment in the golf industry. Help with course and career choices is also available through the Advisement and Career Centers, the Counseling Center and Career Services.
This program has a strong experiential component. You'll complete two co-operative education or field experiences for a total of 800 hours. This practical experience will expose you to a broad variety of golf course operations and functions. The Career Services Office at UW-Stout and your program director will help you set up co-op education experiences in Golf Enterprise Management.
Career Opportunities
The general outlook for the future of golf course businesses in the U.S. remains positive. There are over 16,000 golf courses in the U.S. alone. Minnesota and Wisconsin rank among the leading states in the country for numbers of holes per capita, numbers of players and best courses. As a result, management careers in the golf industry are accessible and the salaries are attractive. Salaries do vary with location, experience and the type of golf facility.
In addition to careers in golf course management, graduates of the GEM program will be prepared for entry-level management within corporations that manage multiple courses, golf retail businesses, tourism businesses and many other golf-related businesses.
GEM Advisory Board
2020 GEM Advisory Board
| | | | |
| --- | --- | --- | --- |
| Jon  | Behling | Senior Lecturer | H&T; UW-Stout |
| Jim  | Buyze | Head Golf Professional | Mill Run/Wild Ridge Golf Course |
| Mark  | Dahms | Small Business Owner | Stout Alumni |
| John | Sobota | Program Director | UW-Stout |
| Ken  | Fournier Jr. | Operations Director | Event Solutions LLC |
| Garrett  | Gill | Golf Course Architect | Gill Design, Inc. |
| Adam | Chandler | PGA Head Pro | TPC Twin Cities |
| Scott  | Merchant | Founder/Sales Director | GolfPipeline |
| Janell  | Reitz | Academic Department Associate | School of Hospitality Leadership; UW-Stout |
| Patrick  | Renner | President | The Wilson Group  |
| Howie  | Samb | Professor | UW-Stout |
| Kristine  | Schoonover | Professor | UW-Stout |
| Jeff  | Schwister | Executive Director | Golf Course Owners of Wisconsin |
| Brad | Powers | PGA Operations Ryder Cup 2020 | Ryder Cup 2020 |
| Steve  | Willock | General Manager | Oak March Golf, Oakdale MN  |
| Mandy  | Wolbert | Student Services Specialist | UW-Stout |