UW-Stout prides itself on an inclusive, collaborative, and innovative strategic planning process that incorporates multiple opportunities for input and review. Every 10 years, we start a new strategic planning cycle. Our current cycle—FOCUS2030—began in 2020 and will guide the university until 2030.
Our Planning Process
The planning process begins with a Visioning Session where external stakeholders—including local leaders, employers, and alumni—help focus our vision and set direction. At the Visioning Session, the stakeholders provide advice on UW-Stout's mission, vision, and values, and they strategize with university leaders to ensure Stout is on a path to continuing success and improvement.
After the Visioning Session, the university's Strategic Planning Group—which includes faculty, staff, and students—reviews stakeholder feedback to ensure our mission, vision, and values align with what we do now, what we want to do now, and where we want to be in the near future. If they don't align, the Strategic Planning Group ensures adjustments are made.
The Strategic Planning Group also uses Visioning Session feedback to identify major goals for the university and to develop metrics, known as performance indicators, to measure our success in achieving these long-term goals.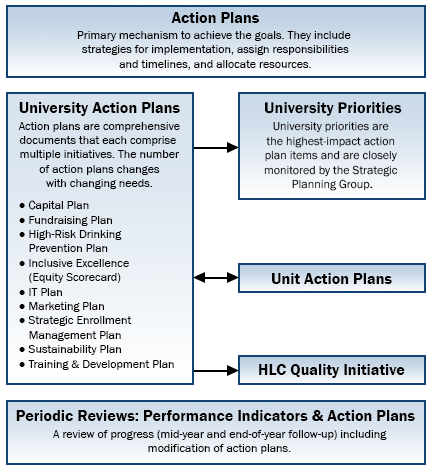 To ensure continual progress, certain major units and programs develop annual university action plans that align with university goals. At the start of each academic year, the designated action plan leaders identify three to five major initiatives to implement that year. The action plans and resource allocations are approved by the Chancellor's Cabinet, and progress is monitored by the Strategic Planning Group. Based on feedback from the Strategic Planning Group, some of the items in the action plans receive dual designation as a university priority or as our Higher Learning Commission (HLC) quality initiative.
In addition, the campus community comes together at annual Engagement Sessions to discuss opportunities for improvement and brainstorm ways to reach our objectives. The Strategic Planning Group then uses this input to develop or enhance university-wide initiatives that help us attain our long-term goals.
Mission, Vision & Values
Our Mission
The University of Wisconsin-Stout is a career-focused, comprehensive polytechnic university where diverse students, faculty and staff integrate applied learning, scientific theory, humanistic understanding, creativity and research to solve real-world problems, grow the economy and serve a global society.
The University offers undergraduate and graduate programs leading to professional careers in industry, commerce, education and human services through the study of applied mathematics and science, art and design, business and management, social and behavioral sciences, education, family and consumer sciences, select engineering programs, applied technologies, select health studies, and technical communication.
Our Vision
UW-Stout will build on its position as a distinguished polytechnic institution and as an international leader in higher education. We prepare lifelong learners, ethical leaders and responsible citizens through collaborative programs that integrate applied learning, theory and research with business, education, industry, arts and government.
Our Values
In the UW-Stout community, we value: 
The advancement of academic excellence;
The nobility of spirit, a diversity of people, respect and inclusion for all;
The pursuit of innovation, technology and sustainability with a constant eye to the future;
The ideals of collaboration, competence and continuous improvement;
The commitment to education as a means to illuminate the lives of all.
Our Polytechnic Tenets
Applied Learning
Learn by doing as early as your freshman year in our interactive learning environments. We have 3 times as many labs as classrooms on campus! Get your hands-on experiential learning opportunities like undergraduate research and paid co-ops where you can earn while you learn.
Career Focus
Choose from distinctive majors within six career clusters to explore what you're passionate about. Network at our career fairs—some of the largest in the Midwest—or with the 1,500 employers nationwide who actively recruit Stout students. 98% of our grads are employed within six months of graduation.
Collaboration
Connect with the leaders in your field who are making a difference within and outside the classroom. UW-Stout is a recognized leader in creating partnerships with businesses and non-profit organizations who infuse their expertise into each of our programs. As a student here, you'll collaborate with these partners and our award-winning faculty to solve real-world problems.