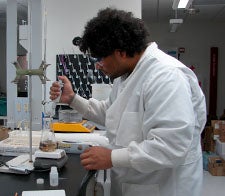 Aquatic Biology prepares students for professional government and private sector careers. Programming focuses on career opportunities in the emerging field of conservation genetics (use of genetic tools and principles of conservation biology to manage aquatic ecosystems), aquatic ecosystem management and rehabilitation (lakes, reservoirs, flowing waters and watersheds), and fisheries biology and management. 
Courses are designed to train students for careers in protecting, managing, and rehabilitating water resources and include Ichthyology, Aquatic Ecology and Management, and Wetland Ecology, as well as opportunities to minor in chemistry and Geographic Information Systems (GIS), an internship experience, and capstone training in which students work on client-based issues in environmental science.
Coursework focuses on using fundamental principles to diagnose environmental problems and develop sustainable management strategies and solutions. Students will learn skills to prepare them for careers in protecting, managing, and rehabilitating water resources: 
Lake and Reservoir Manager
Analytical Chemistry Technician
Watershed Manager
Environmental Consultant
Research Technician
Fisheries Manager
Fisheries Technician
Student Testimonials
"This program gave me the experience in the lab needed to be successful in a workplace."
Evan Petska
"The environmental science program at UW-Stout is challenging, rewarding, and it will set you up for a successful career." 
Adam Cameron 
"The Environmental Science program here at UW-Stout has been nothing short of amazing. The faculty involved in this program strive to give us the best learning experience possible by explaining the content in a variety of ways. With this being said, the faculty of this program will go out of their way, without question, to do anything necessary to aid a student who is struggling. The small class sizes allow students to become more hands-on in laboratory settings. Also, it allows the students to really get to know their professor and other students within the program. Ultimately, by the time graduation nears, students will have plenty of references to use when applying to jobs or graduate school. I highly recommend this program to environmental enthusiasts who cannot get enough of biology courses." 
Miranda Vandenberg  
"Working with the program director and the other professors makes me strive to be professional so that I don't disappoint them. Also having that person I can go to when I feel lost is great." 
Jeremy Eckert
"My aquatic biology internship challenged me to figure out things for myself and improvise when equipment malfunctioned. Understanding how internal loading and external loading works in a water body really put me ahead of others in my field and I feel like that experience will help push me forward in my career after college."
Travis Knudsen