Artist Statement
Digital image transfers and slide projection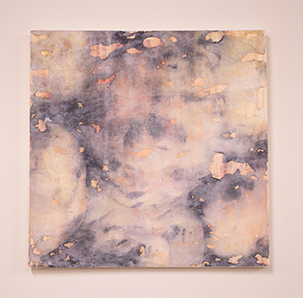 Decay by time is not linear. The decay of memories do not happen at the same rate as physical decay. Within my research for the Bud and Betty Micheel's Student Artist-in-Residence I have found a lingering interest in the relativity of memory and time. In this encounter, I have translated a sort of inertia and melancholy that resides within the distress and decay of the image unable to be itself. The images presented address elements of time that exist beyond that of cause and effect, beyond presentation.
Photography is particularly powerful in and as reference to memories. The photograph is often interpreted as a sort of embodiment of a memory. By distressing slide film, I've destroyed a singular document, changing its association to its imagery. The photos I have taken for the projections are haphazard, with an emphasis on the mundane and familiar. When taking the images, I was aware that I would be altering them after-the-fact, and that I didn't need to be attached to them. However, by using subject matter that is domestic, I am able to connect the viewer to a more acute sense of place, able to add context to the other pieces in the show.
I've accompanied the slides with a series of digital image transfers. These image transfers begin to reference many of the physical attributes of the distressed film. Again, the subject matter for these images were chosen somewhat arbitrarily, with primary consideration taken to color and compositional elements. Even the original images were somewhat ambiguous, but through the process of a distressed transfer, became more incoherent and atmospheric. The result is capricious, yet invaluable to the construction of ethereal images that distance the viewer and remain reminiscent of something lost.