Artist Statement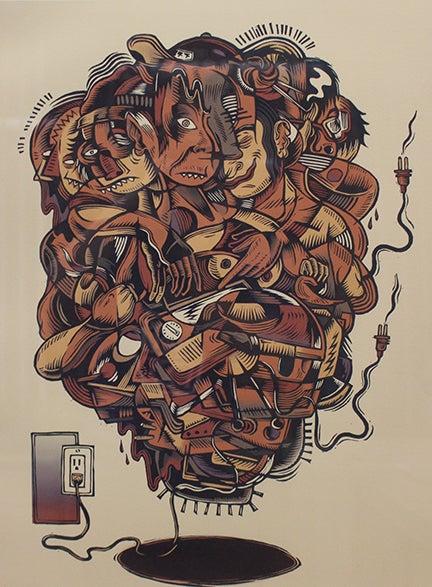 This series explores the relationship of art and technology from the perspective of a 20-something Luddite. These two are interconnected; major advances in one area lead to similar advances in the other, providing artists with new tools and which to create and allow the realm of art itself to grow. I explore this relationship with my medium of choice, the woodblock print.
Originally used as a method of mass printing, the woodcut has been replaced by newer innovations such as the inkjet printers. This method of printing renders the wood-cut obsolete in its original field, but allows it to become something that it has never been before. These prints blend the old and the new by juxtaposing digital means of printing with analog. Each print utilizes inkjet printers for backing color and a woodcut image printed over the top, showcasing the eternal relationship.
The images themselves are cautionary tales of over-dependence on technology in our digital age, especially as it relates to social media and the general anonymity of the Internet. Having a personal aversion to many common forms of electronic communication while at the same time growing up with it, I'm stuck somewhere in the middle. Displaced in my own time, I relate tales and feelings of displacement and confusion in a world that is constantly connected.