Artist Statement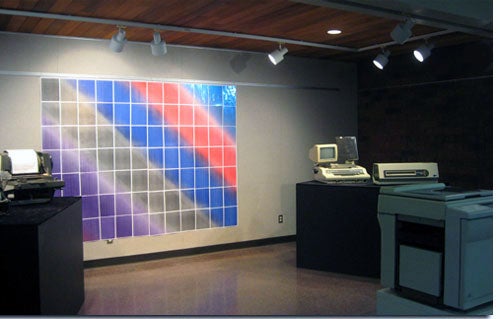 The aim of my research is to produce a detailed inquiry into dated printing technologies, their consequential aesthetics, and their use as an instrument of artistic and non-artistic visual communication. One keystone of my research is to invoke a resurgence of dated printing machinery unused in a highly digital age. In order to revive and properly run these machines it has been pertinent to understand their history. My research, however, goes beyond a retrospective and seeks the functionality that they might serve in these modern times.
My investigation began with the Omnicrom 2000, a foil transfer system that applies heat and pressure to adhere foil to the printed page. Discovering an affordable and at-home process which replicates foil-stamping lead me to seek alternative solutions for small-scale printing. The typewriter and duplicators showcased in Neon Black were used primarily in office, school, and church settings to duplicate documents.
These machines, not purposed for their aesthetics, are capable of producing spot colors and other desirable effects achieved by large scale and costly equipment. Developing new rules to govern this medium, the gradient serves as an aesthetic and intellectual challenge. The Gradient exhibits the aesthetic production of the machines and how they function in tandem with each other. The Book of Gradient serves as an abstraction of the printed page, an 8.5 x 11 page structure indicative to the machines original purpose.
I've come to understand the fastidious process of finding materials to operate antiquated machines as well as their technical limitations. The production of printed matter has proven to be ideal research and lead to a greater understanding of the inherent qualities of a wide range of otherwise obsolete printing technologies.