COMMENTS FROM KYLE 
RESILIENCE IN A SEASON OF ADVERSITY: BOUNCING LESSONS FROM VR CLIENTS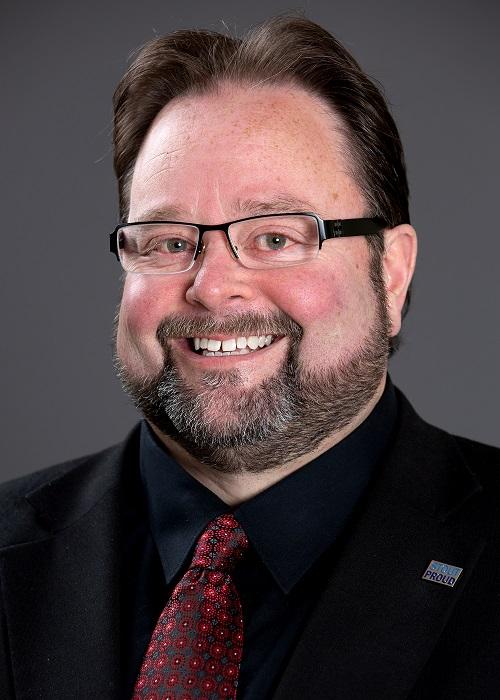 If you are like me, you cannot wait until January 1, 2021. The promise of a new year may be a mirage or an illusion, but it holds promise and hope that the current year gave up long ago. If 2020 was our time to plunge, maybe 2021 can be our season to bounce?
I have been thinking a great deal about resilience this year.
What makes some people seemingly able to bounce after a fall while many others simply splat? Many times this year I have splatted rather than bounced.
Usually I think about the vocationally related skills VR counselors work to help clients develop. When it comes to resiliency skills, I have always learned far more from my clients then they have ever learned from me. As I have reflected on this season of adversity throughout the year, I have been recognizing the lessons that past VR clients have taught me.
1.   Renew your sense of purpose: During seasons of adversity take the time to reflect on your personal values, your goals, what is important to you, and what you want in your ideal future. This lesson was taught to me by "Bob." When he faced yet another barrier that appeared to me to be a dead-end roadblock, "Bob" simply looked me in the eye and restated his vision of his ideal future, his goals, his sense of purpose. Rather than surrendering, "Bob" refocused on his sense or purpose and his vision of his future, and in that he found his bounce.
2.   Recognize your strengths & abilities: During seasons of adversity, take the time to recognize your strengths, abilities, capabilities, talents, and skills. Recognizing where we have competence helps us refocus our attention on things we can accomplish rather than things that will defeat us. I learned this from many clients over my VR career, but when I think about this lesson I see "Diane." She was dead-set focused on what she could do successfully and refused to be defined by what she could not do well. When faced with failure at a job we had prepared her for, she asked for a meeting with her boss. In this meeting she did not make any excuses about her poor performance and did not try to plead for another chance. Rather, "Diane" looked her boss right in the eye and confidently told her what her strengths, abilities, and skills were and asked if there was a need for these talents within the company. It turned out there was, and I witnessed "Diane" carve her own job and long-term successful career out of nearly being fired. 
3.   Focus on what you can control: Abandon investing energy on conditions you have no control over. Know the limitations of what you can and cannot change. I learned this from "Tom." He had been a highly successful Vice President of Human Resources at a major oil company for 15 years. Then he began having migraines and seizures that doctors could not treat. In the course of a year "Tom" lost his job, his six figure a year salary, his corner office, his wife, his home, his nice cars, and his sense of control over his life. "Tom" found his bounce when he stopped focusing on what he could not control. When he began focusing only on the things he had control over he found his bounce. He had a secret passion and skill that he had never shared with anyone. Best yet, this skill could be done when he was able to work around his migraines and seizures. "Tom" started his own business, regained his sense of self, his sense of control, and has restored a large portion of his former earnings. "Tom" taught me that focusing on things I cannot control has no potential for bouncing. The bounce is found where you have control.
4.   Reframe your thinking: Reframing your thinking can help shift how you view adversity. What lessons can I learn from this? What skills can I develop because of this? Rather than focusing on the adversity and the unfairness of the challenge, your bounce is found in reframing the adversity as an opportunity to become stronger, more self-aware, more resilient. I remember "Billie" who saw each barrier as something she can learn to overcome, every wall was an opportunity to learn how to install a door, every dark cloud stopped sunburns. Yes, she was an optimist, but she was also someone who turned the initial normal catastrophic thinking into looking for a silver lining. She found her bounce by changing the way she thought about hitting the ground.
5.   Advocate for yourself: What do you need to deal with the season of adversity? Is it time alone? A deep conversation with another person? Whatever it is, your needs need to come first for you - and you need to advocate for what you need. If you need time for yourself, you must make the time because you will never find the time. I had a client who taught me the value of speaking up for my own needs. "Sarah" was normally very shy and quiet, but she knew when she needed something, and she knew that she had to advocate for herself in order for her needs to be met. One day I was particularly stressed out, high caseload, my new supervisor had become preoccupied with a specific documentation process that I had to catch up on, and normal life issues. "Sarah" and I were meeting to do an annual review on her IPE when she asked me if I was O.K. It suddenly dawned on me that my stress was perceptible to my client. I took a deep breath and tried to minimize the stress I was under to get the meeting back on track, but was shocked when she asked me: "What do you need?" I had not really thought about that, I was busy thinking about what I needed to do, not what I needed. When I told her a few things that could help, she simply said: "You need to tell your boss what you need and have them help you get it." In advocating for your own needs, you can find your bounce. 
Happy New Year from SVRI, I hope 2021 is all our year to bounce.
SVRI TRAINING
NEW SVRI WEBINAR SERIES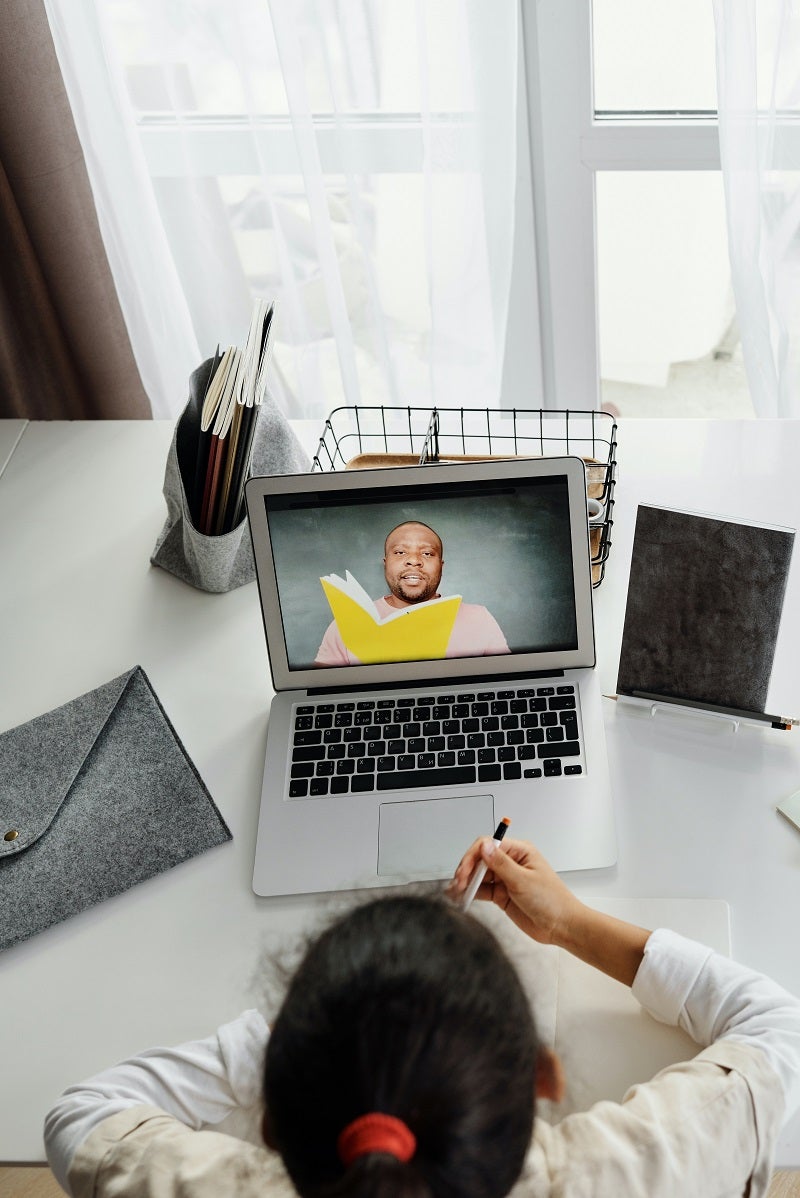 SVRI is excited to announce the launch of a weekly live webinar series starting January 2021. Topics will include ethics, assistive technology, and leadership development.
Worth 1 CRC each, presentations will be broadcast every Thursday at 10:30 AM CT followed by a live Q&A. If you miss the live event, all webinars will be archived for later viewing. That way you can earn 1 CRC at a time that is convenient for you.
Contact Terry Donovan at 715-232-5525 or donovant@uwstout.edu to learn more. 
CRC COURSE PREP ALSO AVAILABLE 
Our CRC Exam Preparation Workshop continues to be popular for individuals seeking their CRCC certification.
This unique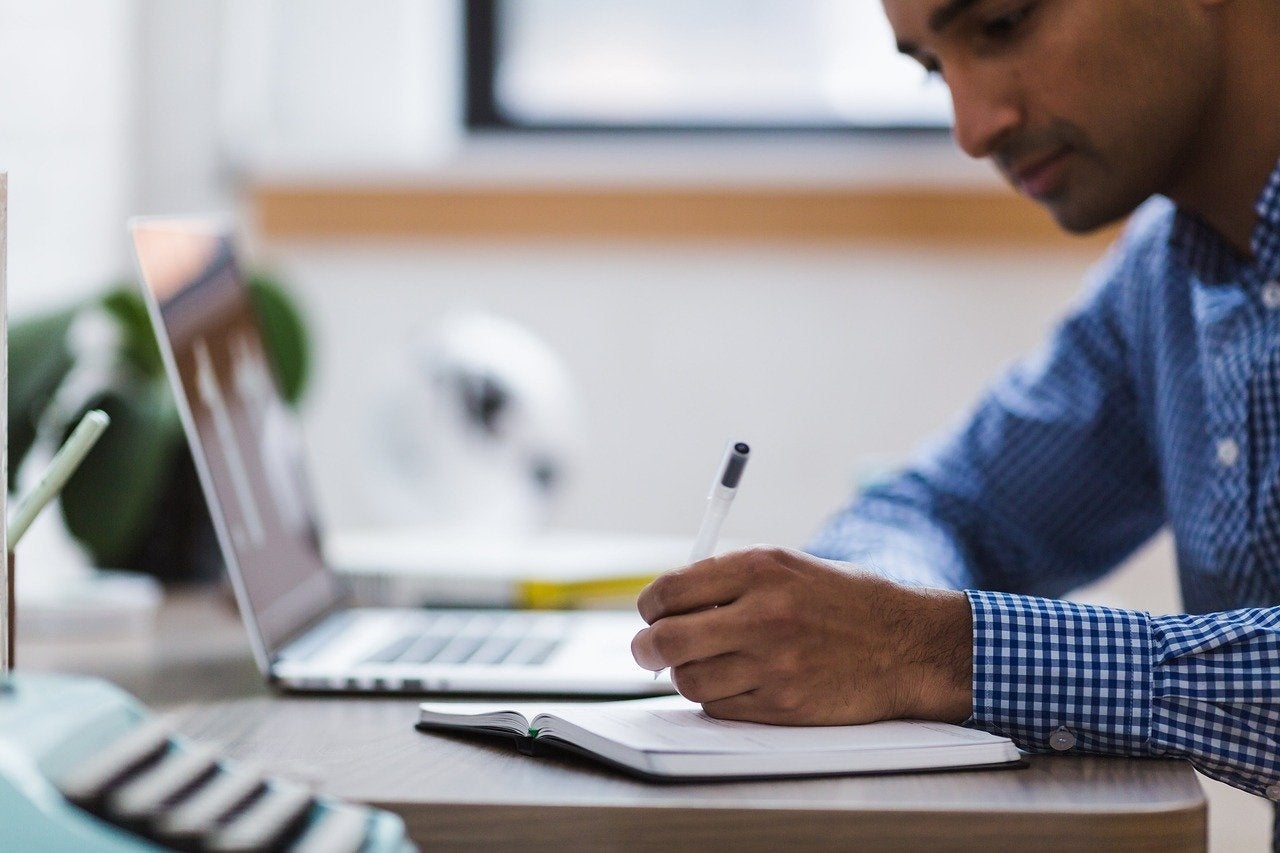 opportunity prepares the applicant for the CRC exam by providing an overview of exam content, a facilitator to offer guidance, test-taking practice using tests similar to the CRC exam, and text messages for encouragement and preparation. The next workshop starts January 7, 2021.
SVRI is committed to providing affordable professional development opportunities for individuals in vocational rehabilitation, human resources, and management. Watch for an email coming soon with more information or check out our website. 
A.T. SERVICES FOR REMOTE WORKING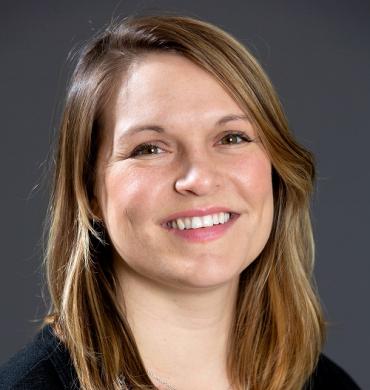 Starting in March, the workplace instantly looked very different. With the abrupt shift to working from home, many of us had to create workspaces out of kitchen tables, living rooms, and bedrooms. Now that this new way of teleworking has become normal and is likely not changing any time soon, our rehabilitation specialist, Hayley Bollinger, has been busy helping people adjust.
Hayley has been providing virtual and on-site assessments for people working from home who are experiencing discomfort. She provides easy and simple recommendations as well as making quick and easy adjustments to improve individual functionality.
If you are experiencing neck pain, eye strain, or back pain, reach out to Hayley for some easy recommendations to help maximize your performance. bollingerh@uwstout.edu Learn More 
NEWS FROM THE REHABILITATION COUNSELING PROGRAM
The University of Wisconsin-Stout's Master of Science in rehabilitation counseling program has been awarded a Rehabilitation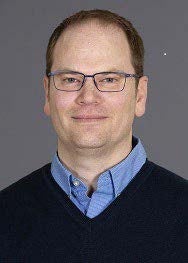 Services Administration Long-Term Training Grant through the U.S. Department of Education's Office of Special Education and Rehabilitative Services. 
Program Director Daniel Kelsey noted, in a UW-Stout article, "This RSA grant is a tremendous opportunity for the M.S. rehabilitation counseling program. Over the next five years, we will be able to provide significant tuition support for at least 30 students."
SVRI wants to congratulate the tremendous work this program has done to graduate highly qualified counselors, while also focusing on innovative services to positively impact the lives of people with disabilities. 
SUPPORT STOUT GIVES BACK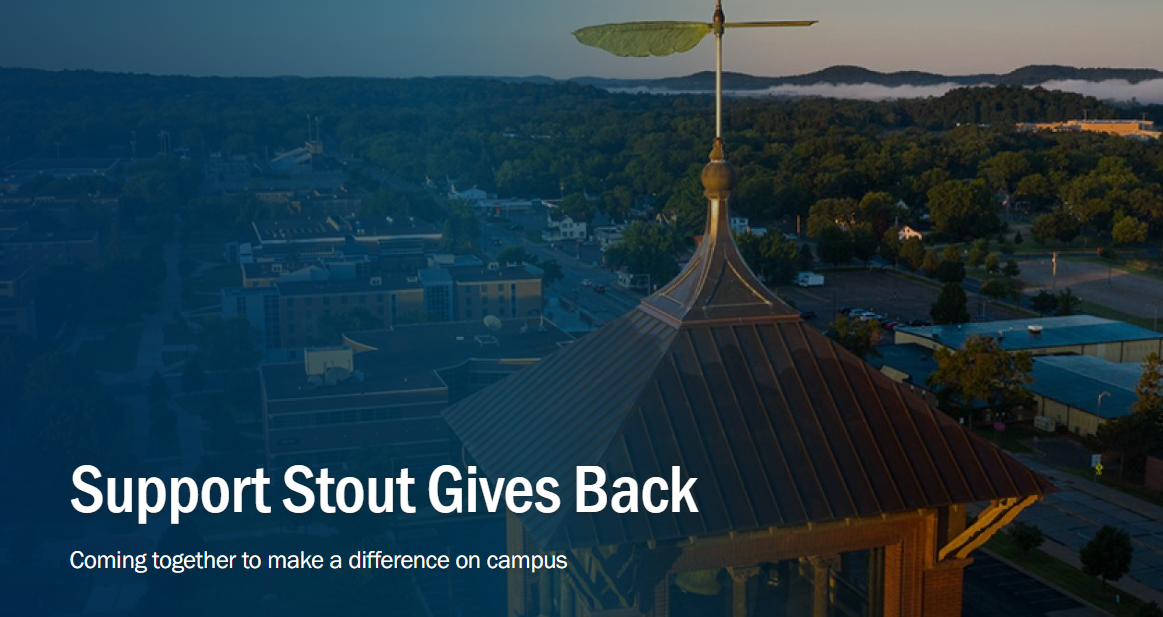 Coming together to make a difference is a way for UW-Stout alumni and friends to pay it forward to the next generation of Stout students.
In the spirit of giving this year, we encourage our peers to consider donating to Stout Gives Back. This is an opportunity to give our colleagues and our community a chance to unite and celebrate UW-Stout in a way that will impact the lives of our students for years to come.
We, at SVRI, have a soft spot for Fostering Success. This program was housed within SVRI for a couple of years. If you would like to learn more about this program, we encourage you to check out this TEDx Talk featuring Greta Munns who gives personal insight on transitioning from within the foster care system.
WORKING IN VR REMOTELY 
Whether you are working in an office or remotely, you have had to pivot and become strong entrepreneurs overcoming challenges to create successful outcomes. Kudos to you! This is especially true for the vocational rehabilitation community as you shifted abruptly to providing services remotely while protecting the health of the ones you serve and yourself.
We have pulled together a list of resources that may help you as we all navigate this uncertain future with resilience and adversity.
Telecounseling Resource Collection
Resources for Distance Service Delivery
How Gratitude Can Help You Through Hard Times
What the Disability Community Can Teach Us About Working Remotely
How to Help Families and Staff Build Resilience During the COVID-19 Outbreak
GRANT NEWS
PROJECT E3: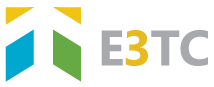 The Vocational Rehabilitation Technical Assistance Center for Targeted Communities (VRTAC-TC) is designed to improve employment outcomes for people with disabilities from traditionally marginalized communities. The grant aims to increase vocational rehabilitation participation of persons with disabilities from these targeted communities leading to greater quality employment outcomes. Kyle Walker, SVRI's Executive Director, is the Principal Investigator for our efforts on this project. 
E3 Webinars
Our archived webinars continue to be popular for people in the vocational rehabilitation field. To date, webinars have included topics on trauma-informed care, soft skills for employment, financial empowerment, employment and disabilities, motivational interviewing, youth and disabilities, disability benefits, and poverty and disability. These webinars are attended by an average of 1000+ Vocational Rehabilitation professionals from varied state, federal, and community agencies throughout the United States.
If you've missed any of our webinars, they are available here.
Our time creating these useful webinars is coming to an end December 31, 2020. Due in part to the high attendance rate, we realize how valuable these webinars have become for VR practitioners across the country. Beginning January 1, 2021, you will be able to find the archived webinars and receive 1 CRC ($10 processing fee) for the majority of these webinars on our website (coming soon).
E3 Resources Roundup
Project E3 is pleased to provide a roundup of resources on specific vocational rehabilitation topics designed for easy access, collecting all relevant information in one place. This includes recorded webcast trainings, best practices, strategies to use in targeted communities, and research resources. These resources are designed to improve vocational rehabilitation services for the most underserved groups of people with disabilities. Learn more
PEQA
The Vocational Rehabilitation Program Evaluation and Quality Assurance Technical Assistance Center (PEQA-TAC) is funded by the Rehabilitation Services Administration (RSA) and is intended to enhance program evaluation capacity within the public vocational rehabilitation program. Dr. Cayte Anderson is the Principal Investigator on the project.
There have been 40 state vocational rehabilitation programs engaged in the PEQA online training program across multiple cohorts since October 2016. As of January 2020, a seventh cohort of seven participants further extends the outreach effort of this national technical assistance center project. Participants work individually or in teams to complete the program curriculum. In addition, they design and implement a capstone evaluation project that will be meaningful to their state agency and approved by the agency director.
There are nine completed capstone projects, and each presentation can be found here. The capstone project hub includes takeaways for VR counselors and administrators, background information, purpose of the study, methods used, results, and implications for practice or future research. 
The next live Capstone Project presentation is scheduled for December 15, 2020.
This webinar is worth 1 CRC and free to attend. 
Title: PEQA Capstone Presentations
Date: December 15, 2020
Time: 10:30 AM – 12:30 PM CT
13th Annual Summit on Performance Management Excellence Conference
The 13th Annual Summit on Performance Management Excellence was a huge success this year and we would like to extend a special thank you to the Florida Vocational Rehabilitation team for hosting this year and going above and beyond to make the event a success! Commissioner Mark Schultz and Data Analysis Chief Christopher Pope also extended their thanks and shared very positive comments about the success of this year's conference.
We had 969 participants during the conference and are watching this number continue to rise. There are individuals participating across all 50 states, plus Guam, Puerto Rico, and the U.S. Virgin Islands.
The conference website and free online registration will remain available through March 31, 2021 so participants can continue accessing conference materials. If you attend, please share this information with others at your agency. You can also continue connecting with colleagues using the networking tools available through the website.