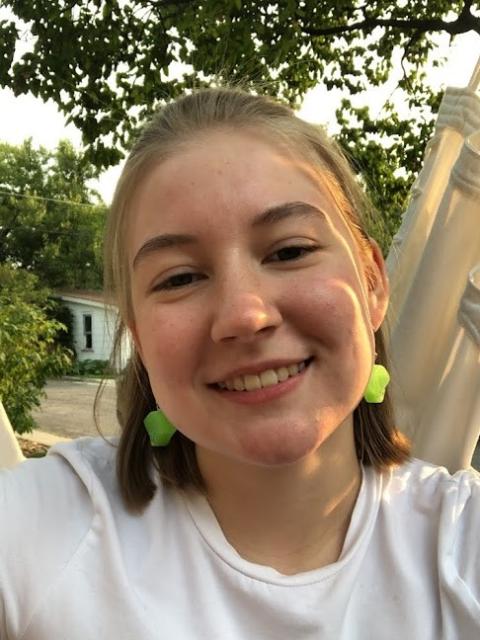 Aiyana Aeikens
Environmental Studies Major at Brown University
Faculty Mentor: Tina Lee
Research Poster: A New Generation of Farmers: Dynamics of Change
Aiyana is currently a senior at Brown University majoring in Environmental Studies, with a focus on agricultural systems and environmental justice. Growing up in Minnesota where no one is that far removed from agriculture, she became very interested in the social and environmental impacts of our current food system and hopes to bring that interest with her to the federal policy stage. She spent the summer doing anthropological research surrounding the social dynamics of different actors that work with farmers and the role they play in whether or not conservation practices are adopted. After graduation next spring, she plans to join the Peace Corps or another service-based organization before eventually pursuing grad school in Public Health.
Read Aiyana Aeikens' Research Summary
A New Generation of Farmers: Dynamics of Change
Moving Forward with Purpose
When faced with a problem that doesn't seem like it'll be solved in this lifetime, the next generation of people is often seen as cause for hope and perhaps the impetus for meaningful change. The younger generation of farmers is no exception to this tendency. "There's a lot of young producers that are out there … adopting a lot of conservation change," one farmer said, but when asked about the future of farming admitted that he "kind of feels bad for producers, for somebody that's on the outside but wants to get into agriculture." In the agricultural sector, continued consolidation, economic uncertainty, climate issues, and insufficient government support have made the idea of breaking out of this system and pursuing ecologically-sound practices impractical or sometimes even unwanted for many current farmers. After speaking with stretched-thin government officials, farmers, and financers in Dunn County, one common idea remained: Even if today's farmers don't have the resources to change, tomorrows will Such faith often projects unrealistic standards on young people, who will continue to be influenced by the same social and economic systems that keep current farmers from adopting conservation practices. However, if we move forward deliberately with some ideas for support in mind, perhaps changing times can be the key to expanded conservation practices in farming.
Farming, along with rural life in general, relies heavily on enforcing existing social norms. In a small community where everyone knows each other, there are social consequences for every action. This could look positive, like making sure your dairy isn't polluting into your friend's stream, but it could also look like not wanting to try new experimental practices because you know your neighbors will talk. Farmers need to be encouraged to experiment and find what works for their unique land and financial situation. New farmers will need to be resilient, adaptable, and focused. Young farmers need to commit to doing things differently than their fathers did, and perspectives are needed outside of these multigenerational farms as well. With the added social dimension, an unnecessary barrier is placed on young farmers to perform in certain ways. A lot of what stops farmers from trying new things is fear or peer pressure. Social norms on their own are not negative, but times are changing, and attitudes need to change as well.
The burden to change is not solely on farmers, either. Non-farmers, rural and urban, need to ensure that farmers can count on their sustainable practices being promoted, not punished. With uncertainty and competitiveness in global markets, this means committing to buying and supporting local foods as much as financially possible. Look at where your food is coming from, and the environmental strain placed on our land and water to get it there. Additionally, the support of local lending institutions needs to increase. Farmers shouldn't be forced to get bigger just to take out a necessary loan on things like newer equipment. Both of these community supports have the potential to make conservation agriculture not only financially feasible, but maybe even a more profitable option than traditional practices.
We can choose to resist inevitable change, or work with it. Extreme weather, drought, heavy rains, and rising temperatures have become more frequent, and these trends will only escalate in the coming decades. Risk, so far, has made farmers hesitant to try new practices, but risk also opens an avenue for unprecedented change. There is simply no way to continue farming the way things were farmed in the past. Luckily, many conservation practices have already been happening, and it is a matter of making the profitability and viability of these practices known. This could look like showing up to demo farms, attending community events on conservation, and increasing the availability of communal knowledge and equipment. An uncertain future means coming up with new ways to handle risk management, an increasing importance of insurance (both monetarily and in terms of a general safety net of peer support) and staying on top of new practices.
In my father's lifetime, my grandfather went from a family operation with sugar beets, hogs, and sweet corn, to a soybean and corn rotation and no hogs. In a single generation, the family farm went from viable to inviable. If change can happen that fast in one direction, it can happen in the other. Whether or not the infrastructure exists, a new generation of farmers will come. There are specific, actionable, things that individuals can do to facilitate change. From a knowledge standpoint, this could look like more public information sessions, access to farmers' networks for outsiders interested in pursuing agriculture, and debt assistance programs to offset the burden of entry for recent graduates. From a financial standpoint, this could look like ways for farmers to access affordable healthcare, and loan programs specifically for young and first-generation farmers to cover the rising costs of land and equipment. If we can create networks of support for young farmers and learn from the ways that current farmers are struggling, we can move into the future with purpose and more importantly, hope.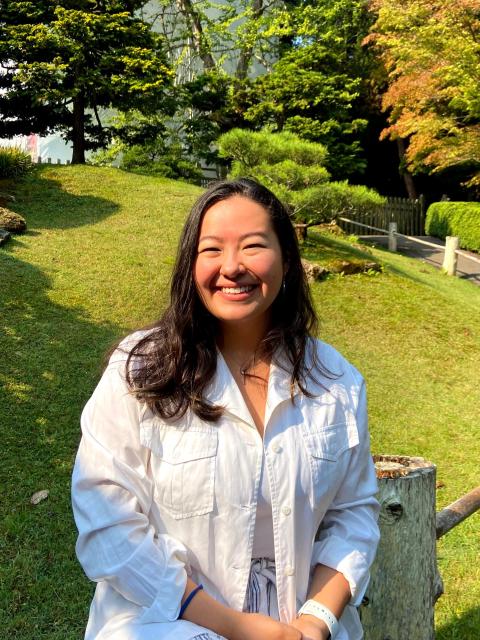 Audrey Cho
Environmental Policy Analysis and Planning major and The University of California, Davis
Faculty Mentor: Tina Lee
Research Poster: Universal Kryptonite: Funding Education and Monitoring in Dunn County
Audrey grew up in coastal Northern California and is an incoming environmental policy analysis and planning major at the University of California, Davis. A 2022 Udall Scholar, she is passionate about supporting populations disproportionately impacted by environmental quality shortcomings, especially in the realm of water pollution. During her two years at Smith College, she ran an environmental hackathon on the fast-fashion crisis, served on the Committee on Sustainability, and worked as a researcher to improve the safety of materials in campus spaces. In 2020, she took a gap year to research microfiber pollution from synthetic textiles at an environmental nonprofit. She plans to pursue a postgraduate degree in environmental policy or law and is dedicated to working on issues of water quality in the California state government. This summer she has greatly enjoyed learning about nutrient runoff, nonpoint source pollution, and local government capacity in Dunn County. She extends a sincere thank you to her mentor, peers, and the community members who have contributed to her research and welcomed her into the Menomonie community!
Read Audrey Cho's Research Summary
Universal Kryptonite: Funding Education and Monitoring in Dunn County
Have you ever wondered how local governments address environmental issues? This summer, I had the opportunity to investigate just that here in Dunn County, Wisconsin. Dunn County is home to Lakes Menomin and Tainter, which both experience extreme algal blooms in the summertime that impact recreation and threaten human and animal health. Both lakes are designated by the Environmental Protection Agency (EPA) as impaired waters, meaning that they don't meet federal water quality standards. One of the causes of this impaired status and the algal blooms is an excess of nutrients running off into the lake from nearby agricultural land. Runoff like this is called nonpoint source pollution because you can't point to exactly where the pollution is coming from. Lurking behind this water quality issue is a complicated network of rules, regulations, programs, and funding sources all working to regulate and improve lake health and visibility. It is for this reason that my first task as a researcher was to identify and catalog these rules and regulations on the federal, state, and local level. I then conducted semi-structured interviews with local government representatives, state agency representatives, and community advocacy groups.
After analyzing my findings, I identified two main concerns. The first is a lack of outreach on the local level that causes both farming and non-farming communities to be uninformed on how to keep nutrient runoff out of the lake. The second is that a lack of funding limits the county's ability to monitor whether farmers are complying with policies addressing the lake pollution. This lack of funding also means that water bodies besides Lakes Menomin and Tainter cannot be consistently sampled, which can negatively impact the county's ability to secure water quality grants.
When first approaching this problem, I knew that I had to understand the policies and programs already in place before even attempting to come up with solutions. I thus examined how various levels of government (federal, state, and local) grappled with the complicated issue of nonpoint source pollution and what policies were in place to deal with the issue.
The issue of education came up almost immediately in interviews. Multiple interviewees cited that they prefer to educate farmers who are not in compliance with nonpoint source policies rather than shame them or cite them right away. Although education is a crucial piece of reducing the pollution in the lake, interviewees noted that there is not enough communication between local government entities and the community. Without outreach, locals do not know which government programs are working to reduce nutrient runoff, and farmers do not know the policies they are expected to comply with. There is also a public health aspect of these algal blooms that could be better communicated to community members, and room for collaboration between the LWCD and Dunn County Health Department.
One may ask, why doesn't the LWCD just keep adding education and outreach to the list of duties of one of their employees? While that would be an ideal solution, the reality is that each employee in the LWCD is overstretched with responsibilities, and when education is added as an accessory to their duties it is not given priority. Burnout is rampant within local government, and this communication with community members needs to take center stage.
Another key concern that arose in the interviews was a lack of funding for two different types of monitoring. The first type of monitoring concerns farmers who are implementing practices to reduce nutrient runoff from their fields. While the local government does a great job of getting these practices set up, there is not enough time or staff to monitor how these practices fare over the years, and whether farmers maintain them. The second type of monitoring concerns other water bodies in the county besides Lakes Menomin and Tainter. If consistently sampled, it is likely that many other water bodies in the area would also be designated as impaired waters by the EPA. With this designation, Dunn County may be seen as a higher priority area for receiving water quality grants. However, the county lacks the funding and staff capacity to consistently sample these other water bodies. This cycle is indicative of one of the many funding challenges faced by local governments across the country.
Through the process of writing up and analyzing these interviews, I concluded that the best way to prioritize education and monitoring would be to hire two positions within the LWCD dedicated specifically to those topics! This would allow the county to prioritize education and sampling, ideally lowering nutrient runoff into the lake from farmers and community members while helping to secure further funding for water quality improvement.
As I move on from this project, I am left with many unanswered questions that extend beyond the scope of my research. For example, how likely is it for a farmer to take up practices to reduce nutrient pollution and follow through on that compliance? What is the relationship between the LWCD and Hmong farmers, and is this population included in conversations about lake issues? Are there any efforts in the area to form partnerships with nearby tribal presences that may have agricultural knowledge that non-Indigenous community members are missing? How can outreach efforts better center the needs of these populations that may have been left out of agriculture and water quality conversations? I look forward to the work of future undergraduate researchers who may tackle these complex questions.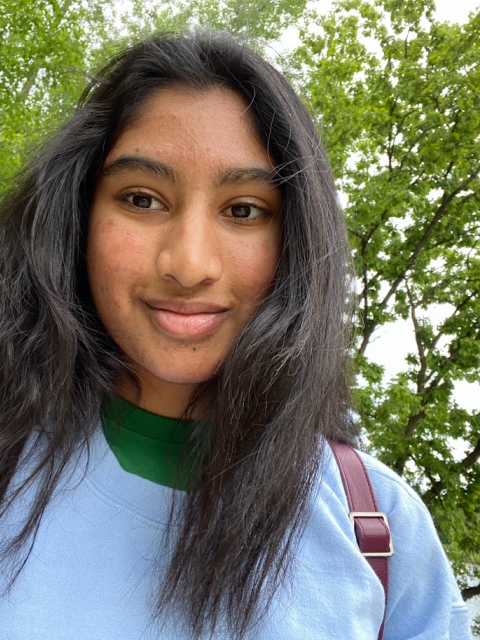 Sahi Chundu
Electrical Engineering major at the University of Texas at Dalla
Faculty Mentor: Devin Berg
Research Poster: MenomiNet: A Prototype Network for Real-Time Public Lake Data
Sahi is from Las Vegas, Nevada. Following the LAKES program, she entered her sophomore year at the University of Texas at Dallas, majoring in electrical engineering and minoring in economics.
Read Sahi Chundu's Research Summary
Are We Underestimating the Value of Our Lakes?
Why the MenomiNet?
            Without knowing where the Lake Menomin problem is at its worst, we're unable to avoid the worst consequences of water contamination–risks to human health. We can't use remote satellite imaging on the lake because blue green algae coat the surface and prevent the use of depth analysis imaging techniques. In fact, instead of a satellite-scale project, the project that will teach us the most about Lake Menomin, in the quickest, cheapest, and most efficient manner is a DIY monitoring system.
            This past summer, we worked on this wireless network of water quality buoys, successfully getting one transmitter and one receiver node out onto the water. In future years, the network will expand its capability for distance communication and full remoteness. We used parts one could acquire for a relatively low-cost relative to the payoffs of the amount of data and the lifetime of the sensors (if contained well within a properly waterproofed buoy.) Accessibility was a key consideration of ours as we wanted citizens to try and collect data themselves, if not for the greater lake issue, then just for an entertaining home project in the neighborhood pond. 
Lake health can forecast other forms of ecological health in the area, and especially in Wisconsin, where many individuals are employed in the agricultural industry, learning firsthand through how the impactful watershed quality is to one's farm can perhaps motivate a change in practices or a reduction in resource inputs, to the triple benefit of the farmer, the rest of the community, and the environment.
Everyone I met this summer has an opinion on what should be done with the lake. Quite a few push for a "big solution" to be implemented now such as dredging the entire lake. Others advocate for us to take a step back and explore different strategies, especially considering that it was only very recently that nitrogen was identified as a greater issue in the watershed than phosphorus. Due to funding constraints and public and expert opinion, the second route is running its course. In the meantime, while we're waiting for a consensus, we don't have to sit on our hands. We can collect data in real-time that will allow us to pinpoint where and what to address first in the lake.
Further Thoughts for the Interested DIY Builder
            For those who would like to replicate our research, we encourage the use of directional antennas and adapting transmitters as relays. Additionally, we found that other modules such as Draguino were advantageous to use because it was less work to push to a website, however there was an inability to customize the data on the website in a nice format for the purposes of water quality monitoring. With regards to the code, the most frequent issue my partner and I ran into is multiple transmissions going off at the same time. We found two points of error, one with the code (our loop wasn't working properly), and one with the physical setup (digital and analog transmissions were somehow interfering with each other–we still don't know why.) We changed the data type we used from an array of nonspecific characters to an array of integers and increased the delays to improve signal transmission rates and prevent multiple sensor transmissions from interfering with each other and messing up communication. We experimented with having each transmitter remain in a relay mode, pushing out the same data for a certain timestamp, though we ultimately chose to collect data much more frequently than researchers or biologists would use it because we wanted to ensure that our marsh environment wasn't tampering out Some advances that we look forward to is more buoys getting out there(they will be waiting in the engineering building at Stout until then!). 
            A last piece of advice we'd have for the homebuilder is to prioritize effectively. For instance, minimizing the amount of contact points between bucket and PVC reduces failure because it increases waterproofing, sans extra silicone or coating. Another concern was insulating wires, which we achieved by using shrink tubing and silicone smeared at the edges of the housing unit. We began with a less ambitious project in which our sensors were not very far from the buoy (they were in fact contained within the buoy) but in the future, in order to measure the thermocline (a level at which the lake separates into two separate lakes (in essence), the home builder might consider extending their sensors outside of the buoy for data collection at depth.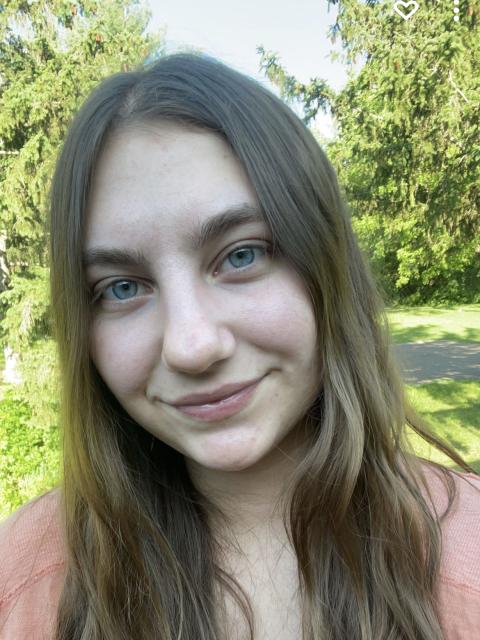 Abby Cullen
Environmental Science major at the University of Wisconsin-Stout
Faculty Mentor: Arthur Kneeland
Research Poster: The Adoption of Conservation Agriculture: What Do Producers Think?
Abby is from Milwaukee, WI and going into her final semester at the University of Wisconsin Stout. She is pursuing a degree in Environmental Science with a focus in Natural Resource Conservation. The Lakes REU program has offered an excellent experience working with individuals involved with agriculture and developed her research skills. Abby hopes to farther her passion for sustainability in agriculture by attending graduate school and studying entomology. In her free time, Abby enjoys gardening, kayaking, camping, embroidery, and spending time with close friends.
Read Abby Cullen's Research Summary
The Adoption of Conservation Agriculture: What Do Producers Think?
There are several factors that have led to the eutrophication of Lake Menomin, but many cannot be remediated. With that being said, one of the causes of "the green lake" is agricultural runoff, specifically excess nutrient runoff. Conventional land management on farms has led to soil erosion and nutrient movement from the land to surface water. Studies show the adoption of conservation on agricultural operations can reduce soil erosion, nutrient movement, and increase soil infiltration. This not only benefits the land and water, but also the farmer.
Over the course of this summer, my research has focused on interviewing and surveying farmers across The Red Cedar Watershed. These individuals were kind enough to take time out of their busy work schedule to speak to me about land management on their operation, and what factors influence their decisions. The farm operations included in my research ranged from small-scale dairy operations, both small and large beef operations, an organic orchard, and cash crop operations. All operations implemented conservation in their land management practices, although to different degrees and for different reasons. My research focused on the implementation of conservation in land management practices in an agricultural setting, and what factors influence farmer's decisions.
All interviews were semi-structured, and questions were formulated to determine land management practices used on each operation. Specifically, those that apply to soil health, reducing nutrient movement, and reducing soil erosion (i.e., grassed waterways, conservation/no-till, soil testing, and cover cropping). I went on to discuss the factors that influence their decision to adopt conservation in the farmer's operation, and what factors act as barriers. In addition, open ended questions were added to a survey based on whether farmers do or do not use certain conservation strategies. Once all interviews and surveys were complete and transcribed, a thematic analysis followed. This is where common themes are identified to help answer a question, and it was done through the process of coding. Each code corresponded to a theme that was formulated based on prior research, possible responses, and actual responses. After sifting through each transcript and survey response, several themes stuck out that influenced the adoption of conservation, as well as those that acted as barriers.   
The factors that influenced the adoption of conservation depended on the individual and the specific practice. For some, conservation was simply imbedded in their practice, as an organic farmer recounted "We want to be able to manage the land that we have stewardship over in a way that is building soil, and is protecting our water, [and] protecting our watershed." While other producers were influenced by ecological factors, there were economic factors that also dictated how they managed their land.
With no-till, a few farmers adopted the practice to simply save time. They quickly saw other benefits that no-till is associated with, again ranging from ecological to economic. This included soil health, resiliency, and return on investment. In a way, soil health and resiliency go hand in hand. Soil health is defined as the capacity for soil to support and sustain plants, animals, and humans. In other words, soil health breads resiliency. One dairy farmer I interviewed discussed the role soil health plays in the continuation of his operation, "I want to keep as much soil in the game as I can, that's my primary [reason] because I'm a fourth-generation dairy farmer and I don't want to be a last." All farmland has a life expectancy, but production can be extended through land management practices that promote conservation.
Overall, many farmers' main concern with the land management practices implemented on their operation was return on investment (ROI). The input costs of land management changes depending on the practice, and conventional tillage can be quite costly. On the other hand, the implementation of no-till can drastically reduce the operation's input cost and increase the operation's ROI. The impact no-till can have on yields is often seen as a major drawback, but as one farmer put it, "I don't think yield is a big drawback for us, I look at efficiency more than I do yield…it's really a return on investment." There is a misconception that all farmers are only concerned over yields, and although it is a factor, ROI is often a more important factor.
I found myself wondering how farmers came to these conclusions. For some, it was due to their own experience, while others were influenced through engagement. Organizations that engage with farmers (for example, the NRCS) help promote the adoption of conservation in land management. This was seen with one farmer's experience, "I credit [The NRCS] with getting the entire farm to go to no till…and he had been working on my dad for years at that point. But it was just that one little 'Hey, what do you think? Is it time?'" Over time, and with financial incentives, these organizations can act as a critical player in future change.
The primary barrier to change is change itself. I know, it sounds redundant, but with change comes cost and uncertainty. Some operations simply do not have the equipment required for conservation practices, while others are continuing the land management practices of previous generations because they know it works. The uncertainty that comes with change is exacerbated through the current state of the economy and agricultural markets.
Prioritizing the voices and concerns of producers in The Red Cedar Watershed is the first step towards widespread change. Giving assistance and insurance to operations who are in the process of adopting conservation in their land management practices is needed. This will reduce the weight of the uncertainty that comes with change. Lastly, increased funding to the organizations that engage with farmers is also necessary. This engagement is responsible for much of the progress that has been made, and that progress should be highlighted and celebrated.
What we do to the land is reflected in the water.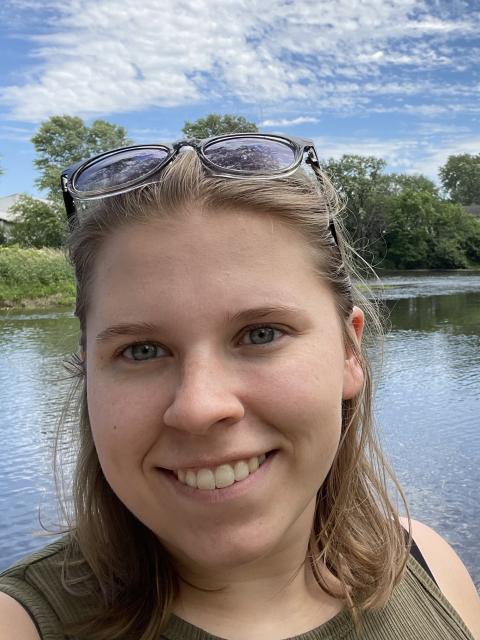 Evelyn Dyer
Environmental Science major at Lebanon Valley College
Faculty Mentor: Arthur Kneeland
Research Poster: Repurposing Nutrient-Rich Sediment from A Eutrophic Reservoir
Evelyn is from Jonestown, Pennsylvania and is a senior Environmental Science student at Lebanon Valley College with minors in Economics and Chemistry. She hopes to pursue a career in wetland remediation or freshwater studies. Her interest stems from the growing societal awareness regarding the massive number of pollutants contaminating the freshwater resources every day. LAKES gave her the opportunity to dive into the chemistry of Lake Menomin to see the effects of nutrient pollution on a large scale and apply a different remediation method in the eutrophic reservoir.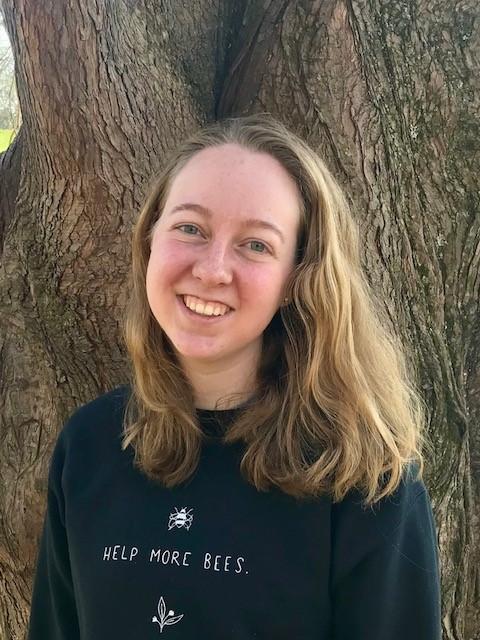 Laura Flucke
Environmental Science and Cartography and Geographic Information Systems major at the University of Wisconsin-Madison
Faculty Mentor: Arthur Kneeland
Research Poster: Mapping Nutrient Runoff Risk in the Red Cedar Watershed
Laura is from Overland Park, KS and is a senior at the University of Wisconsin – Madison. She is pursuing a degree in Environmental Science and Cartography & Geographic Information Systems. Through her studies, she has developed a passion for how maps can be used to tell stories about environmental issues in a way that is accessible to everyone. After graduating, Laura plans to work on toxicology and water quality issues for the US Geological Survey. When not making maps, Laura enjoys hiking, reading, and finding the next bird to add to her birding life list.
Read Laura Flucke's Research Summary
Mapping Nutrient Runoff Risk in the Red Cedar Watershed 
Lakes and streams across the Midwest face nutrient pollution that disrupts freshwater ecosystems. Nitrogen and phosphorus are natural parts of the ecosystem, but too much can create serious problems. The green lakes, a result of algal blooms, are an example. One of the main sources of nutrient pollution is runoff from farmlands. After a rain or snow melt event, nutrients that are not used by crops can be washed into nearby waters. And nutrients are more likely to end up in the watershed if applied to areas close to nearby waterways or areas with a steep slope. Many conservation practices are available to reduce nutrient runoff such as conversion to pasture, grassed waterways, nutrient removal wetlands, and more.
This summer, I mapped areas of cropland in the Red Cedar Watershed and their risk of nutrient runoff. To accomplish this, I used GIS (geographic information systems) to combine variables of slope, distance to water, and land cover. The combination of data led to a risk scale map that shows runoff risk across the watershed.
To achieve the desired results, I used GIS, which is a computer-based means for mapping and analyzing spatial trends and relationships. Generally, GIS allows us to answer questions about where problems occur and how can we better understand and visualize data to address them Throughout I used data layers, or collections of data, such as a set of points with coordinates. The process used a variety of tools to convert available data from the Wisconsin Department of Natural Resources to the final product.
First, cropland was selected from a land cover dataset. Then, slope was calculated from an elevation dataset. Next, the separate datasets of lakes and streams were combined. With the combined waters, the distance from each pixel, or point in the watershed, was calculated. Index values, which simplified risk to a rank from 1 to 5, were assigned to the slope and distance to water layers. The indexed layers were then merged to create a map of cropland with a runoff risk scale. In the end, 41.4% of cropland in the watershed was found to be at high risk of nutrient runoff.
I chose to focus on the Red Cedar Watershed because a third of the land is used for cropland and algal blooms are common. The waters within the watershed are important to nearby communities, but having toxic lakes makes outdoor recreation and other uses difficult. The Red Cedar Watershed, is not alone in struggling with nutrient pollution, as many watersheds across Wisconsin experience the same problems.
My hope is that this project will help the community in dealing with nutrient pollution in the lakes and rivers. These maps are a way for the community to visualize the distribution of the issue and identify where to focus their attention to make the greatest improvements in watershed quality. With proper funding and education, there is large potential throughout the Red Cedar Watershed for the reduction of nutrient runoff. And the application of conservation practices to any cropland would make a positive impact regardless of runoff risk.
In my completed analysis, I used steep slope and close distance to water as variables. In the future, a variable like soil characteristics could be added. Particle size or compaction could change the runoff risk and improve the results of the analysis with their inclusion. In addition, this project could be expanded by looking at past or future runoff risk in the watershed, or the economic impacts of the conversion of cropland to pasture. Next time, an analysis like this is conducted, I recommend a greater emphasis on using knowledge from, and communicating with, the community.
Overall, this project has been a wonderful experience, expanding my perspectives on both research and environmental issues. The LAKES program has provided me with an incredible opportunity to collaborate with students across various fields, allowing me to gain interdisciplinary problem-solving skills that will improve the way I understand and address problems in the future. Working with other fields of study on similar issues has been eye-opening, provoking me to consider social and economic concerns I had not considered before. In addition, I have received valuable insight into how scientific research is conducted, as well as improved analytical skills, which I can use regardless of career. With the various presentations, I have become more confident in writing and presenting scientific projects. I have also expanded my GIS abilities, learning new tools and methods.
In addition to our research, I have enjoyed getting to know my fellow researchers from across the country and taking time to explore Menomonie. It has been great biking around town and seeing new places. I have personally seen much of Menomonie through my binoculars, as I have visited many parks while birding. The Red Cedar River and Lake Menomin have proven to be terrific areas to find some cool birds, as well as scenic views. In the end, I am grateful for the experience here in Menomonie and the chance to do research on such a crucial problem. Moving forward, I plan to retain the new perspectives I have gained and to address the environmental issues we face with determination.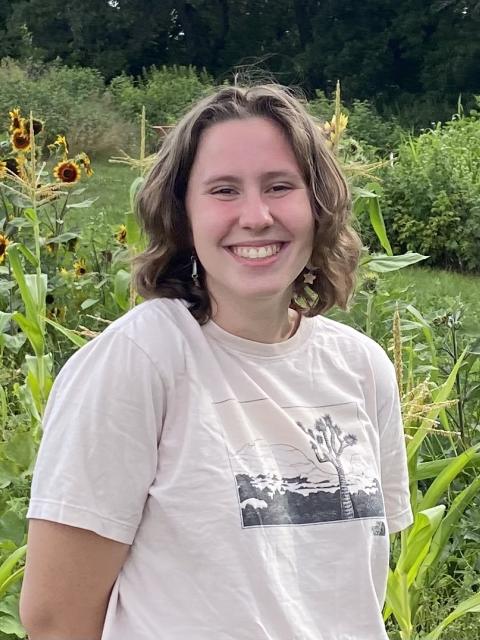 Phoebe Hemmerling
Psychology and Art Therapy major at St. Thomas Aquinas College
Faculty Mentor: Sarah Wood
Research Poster: Supporting Best Management Practices Through the Purchase of Local Products
Phoebe grew up in Baton Rouge, Louisiana, and is currently a junior at St. Thomas Aquinas College in Sparkill, New York. She is pursuing a double major in psychology and art therapy. After graduating in 2024, she intends to attend graduate school and conduct further research in the field of environmental psychology. At college, Phoebe is a part of the Women's Triathlon team and spends much of her free time training for nation-wide competitions. Outside of academia, she enjoys playing video games, painting her newest art piece, or watching one of her favorite movies.
Read Phoebe Hemmerling's Research Summary
Supporting Best Management Practices Through the Purchase of Local Products
In the Red Cedar watershed, phosphorus and other nutrients pollute the lakes, causing a significant number of problems within the environment. When dealing with large-scale environmental issues, people may feel like they are unable to improve the situation, leading to feelings of helplessness and inaction. Addressing the problem on a smaller scale and providing concrete individual actions may help address and overcome this barrier. A group within the Red Cedar Watershed has expressed interest in selling grass-fed beef directly to residents and local businesses. Grass-fed beef can help contribute to better water quality because grasslands (as opposed to plowed crop lands) can help keep soil on the land and nutrients out of the water. The project I conducted this summer focused on how to best market this "lakes-certified" ground beef to the community.
To begin this project, I looked at the impact of 2 variables that previous research suggested would have a large impact on consumer behavior: the perceived availability of the product and the benefit a purchase would have. Past research suggested that a perception of product scarcity and emphasis on a financial benefit encourages consumers to purchase a product.
With Dr. Sarah Wood of University of Wisconsin at Stout, I created a public survey which presented respondents with one of four advertisements which varied in whether the message included information about whether the "lakes-certified" ground beef was scarce ("limited quantities available") or not scarce ("sign up now") and whether it emphasized the financial ("helps put money back into the local economy") or environmental ("reduces toxic algal blooms") benefit of purchasing the beef. Respondents then answered a series of questions about their willingness to buy, intention to purchase, and amount they were willing to pay for this local ground beef, as well as some general questions about their views on products they purchase.
This survey was distributed through social media, word of mouth, and at local events such as the Dunn County Fair and Menomonie Farmer's Market. Seventy-five people responded to the survey. Survey responses showed that using the environmental message was the best strategy for encouraging people to purchase this product. Respondents who received either of the advertisements with an environmental message expressed a higher likelihood of purchasing the product and a willingness to pay more for it. Surprisingly, the inclusion of language related to scarcity in the advertisement had no significant effect on respondents' answers. The limited availability of "Lakes-Certified" beef would likely not make consumers more likely to purchase the product.
When it comes to marketing "Lakes-Certified" beef and other local products in the future, I suggest that farmers use an environmental message to draw buyers in. Another suggestion would be to test the effectiveness of a message that emphasizes the product's personal benefits to individuals and their families. Including a message which states that the product tastes better, is better quality, or is healthier for consumers may be more likely to impact consumer purchase decisions for this kind of product. Survey responses in this case showed that people rated these factors as most important when thinking about buying everyday commodities.
Growing up in Louisiana, I've experienced a wide range of environmental disasters within my lifetime. These issues are complicated and require researchers from many different disciplines to work together. It is also essential to learn from the communities that are directly impacted. This summer, the LAKES REU program brought together students and researchers from a variety of backgrounds to work together with farmers and other residents of Menomonie to address nutrient levels in lake Menomin. Seeing how the work of each discipline has addressed this one issue has shown me how solving complex programs requires multiple viewpoints. I intend to use this valuable knowledge in my future studies. I got to meet so many people from diverse backgrounds who all shared the same love for the environment and a desire to preserve it for future generations. As I move forward in my career, I will look back and draw upon the knowledge and background of everyone I had the opportunity to interact with while in Menomonie.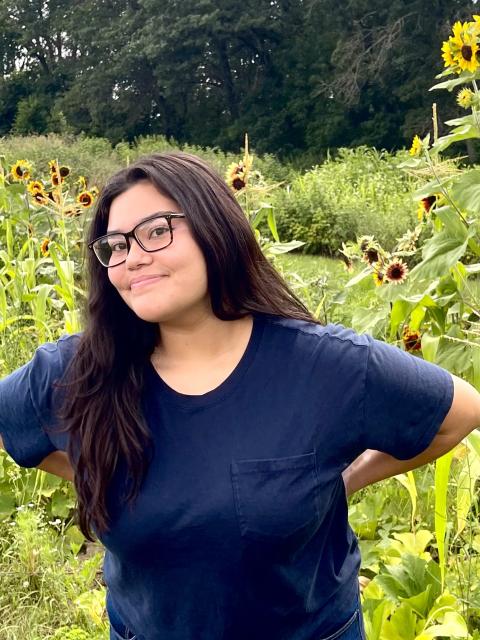 Nidia Lazos
Environmental Studies major at the University of Kansas
Faculty Mentor: Sarah Wood
Research Poster: Influences on Farmer Perceptions of Specific Farming Practices
Nidia is from Wichita, Kansas and is a rising Junior at the University of Kansas, majoring in Environmental Studies and minoring in Peace and Conflict Studies. During her free time, she likes to read, play video games, and watch Netflix. She has had a wonderful time getting to know everyone from the LAKES program and greatly appreciates everything she has learned this summer. After graduating college, she plans to continue her education by getting a master's degree in Environmental Public Health so that she can do her part to solve current environmental issues.
Read Nidia Lazos' Research Summary
Influences on Farmer Perceptions of Specific Farming Practices
The focus of my project this summer was on exploring psychological aspects of environmental issues like the lake pollution in the Red Cedar Watershed. Past research has shown that what the people around us do influences what we do. This is particularly true for behaviors that impact the environment. Hundreds of studies have shown a connection between social norms and environmentally relevant behaviors like energy and water conservation. Social norms are simply unwritten rules within a group that influence someone to feel or think in a certain way. The two norms I investigated for my project were descriptive and injunctive norms. A descriptive norm can influence someone to act in a certain way if a particular behavior is viewed as more common. An injunctive norm can influence someone to partake in a behavior that they view as being approved by people in their group.
In the realm of farming, there are a variety of conservation practices that can be used to help reduce nutrient pollution in the watershed. My project aimed to understand which of these management practices farmers are currently using and whether this was related to their perceptions of how common or approved these practices are amongst other local farmers.
I started with a list of 11 best management practices, such as cover crops and nutrient management plans, which are used to varying degrees by farmers in the area and have been identified as relevant to water quality in local waterways. From here I produced questions that would cover the aspects of injunctive and descriptive norms for my survey. To assess the descriptive norms, the survey asked people to estimate the percentage of nearby farmers they think use each of the farming practices. To assess the injunctive norm, the survey asked people to estimate the extent to which they thought nearby farmers 'approved or disapproved' of each of the farming practices.
To get survey responses, farmers were recruited through social media, local farming organizations, local farmers' markets, and a news article. There was a total of twenty-two responses, but only eight participants fully answered the survey. Getting farmers to fill out the survey was difficult and even getting others to share the survey proved to be a challenge of its own. Eighteen local officials and local farming organizations were contacted to see whether they would be able to share the survey with their members. Only eight people replied and only three people were able to post my survey link online, and a reporter was able to publish a story about it in an online newspaper.
The data collected showed that 60% of the respondents owned less than 50 acres of land. The group of respondents are unlikely to reflect the practices of the local farming community as a whole. For example, the results showed that all participants were using conservation tillage (e.g., no-till). They estimated that 56.5% of their neighbors use conservation tillage (no-till), but the Dunn County Land and Water Conservation Division has estimated that in 2021, 31.6% of farms had crops that were established under no-till. Although this sample is very small, this overestimation could be due to the fact that their participation in no-till influenced them to perceive this as a very common farming practice among the community, or vice versa.
To get a broader perspective on this topic, I recommend attempting to collect data during a different season. Farmers are very busy during the summer, making them difficult to contact. I would also collect data over a significantly longer period of time and try to collect data from all types of farming communities, possibly extending past the watershed. There are many other areas in the region that would have similar practices and water quality concerns. Partnering with a local farming organization to host an event would also be very beneficial because it could attract farmers from diverse backgrounds.
This summer was full of new learning experiences, and this was the first time I was able to collect data for my own research project. It has been very enlightening, and I am happy that I got to take part in this program. In the future, I plan to continue to work with communities to solve environmental issues. This project has shown me how important it is to establish a relationship between a community and the farmers. We are all in this together and working as a cohesive team is what's going to allow us to solve the root problems that come with environmental issues.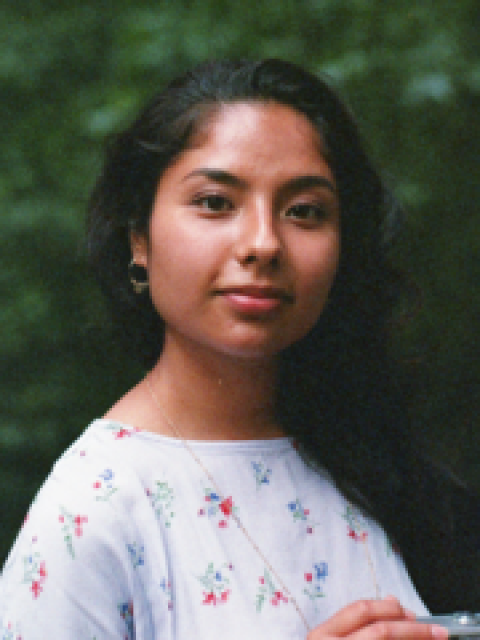 Nallely Lepiz Madrigal
Environmental Economics and Management major at the University of Georgia
Faculty Mentor: Arthur Kneeland
Research Poster: Power Production of Limiting Nutrients in Microbial Fuel Cells 
Zayyan was raised in Valley Stream, New York.  She is currently a senior studying engineering science with a concentration in environmental engineering at Stony Brook University in New York.  She started her college career as a mechanical engineering major but as junior, she realized her passion for the environment and switched majors.  She has always had an interest in the environment.  Learning from her first two years in college, Zayyan has a goal to mix engineering with her passion for the environment.  When she isn't studying for her numerous exams, you can find Zayyan talking to her aloe plant and cactus.  After her May 2019 graduation, she plans on continuing her education by completing a master's degree in Material Science at Stony Brook University.
Read Nallely Lepiz Madrigal's Research Summary
Benefits of Grass-Fed Beef Farming Compared to Corn for Silage Farming
During my first few weeks in Menomonie, I appreciated the bicycle friendly infrastructure, the beautiful view of Lake Menomin from my dorm window, and the nearby parks and rivers that made my free time so enjoyable. I also appreciated all the amazing new faces I met when I first arrived, from the faculty and staff at UW-Stout, to their neighbors and farmer friends that welcomed me and the rest of my colleagues. With this appreciation, I did my best to investigate a topic that considered all these amazing aspects of the Red Cedar Watershed. Therefore, after learning more about the concerns of the community regarding the success of farmers, the health of the lake, and an initiative for the marketable production of grass-fed beef, I decided to investigate which form of beef production would be the most beneficial for small-scale farmers in this region. I specifically looked at the production of grass-fed beef farming in comparison to corn for silage farming. My research started off by reading through publicly available data that helped me identify the many costs involved in both styles of beef production. 
Searching for the monetary costs for each consisted of sitting in front of a screen for hours at a time to find the best accurate and available information that would give helpful insight into the production of both styles of farming. It was not an easy task on certain days, but I was able to find trustworthy data for this region. Through this process, I also learned so much about the amount of work it takes for any one farmer to manage his farm. It is a job we should all be more aware and appreciative of. They wear many hats at once like being a soil scientist for their fertile land, a weatherman for their weekly and seasonal work schedule, and a teacher for everyone who wishes to learn more about their production. Having this in the back of my mind and heart, it helped me to really do my very best to accurately complete my project. 
So, after I found how much it cost to manage a grass-fed beef farm and a corn for silage farm, I started to calculate how much money each business would make after selling their two different forms of beef. While finding this information, I learned about the different ways corn silage is valued when sold on the market. One study looked down to the very detail of the angle and height at which a corn stalk should be cut to get the best value for their product. It was the same when I was looking into grass-fed beef farming and the different cuts of beef that are sold for a certain price on the market to buyers. I was truly amazed to see the amount of detail that is placed within each market for the value of the feed and the resulting product of the beef. 
Although it was very interesting to learn about how each form of feed is valued, I was surprised to learn about the monetary benefits farmers receive in return. The overall return was not what it should have been given the amount of labor, time, and money that is invested by each farmer. However, there were many values gained and involved in the production of grass-fed beef. These included human, social, and natural advantages that truly are too valuable to be measured by any currency and very well make up for any monetary losses. The social values associated with grass-fed beef farming include less labor time being spent on the field and the overall happiness farmers could gain from being able to spend more time with their family and friends with their extra free time. These social values also lead to some of the human capital values of better health, less stress, and a better rested body. Lastly, there are several natural capital values that are gained from grass-fed beef production. 
Since cows and the grasslands they live on are codependent on each other, they both gain so much through this relationship. One way this is primarily seen is through the natural fertilizer the cows provide to the grasslands through their manure, and, in return, the grass remains healthy and available as feed for the cows. With this one exchange, multiple natural benefits result. For instance, perennial grasses keep soil on the land and out of waterways where it adds phosphorous. Grasses can sequester carbon which can help with climate change. Grassland environments also provide bird habitat and reduce topsoil erosion. Converting land to perennial grasses can turn previously degraded farmlands into a biodiverse habitat. 
With this added value revolving around social, human, and natural assets that are associated with grass-fed beef farming, farmers are receiving a higher return on their investment compared to corn for silage farming. Therefore, in comparison to corn for silage production, all of the factors and benefits grass-fed beef farming offers makes it the most cost-effective option for small-scale farmers to produce beef. 
With these findings, I was able to find helpful insight to address certain areas of concern for this charming town. Findings that mean there is a way for small-scale beef farmers to work less, gain more freedom in their lifestyles, and give back more to their communities and environment while doing what they love. The process and journey to live this hopeful possibility is challenging at times, but as I have learned through my time at LAKES, everything good never comes quick or easy and is experienced with persistent hope and faith.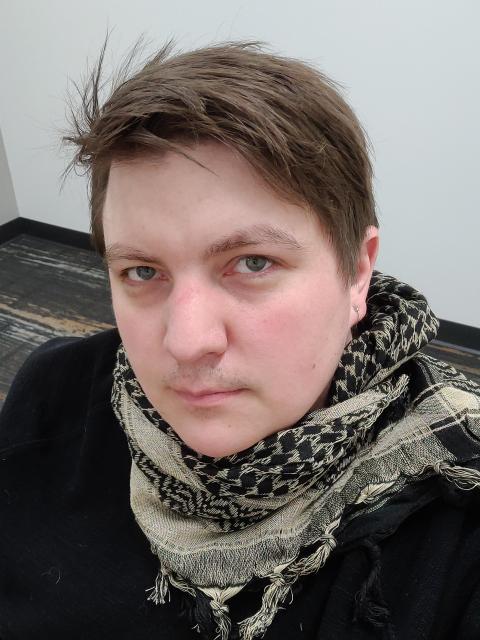 Cody Lundquist
Physics and Electrical Engineering major at the University of Wisconsin-River Falls
Faculty Mentor: Devin Berg
Research Poster: MenomiNet: A Prototype Network for Real-Time Public Lake Data
Cody is from Red Wing, MN and is a Senior at the University of Wisconsin River Falls, dual majoring in Physics and Electrical Engineering.  Prior to going to college, he served six years in the U.S. Air Force. .  He appreciates the experience gained from the LAKES program and has gained confidence in the application of his education.  He plans to further his education at graduate school after settling into a career that supports that endeavor.  Cody is a passionate creative with a driven, jack-of-all-trades personality.
Read Cody Lundquist's Research Summary
MenomiNet: A Prototype Network for Real-Time Public Lake Data
In "The Art of War," Sun Tzu writes, "If you know the enemy and know yourself, you need not fear the result of a hundred battles.  If you know yourself but not the enemy, for every victory gained you will also suffer a defeat.  If you know neither the enemy nor yourself, you will succumb in every battle."  The implication here is that information is paramount to success on the battlefield, but this isn't only true for war.  Having clear, accurate information can mean a world of difference no matter what you approach in life.  When approaching the Red Cedar Watershed, it is important to know the quality of the water to get a glimpse into what methods could be helpful in remediation, as well as the long-term impact that those efforts have.
Testing various properties of the water can reveal both the current and trending health within a watershed, while the availability of long-term, continuous data supports researchers in the quest for funding.  There are high quality sensors available that measure lake health effectively but manufacturing the systems for monitoring water quality is costly and therefore inaccessible to organizations with small budgets, leading to uneven access to quality data for conservation efforts.  Further, these systems often require a person to manually collect data from a logger on-site, utilizing more time and resources.  The use of common devices and sensors, available to the average consumer, can vastly reduce cost and increase accessibility.  Including a radio for the transmission of the data reduces the necessity for on-site data collection, allowing someone to collect from the shore, or even from their own office with an extended network.
To start to address these issues, my research partner and I spent the summer designing and building a prototype DIY water quality monitor that can be constructed and improved upon by interested members of the community or lake associations.  We collaborated with environmental experts and researched similar work for the insight necessary to gain direction and prioritize which lake properties to measure.  Our efforts largely centered around a microprocessor and sensors that were known to be compatible with it.  We made our intent with every purchase to minimize cost and maximize ease of use.  Using readily available materials such as buckets and PVC reduced the need for precision and sped up manufacturing.
Upon completion of our prototype, we anchored our DIY buoy in a small bay overnight and tested the transmission of data both upon release and collection.  After returning, we made some adjustments to our physical design, recalibrated the system, and redeployed for 5 days.  Over the course of those days, we checked the data received against lab calibrated equipment for accuracy and precision.  We also tested the range of our transmission by walking our receiver from the shore.  The consistency of our data was tested by returning multiple times during the deployment with the same methods as before.
The system was largely successful, providing live feed data collection from the shore while presenting reasonable values for temperature, dissolved oxygen, and pH. The system has low power consumption and was able to provide data for almost a week with constant collection and broadcast.  The DIY buoy did not sustain any water damage, showing that home methods of construction are adequate for proper data collection. 
This system also provides the potential for additional sensors for a more detailed view of watershed health while remaining cost effective. 
A low-cost network of water quality monitors can provide continuous data to the public and interested groups, supporting informed decision making for local farmers, policy makers, and conservationists.  The network would also allow for easy collaboration between groups to share data with each other.  It will reduce the time and resources spent on collection of data on-site, while also providing more frequent information.  Researchers will be able to map trends, provide insight to government officials and help with directed federal conservation efforts.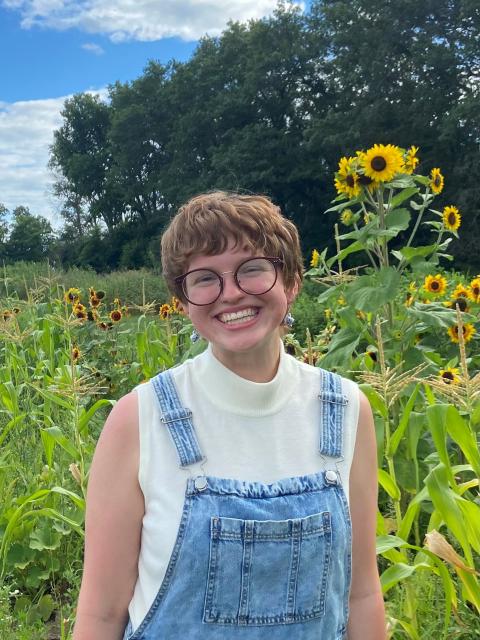 Erin McCotter
Biological Sciences and Global Health major at Northwestern University
Faculty Mentor: Tina Lee
Research Poster: "The Land Teaches You:" The Colfax Red Cedar Preserve and Recreation Area (CRCPRA) As A Community Classroom
Erin has moved around the Midwest for most of their life, but currently calls Green Bay, Wisconsin home. They are studying Biological Sciences and Global Health at Northwestern University in Evanston, Illinois. After they graduate, they plan to work as a nursing assistant for a few years before applying to Physician Assistant programs. Erin sees environmental justice as central to promoting health and aims to incorporate their experience in community-informed water research into their work in the medical field. When Erin's not researching or organizing against fossil fuel investments, they love to swim in Lake Michigan, doodle with crayons, tend to the campus garden, plot out themes for their radio show, and try out new recipes with friends.
Read Erin McCotter's Research Summary
"The Land Teaches You:" The Colfax Red Cedar Preserve and Recreation Area (CRCPRA) As A Community Classroom  
Up until 2020, people in the Colfax area have kept the "Ferry Pit," now named the Colfax Red Cedar Preserve and Recreation Area (CRCPRA), as their "hidden gem." Locals have been gathering there for decades to fish, hike, and just enjoy the scenery. Even when it was technically closed off to the public and being used as gravel pit by the Dunn County Highway Department, this site continued to draw many in. So now that the site is owned by the Town of Colfax and officially open for public use, how can it best be utilized to benefit the community which has been loving it for so long?
This question was proposed by one of the members of the preserve committee, who reached out to LAKES for help with finding some answers. They explained how conservation projects have historically been seen through an ecological lens while neglecting the social elements of how people interact with the green space around them. One infamous example of this is now referred to in conservation circles and "The Chicago Controversy." This controversy broke out in the late 90s when local groups started to much back against management techniques that converted forests back to native prairie. While these practices were in line with restoration ecology recommendations at the time, they did not consider the utility and aesthetic preferences that neighboring people have for forests. Consequentially, there was significant pushback against restoration work in the Chicago area and this moment became a "dawning moment" for many conservationists.
With this history in mind, I set out to determine what the role of the CRCPRA is in the community and how local opinions about the preserve could be incorporated into management plans. To do this, I conducted 17 interviews with various stakeholders including members of the preserve committee, volunteers, Colfax residents, political representatives, conservationists, and Ojibwe leaders. Many of these interviews were conducted at the preserve, where I was able to observe how people engage with the space and take notes on significant elements of the property. I also sent out questions in a watershed-wide survey, which received 65 responses. Once all this data was collected, I put everything into a qualitative data analysis software called NVivo, which allowed me to tag the responses for different themes to determine what topics came up the most.
Across the board, one topic that kept coming up was how the CRCPRA could be used as a space for education. While that doesn't just apply to education about water quality issues, as I'm biased towards since being a part of the LAKES program, it became evident that the two miles of river frontage on the preserve opened up unique opportunities to get people thinking about their connection to local bodies of water in new ways.
From prior research conducted by LAKES students, we knew that a lot of people in the area tended to blame farmers for the phosphorus pollution and subsequent greening in Lakes Menomin and Tainter, leading to a sense of resentment in farmer's and hopelessness in the rest of the community. While my interviews did not center around those ideas, the same emphasis on agricultural means of reducing phosphorus pollution came up. For those not directly involved with conservation efforts, there was little recognition of non-agricultural sources of phosphorus or methods of curbing runoff that didn't involve changing farming practices. Since the CRCPRA has many sites with significant soil erosion, the preserve is acting in some ways as a phosphorus source, albeit a 'natural' one. Additionally, the preserve's roles as a riparian forest with significant buffers along the river can help decrease phosphorus runoff into the river. Overall, the preserve is intricately connected to phosphorus pollution in the area through several avenues, and many participants suggested that highlighting those roles could broaden phosphorus pollution conversation in the area beyond agriculture.
Another recurring theme from this research was the desire to increase the communal sense of ownership and love for public lands with the hopes that it would create more motivation to engage with local efforts to protect the lands and waterways. One interviewee explained, "If can get people out along the river and loving it, they're going to want to protect it, and hopefully do what they need to do to protect It." Another explained how this preserve is "an investment in the people of the area and it's an equalizer, because not everybody can afford a nice lakefront property." While it seems there are already many people in the community that feel compelled to help keep the preserve running, there is still room for increased engagement. One interviewee said, "When we [the preserve committee] run into people there, they're generally excited about it being open and the possibilities of it, but it would be nice to get more community involvement in the work work stuff." Since the greening in Lakes Menomin and Tainter is such a visible and prominent issue for people in the area, explicitly tying that into the state of the preserve could mobilize a new sect of volunteers.
Other ideas that came up to increase engagement and educational efficacy as the preserve included increasing signage, increasing outreach, creating an event schedule, creating more native pollinator habitat, continuing to remove invasive species, planting forgeable plants, co-hosting events with libraries and outdoor-accessibility groups, and consulting with nearby Ojibwe environmental leaders for management advice.
While there are significant limitations to how much impact educational work in spaces like the CRCPRA could have, I think it is an important step towards integrating water protection into everyday forms of recreation and widening the scope of who feels like they can make a difference in phosphorus pollution problems. As burnout has been identified as a major issue for water quality activism in the area, the more people that can be engaged, the better.