Save the Date - 2022 Early Childhood Education Conference -  Friday and Saturday, April 22 and 23, 2022 - Face to Face
We see you and we hear you.
All conference sessions will be available for attendees from May 1st to May 31st, 2021.
Once you've registered, watch for an email from ececonference@uwstout.edu with complete instructions on how to access the Canvas content.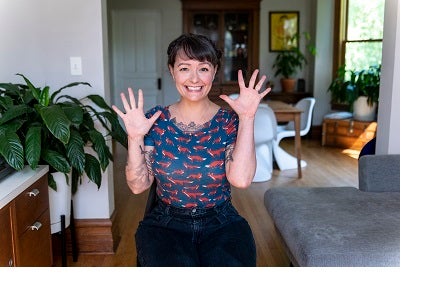 "A Stands for Advocacy"





Using our Outside Voices for Real Change!
Rachel Giannini, Early Childhood Specialist
You! Yes, you covered in paint! You are an advocate! This workshop discusses all the ways educators can take on the role of advocacy. Focuses on using social media platforms, letter writing, and extending our voices.
Rachel Giannini is a childhood specialist, an early childhood education, and an advocate. She understands where you are and what you do. She is also part of the ongoing work with the Kindling Group's "No Small Matter" documentary film. The film addresses the critical work that YOU do. Rachel will bring life and energy to the day and will reinforce what you know to be true: your work is the most important work.
Rachels' writing, expertise, and videos have appeared in Vox, The New York Times, HuffPost, Child Care Exchange, and Chicago Parent.  She has an MFA in Museum Education from the University of Illinois and is a volunteer hospital magician for Open Heart Magic.