Students that choose to complete the ROTC curriculum and complete their degree will commission as an Officer in the Regular Army, Army National Guard, or Army Reserves and serve in one of 17 career fields based on personal desire and Army requirements.
Alumni Stories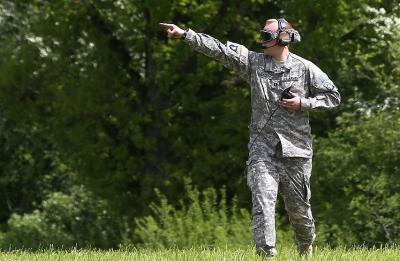 Dick Lofthouse '08
Degree - B.S. Construction
Component and Career Field - Active Duty, Aviation
Rank - Captain (Promotable)
Current Position - Assistant Product Manager at Redston Army Arsenal in Huntsville, AL

What opportunities did ROTC or Army service provide you?
"My service has given me the opportunity to accomplish things I never thought was possible; becoming a rated rotary-wing pilot, travel Europe with my family, and seek opportunities that will propel me ahead of my contemporary peers in the civilian sector when I choose to get out of the Army and seek a civilian career."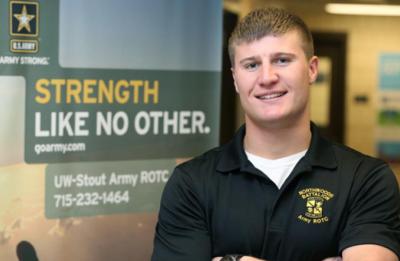 Benjamin Beyer '17
Degree - B.S. Manufacturing Engineering
Component and Career Field - Wisconsin National Guard, Engineer
Rank - Second Lieutenant
Current Position - Platoon Leader at the 273rd Engineer Company in Medford, WI
How did your education and ROTC experience at UW-Stout prepare you for your Army and/or civilian career?
UW Stout and ROTC prepared me by providing numerous hand-on and real world experiences.  Whether it was touring a manufacturing plant with one of my engineering classes or practicing small unit tactics at Lake Menomin Park, every opportunity gave me an idea of what to expect after graduation.
What opportunities did ROTC or Army service provide you?
ROTC gave me a way to get involved while I was a student at UW-Stout.  Being a part of a program is important to become a well rounded person.  It also allowed me to meet a lot of amazing people, both in the military and not in the military.  The Army has given me so many opportunities.  Not only did they pay for my schooling, they also provided me with a paycheck twice a month so that I could focus on schooling and not my finances.  The Army has taught me leadership, project management, teamwork, time management, communication skills, and decision making.  They also have given me the opportunity to attend schools like Air Assault and Sapper Leader Course.