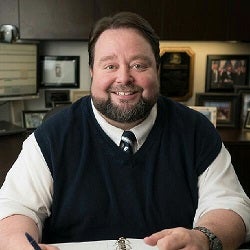 Kyle J. Walker MRC, CRC, CPM, has accepted the position of Executive Director of SVRI, he started February 4, 2019!
For those of you who did not have opportunity to meet Kyle or learn about his background while he was on campus in November, he has been the Division Director, Division of Consumer Services for the South Carolina Commission for the Blind, Columbia, South Carolina since 2015. Kyle worked with the Utah State Office of Rehabilitation, Salt Lake City, Utah from 2000-2015, holding the following roles in progressively more responsible positions: Vocational Rehabilitation Counselor, Counseling Supervisor, District Director, Field Services Director, Director of Administrative Services, Director of Client Services, and Division Director- Division of Rehabilitation Services.
Kyle's current professional certifications include Certified Rehabilitation Counselor (CRC), and Certified Public Manager (CPM). He maintains his Licensed Vocational Rehabilitation Counselor status with the state of Utah.
His professional leadership experience includes the role of President, Utah Rehabilitation Association from 2000-2009. He has also held appointments to the Utah Governor's Taskforce on the Employment of Persons with Disabilities (appointed by the Governor) from 2008-2010, Utah Licensed Vocational Rehabilitation Counselor Board, also appointed by the Governor, from 2013-2015, and most recently (since 2017) to the South Carolina Advisory Council on the Education of Students with Disabilities, appointed by the Superintendent of Public Education.
Kyle holds a Master's degree in Rehabilitation Counseling from Utah State University in Logan, Utah. His Bachelor of Science degree is in Sociology, also from Utah State University in Logan.
Welcome, Kyle!