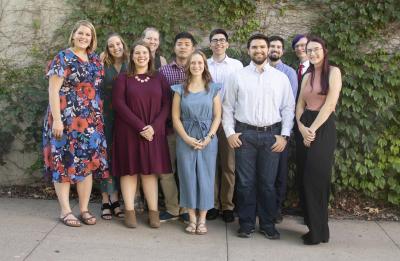 Welcome to North Campus and Fleming|Hovlid. While we may be apart from Main Campus, we strive to build a close-knit, vibrant and inclusive community with our residents. Our mission is to ensure that your residential experience is both socially fulfilling and prepares you for life after college. My staff and I work as servant leaders, we will support and challenge you on your journey through college and ensure the experience is as enriching as possible.
Linked to North Point Dining & Fitness Center!
Over 400 students call Fleming|Hovlid home.
Freshly renovated rooms and bathrooms.
Room Size and Layout
The plans below show the general layout and dimensions. Individual halls vary slightly from this standard. We are unable to accommodate requests for specific room measurements. Two adjustable bed lofts are available in each room. A futon needs to be 79 inches or less to fit within the loft frame.
Fleming | Hovlid Namesake
Thomas Fleming served as the chairman of the English department and director of Public Relations.
Leonard M. Hovlid was a Menomonie resident and generous benefactor who attended the Stout Institute.