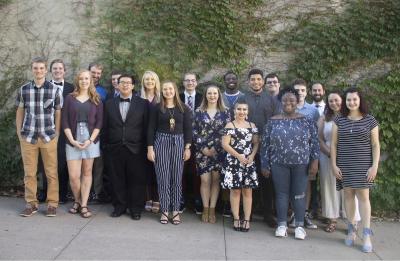 Welcome to CKTO Hall, the heart of all the action! CKTO is a social place with many study spaces, lounges, game rooms, and an elevator. You'll find students hanging out in the well-worn leather chairs inside the front entrance. The staff makes a concerted effort to know you, plan fun and educational programs, and provide support and resources. You'll find your passions, meet people who will open your worldview, and think more critically. Most importantly, you'll make friends and memories that will last beyond graduation.
Over 500 students call CKTO their home.
Middle of campus; near dining and academics.
Large basement, kitchen, and lounge spaces.
Room Size and Layout
The plans below show the general layout and dimensions. Individual halls vary slightly from this standard. We are unable to accommodate requests for specific room measurements. Two adjustable bed lofts are available in each room. A futon needs to be 79 inches or less to fit within the loft frame.
*Extended double rooms are the size of a triple room, they house two people with two sets of furniture.
CKTO Namesakes
Frederick L. Curran graduated from Stout in 1921 and served 32 years as a faculty member.
Ray F. Kranzusch worked as a professor of radio, electrical work and auto-mechanics at Stout.
Francis F. "Tusty" Tustison developed the four-year programs in Physics and Mathematics.
Erich Oetting worked as the first Dean in the School of Education.