Emily Wettergren has always been passionate about art and knew she wanted to study graphic design. It was her passion and talent that helped Wettergren, a senior in graphic design and interactive media, become the lead student designer with University Marketing.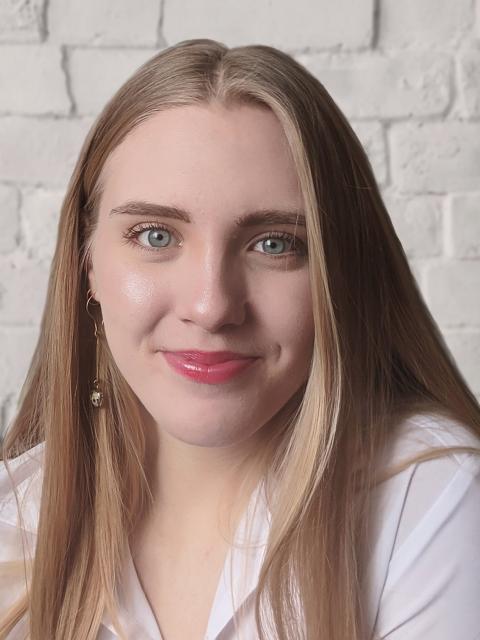 Recognizing the number of student designers employed at the various campus departments, Wettergren seized an opportunity to unify designers across campus. During the 2018 fall semester, with the help of her supervisor Senior Marketing Specialist Stephanie LaBair, Wettergren established the Student Design Group (SDG).
To celebrate the success and hard work SDG members put forth for their individual departments, Wettergren wanted to create a special event to spotlight the group.
"We thought an art exhibition would be a good way to introduce members to SDG and share the work everyone has designed with each other and the community," she said.
SDG Design Show is Born
Once they decided to host the design show, Wettergren and LaBair needed to plan the event. Not having coordinated anything like this before, they met with School of Art and Design Director David Beck. Beck helped create a to-do list and timeline.
"I'm not an event planner, so the process was pretty overwhelming," Wettergren admitted. "Because this was the first time this event had been done, it took some time to make sure we had everything we needed in place."
Wettergren worked with LaBair and UM Graphic Designer Cade Walters. But with LaBair's and Walter's busy schedules, Wettergren did most of the planning herself.
"We tried to work on SDG whenever we had free time," Wettergren explained. "It was fun to have a break from the usual projects. But it was difficult as we all work on a variety of projects at one time and turn-around needs to be quick."
Wettergren created the branding for SDG, as well as the publicity and display materials for the show itself.
"It was a nice change of pace to design without a client as it allowed some more freedom," Wettergren said. "The 'zoomed in' shapes in the brand signify that, at the event, viewers are able to get a closer, more in-depth, look at the work our students make."
Once the brand and show plan was finished, Wettergren contacted the 31 student designers across campus inviting them to be part of the show. The only guideline for submissions was the pieces needed to be created for use by their campus employer.
"Because graphic design needs to be functional, we wanted to share the 'real-world' pieces that were created with clients," Wettergren explained. "Submissions came in slow at first, but in general designer fashion, we got a bunch of last-minute pieces."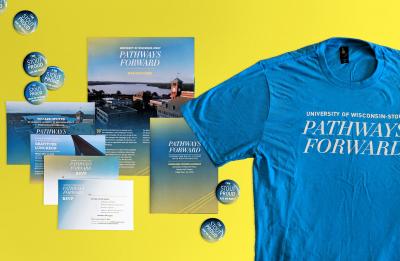 From her own portfolio, Wettergren submitted several pieces. One of her submissions was for the Pathways Forward campaign kickoff. Knowing she would be designing materials that would have such a lasting impact, Wettergren admitted the process was a little intimidating.
"But it was nice being able to work with the University Foundation staff," Wettergren said. "We knew for the kickoff we would need to create a celebratory feel with a refined balance."
The Jurying Process
After reviewing the exhibition planning, Beck suggested SOAD faculty to jury the show. Wettergren reached out to the faculty to explain the event and coordinate a time for judging.
"Most of them were enthusiastic about it and kindly volunteered their time," Wettergren said.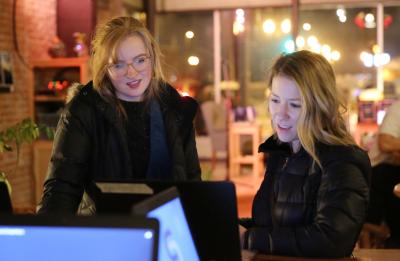 Arranging a venue for the show was the next challenge. Eventually, Wettergren chose the Raw Deal, a coffee house in downtown Menomonie. A relaxed reception was held with campus and community members invited to enjoy the works and talk with the student designers. A two-dimensional display and video table for digital entries encouraged an in-depth look into their work.
"We think that for the first time holding the event, it was successful," Wettergren said. "In the future, I'd like to get the word out to many of the younger students in the graphic design program so they can get a feel for potential future campus jobs and real-life graphic design work."
Wettergren is graduating this spring and hopes the new UM student designers are up to the challenge of coordinating SDG in the coming years.
"Now that we have somewhat of a blueprint to work off it should make planning easier," Wettergren said. "This is something Stout's student designers have been talking about for years, so I'm excited we got the opportunity to begin, hopefully, a new annual event."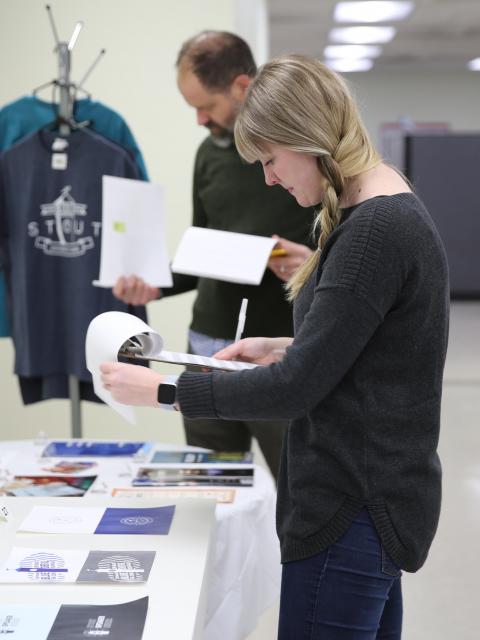 The jurors for the SDG Design Show were Beck, GDIM Program Director Alex DeArmond, design foundations coordinator Erik Evensen and graphic design Instructor Katie Lupton.
"We had the honor of reviewing a large number of submissions for the first annual Stout Design Group Exhibition," Beck said. "We had a multitude of categories to consider and spent time looking at each piece individually on our own and making notes. One element that made it difficult was that some of the designs adhered to the external guidelines for the campus. The student designers behind those creations couldn't necessarily 'run as wild' as those designers who were creating projects that were for internal campus use only."
He used Wettergren's Pathways Forward campaign as an example.
"This campaign needed to follow all required identity guidelines for the university since it was being distributed to thousands of people around the world," Beck explained. "While an event for a residence hall or student organization could be a bit more free and loose with their design, due to not having to follow the same guidelines and restrictions. They were equally strong designs but should be judged in a different light due to the heavy design constraints."
A Successful Inaugural Show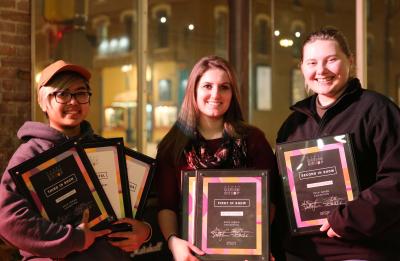 "I hope that this continues as a tradition," Beck said, "and that the School of Art & Design and the UW-Stout can continue to celebrate the great creativity in communication that is happening on this campus. To have it gathered together and celebrated was a wonderful experience. With the exhibition happening off campus at the Raw Deal, and during Art & Design Week, it made the event especially meaningful to both our students and our faculty and staff."
Wettergren hopes to work in the Twin Cities at an agency where she can design multiple brands for her clients.
View more of Wettergren's designs.
SDG Design Show Contributors:
FIRST IN SHOW & BEST CAMPAIGN | Natural Hair Night Series
MEGAN LUEDKE | Graphic Design and Interactive Media | Memorial Student Center
SECOND IN SHOW | "Get Connected with Connect!" Promotional Video
ANASTAZIA ALMER | Entertainment Design | Memorial Student Center
THIRD IN SHOW | Stout Escape Room Themed Posters and MSC Signage
THERESA HANG | Graphic Design and Interactive Media | Housing Design
BEST DIGITAL | Reflections Banquet Motion Graphic
THERESA HANG | Graphic Design and Interactive | Media Housing Design
BEST ILLUSTRATION | Operations Staff T-shirt Design for Summer 2018
THERESA HANG | Graphic Design and Interactive Media | Housing Design
BEST INFORMATION DESIGN | Printing and Posting Guide
ANDREW BOGARD | Graphic Design and Interactive Media | Student Life Design
BEST LAYOUT | AFM/HKMC Staff Collectible Trading Cards
CHIA LOR | Graphic Design and Interactive Media | Housing Design
JOSH BOKOR | Graphic Design and Interactive Media | University Recreation
JAICEE BOWMAN | Graphic Design and Interactive Media | Career Services
CONNOR CLARKE | Entertainment Design | Communications
EMMA FAVILL | Graphic Design and Interactive Media | Marketing
SAM GIESREGAN | Graphic Design and Interactive Media | Housing Design
MEGAN HULTGREN | Graphic Design and Interactive Media | Marketing
NICOLE JUZA | Graphic Design and Interactive Media | Housing Design
KATIE KLYVE | Entertainment Design | Marketing
EMERSON KOVACS | Graphic Design and Interactive Media | University Recreation
JENNA MICKSCHL | Graphic Design and Interactive Media | University Recreation
KIRSTEN RICH | Graphic Design and Interactive Media | Memorial Student Center
ABBY STRAUB | Business Administration | Memorial Student Center
NICOLE WALLERICK | Graphic Design and Interactive Media | Memorial Student Center
EMILY WETTERGREN | Graphic Design and Interactive Media | Marketing
EMILY WYLAND | Graphic Design and Interactive Media | Honors College