The creative work of up to 30 UW-Stout student designers from various offices across campus will be in the spotlight off campus – but not far away.
At the Raw Deal, one block from campus at 603 S. Broadway St., an opening reception will be held at 7 p.m. Thursday, Feb. 21, for the Student Design Group Juried Exhibition.
Work designed by students from brochures to posters to advertising pieces and more for the university will be on display through Thursday, Feb. 28.
The opening reception will include awards. Four faculty members from the School of Art and Design will judge the work — Alex DeArmond, Dave Beck, Erik Evensen and Katie Lupton.
The exhibit is being coordinated by University Marketing, led by student Emily Wettergren and graphic designers Stephanie Labair and Cade Walters.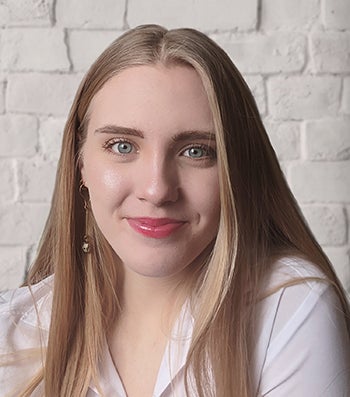 Wettergren, of Minneapolis, a senior in graphic design and interactive media, hopes this exhibit is the start of an annual tradition to highlight the work done daily across campus by students from the School of Art and Design.
"While my classes at Stout have been essential for learning what good design is, being able to work in a professional setting has helped me to greatly improve upon how I present my work and to communicate with clients, along with learning to design within an established brand identity," Wettergren said.
"It's great that we have so many opportunities throughout the university for students to design in a professional setting. It's great being able to see your work actually produced and put into use across campus and elsewhere," she said.
###
Photos
Emily Wettergren's designs for UW-Stout's Pathways Forward campaign will be on display at the Student Design Group art exhibit opening Feb. 21 at the Raw Deal.
Emily Wettergren