Two University of Wisconsin-Stout students and an alumnus want to bring the community together at a new gallery space in downtown Menomonie.
Art students Emily Gordon, Jared LeClaire and 2018 studio art-painting alumnus Ed Erdmann started Gallery 610 in July. They are hosting the gallery's first juried art show starting Friday, Sept. 13, that will continue until Thursday, Oct. 3.
An opening reception is planned from 5 to 8 p.m. on Friday at the gallery. The reception allows the artists to share their stories and create conversations about their art.
The gallery is located on  Sixth Avenue West behind the Raw Deal and next to the Duke & Dagger.
The 13-piece exhibit is entitled "Tom Doesn't Like It" and features works of two alumni, Tiffany Lange and Jake Zirbes, from the Twin Cities, and UW-Stout student Grace Wallstead, who is majoring in studio art-metals and contemporary art jewelry.
 "We thought the gallery would be a bridge between the students and the community," said Gordon, a senior majoring in studio art-ceramics from Woodbury, Minn., who graduates in December. "A lot of art students have to go to the Twin Cities to find inspiration for art. We wanted to bring something closer."
Gallery 610 also provides a bridge to students, allowing them an opportunity to get field experience working in an art gallery as gallery assistants for classroom credit, Gordon said.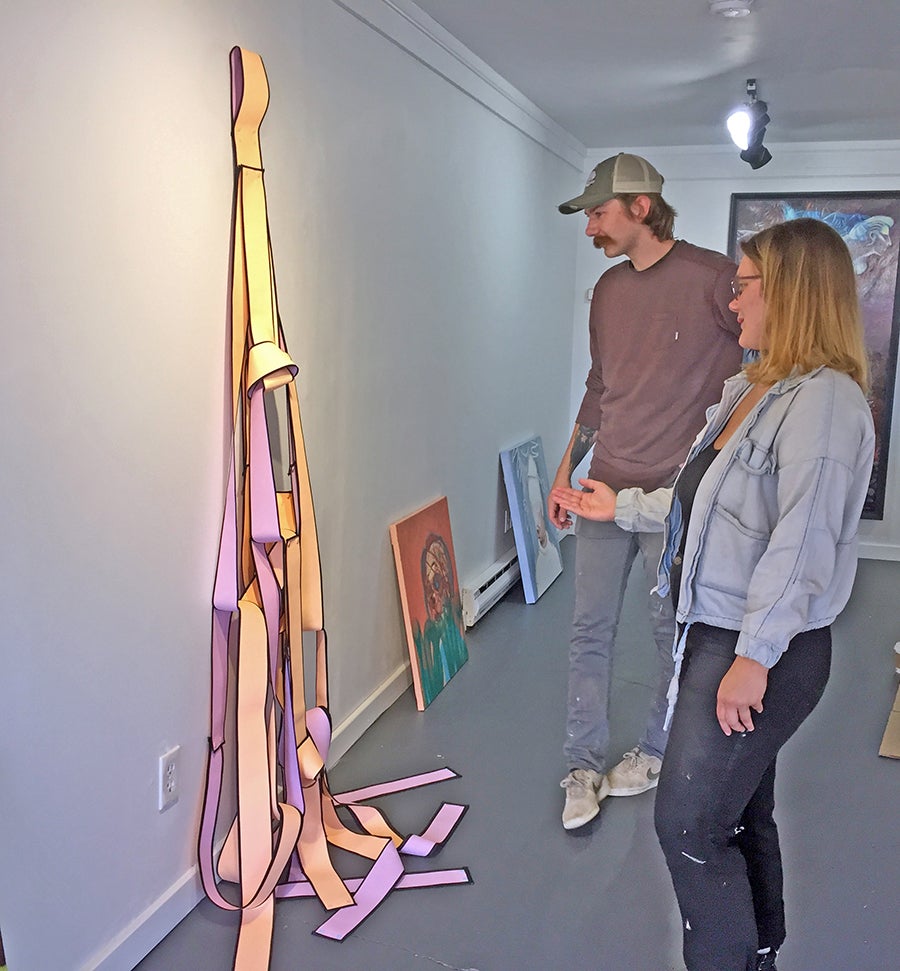 The idea for the gallery started when LeClaire, a senior majoring in studio art-sculpture from Rogers, Minn., who graduates in May, had the opportunity to rent the space. The artists considered using it as a studio but soon realized it had all the necessary fixtures to make a wonderful gallery space.
"It already had a gallery feel to it," LeClaire said. "When you bring art to a community it can help bring sustainable growth to the area, and regional arts can bring growth in diversity."
Gallery 610 is nonprofit, Gordon said. The three artists pay the gallery rent themselves. Artists who sell their work keep 100 percent of the sale price. Those interested in purchasing art on display in Gallery 610 are put in touch with the artists for prices.
"Typical commercial galleries will take 40 to 60% of the profits," Gordon said.
"Artists don't have to inflate their prices," LeClaire said. "By not having to make a profit, the gallery is a more friendly, approachable environment."
Not having to make a profit also allows artists to create more experimental work and display it, Gordon said.
The artists also hope students and the community will learn about art and not be afraid to ask questions, LeClaire said.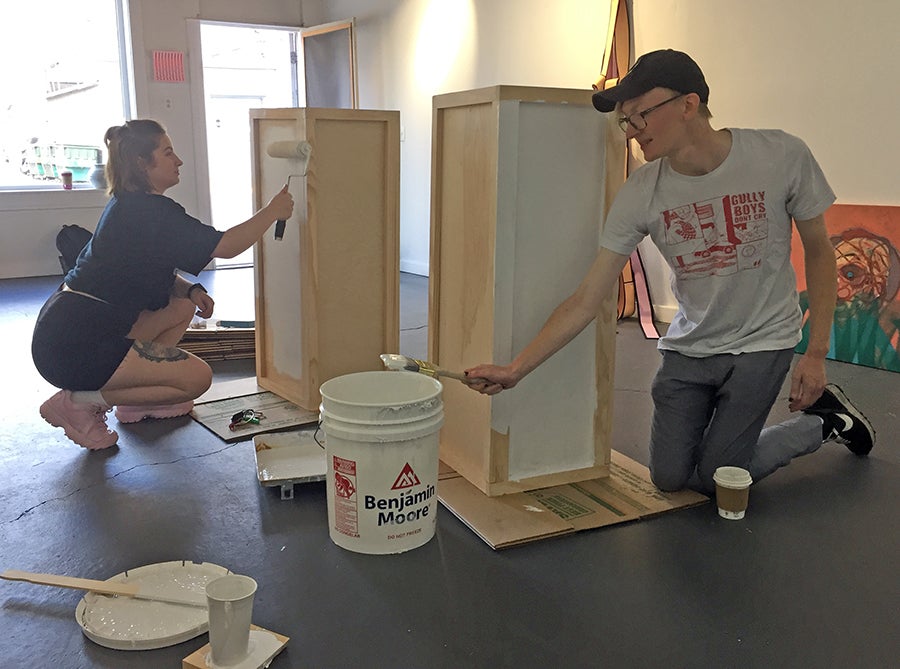 Beck Slack, a junior majoring in studio art-photography from White Bear Lake, Minn., is an assistant. Recently he was painting the walls and pedestals to prepare for the new show.
He enjoys the gallery environment and seeing the bridge develop between the community and UW-Stout students. "It's super positive," he noted. "I also wanted to get more experience to prepare me for my future career."
Brenna Noltner, a senior majoring in studio art-painting from Minneapolis, also a gallery assistant, was impressed that students started the gallery. "With this, more students will be able to get experience working in a gallery and have the opportunity to be out in the community," she noted.
Gallery 610 accepts donations, but LeClaire said the best way to support the gallery is to visit and look at the art. The gallery is open Thursdays and Fridays from 1 to 7 p.m., Saturdays 10 a.m. to 2 p.m. and Sundays 11 a.m. to 2 p.m. but may change as the UW-Stout semester continues.
Updates on Gallery 610 are available on Instagram at gallery.610 or on Facebook. It is believed to be the only gallery in downtown Menomonie other than Furlong Gallery in Micheels Hall on the UW-Stout campus.
UW-Stout's School of Art and Design is the largest provider of undergraduate Bachelor of Fine Arts programs in the UW System. Degrees are offered in entertainment design, game design and development, graphic design and interactive media, industrial design, interior design and studio art.
###
Photos
Gallery 610 is planned as a bridge between UW-Stout and the Menomonie community through art. Emily Gordon, foreground, and Jared LeClaire discuss a sculpture that is part of a new juried show.
Gallery assistants Brenna Noltner, at left, and Beck Slack paint pedestals for the upcoming exhibit.