Is there a better way? More importantly, is there a more sustainable way?
Those were the questions at top of mind when three teams of UW-Stout students entered two international, industry-sponsored packaging competitions that challenged their technical and design skills — and visions for the future.
Turns out UW-Stout had the whole package, winning and taking a third place recently in the Paperboard Packaging Alliance student competition in San Diego and winning the International Molded Fiber Association challenge in Scottsdale, Ariz.
They did it by creating new, sustainable solutions for three consumer products — lip balm, shampoo and a desk lamp — and through cross-collaboration via seven students from five majors, including video production, graphic communications and mechanical engineering.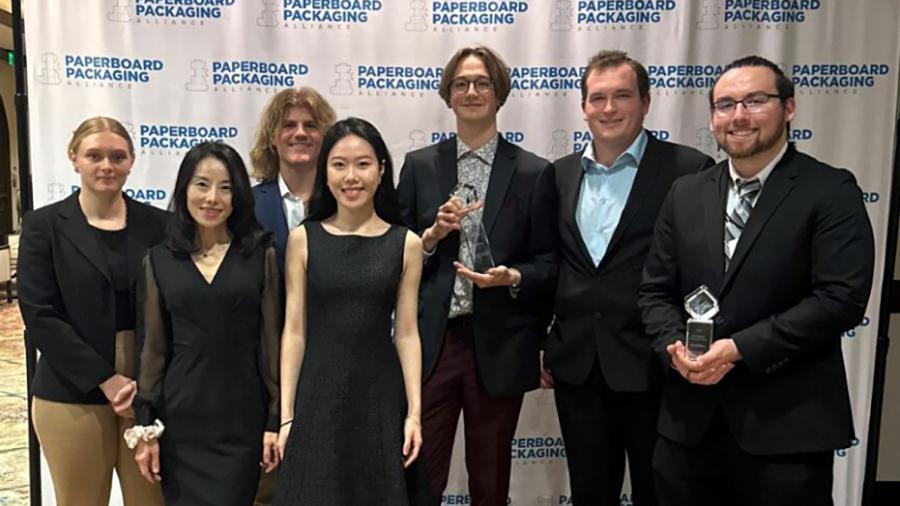 "This competition taught us the paramount importance of and inherent creativity needed in substituting plastic product packaging with paperboard," said Starr Gong, of Altoona, a senior in graphic design and interactive media, who was on the PPA third-place team. "It's not just a design choice but a commitment to sustainability and a greener future. The experience has heightened our awareness of the environmental impact of packaging choices in today's world."
Ethan Myers, of Kenosha, a senior majoring in packaging who was on the winning PPA team, agreed. "Sustainability is growing more and more every day, and being able to work with it is vital to finding success in the field of packaging."
UW-Stout offers a minor in sustainability.
Kate Liu, assistant professor in the engineering and technology department, was the students' adviser for both competitions. "The designs, replacing plastic packaging with paperboard while minimizing material usage and aiming for zero waste, speak volumes about the students' understanding of the pressing environmental issues we face today," Liu said.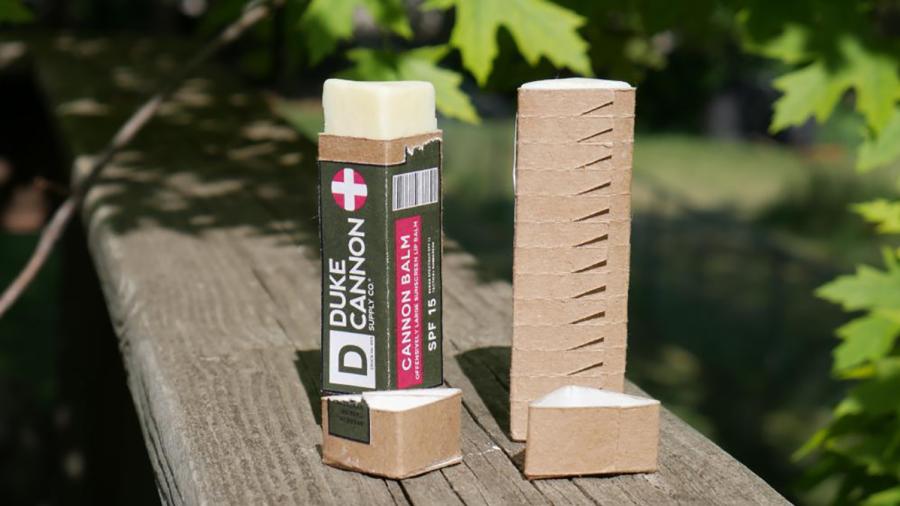 "The cross-discipline strategy to team up packaging students with graphic design and video production students proved successful. We're super excited about the results. It is tough to make the top three in the PPA challenge because of the competition nationwide," she added.
PPA challenge: Vision and teamwork
The PPA contest required students to design recyclable paperboard packaging for a personal care product that typically comes in plastic. 
Myers, fellow packaging major Lukas David, of Johnson Creek, a senior, and Zach Hoffmire, of Kenosha, a senior majoring in video production, created paperboard packaging for lip balm. The paperboard can be peeled away from the top of the stick as it's used and resealed with a cap.
Hoffmire created an advertising-style video as part of the challenge. 
"I feel like our design stood out because of the attention to detail. At first glance it looks gimmicky and basic, but the intricacies of the design are what make it great. Everything from the psychological tricks that allow us to control how you handle our design to the coatings that allowed us to fill it with a liquid, we really dove deep into the details," Myers said.
"These design competitions pull in aspects from every single packaging class we take. When we are at events like this, I also feel confident in holding conversations with professionals because of how much I've learned from these classes," said Myers, who won another competition earlier this year with David and Hoffmire.
"I am just blown away by what I get to do at Stout. I attend a lot of packaging conferences, and have met many people from every single packaging school in the U.S., and even some from Canada. And of all of these schools, Stout is the only one that lets their freshman get into the lab. I got more hands-on experience as a freshman than most students at other schools get as seniors," Myers said.
Gong's team included Buddy Moreno, of Florence, who graduated in May in packaging with a minor in sustainability, and Erika Jackett, of Port Washington, a senior majoring in graphic communications. They prototyped packaging for shampoo made from a solid bar and created a glossy paperboard display holding three round disks. They also created a video ad for the product.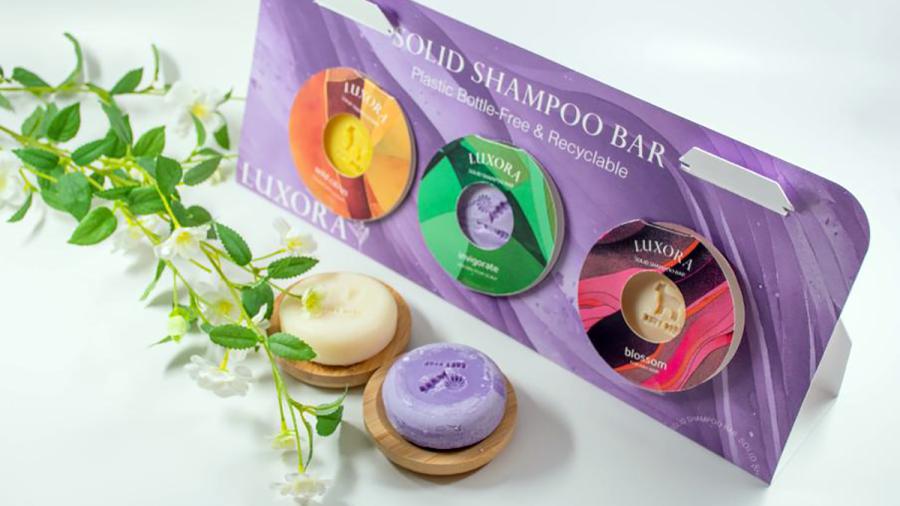 "Placing third nationally was not just a personal triumph but a testament to the hard work and innovation put in by our entire team. It's an honor to see our efforts recognized on a national level," said Gong, who was part of a campus cross-collaboration design project in 2022.
"By crafting a packaging design devoid of plastic, reducing material usage by 50% and ensuring sustainability and recyclability, we addressed the challenge in a way that aligned with today's pressing environmental concerns. The feedback we received emphasized the uniqueness and practicality of our solution," Gong said.
Moreno agreed. "Paperboard is a thin material, but it has more strength than you would think. After attending the conference in San Diego, I have seen how far paperboard packaging can go, things that I never thought were possible," Moreno said.
The PPA winning team earned $5,500 and the third-place team $1,650. Earlier this year, Gong and Jackett received national scholarships. UW-Stout also received $6,500 — $5,000 for first and $1,500 for third; the money will be used for program improvements.
California Polytechnic took second place in the PPA contest, which drew close to 90 teams from universities around the U.S. and Canada. The top three were invited to present at the PPA conference in San Diego, where their final standing was revealed.
"The emphasis on creativity, problem-solving and the encouragement to think beyond traditional boundaries prepared us to tackle real-world challenges," Gong said.
Gong, Moreno and Jackett also received the Stout University Foundation's Jordan R. Tracy Award for their cross-disciplinary collaboration.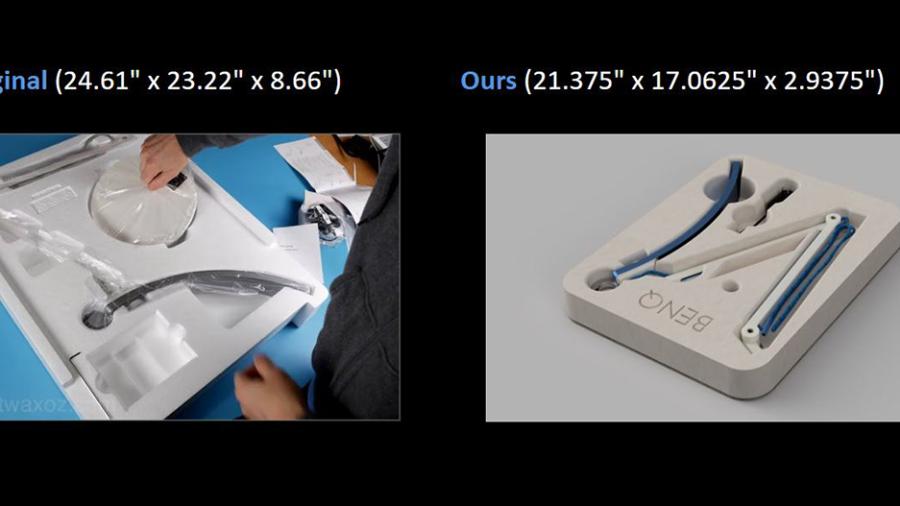 "Pairing packaging with the power of Stout's graphic design and printing capabilities, it really showed how three majors can come together and make something great — just how it would be in the real business world," said Moreno, who was hired at Target corporate in Minneapolis as a packaging engineer after graduating.
Gong found that her graphic design courses "provided the fundamental skills that served as the backbone" for the entry. "Moreover, the focus on user experience in my coursework has proven invaluable. It's not just about creating visually appealing designs but ensuring they are practical, user-friendly and align with the needs of the audience."
Students worked on the projects last spring outside of class time, putting in dozens of hours in the labs.
IMFA challenge: Less is more
In the IMFA competition, Myers and David teamed with Gage Rusch, of Delafield, a second-year student majoring in mechanical engineering. Teams searched the market for a packaged product weighing between five and 20 pounds that used polystyrene or other plastic material, then created new packaging using molded fiber.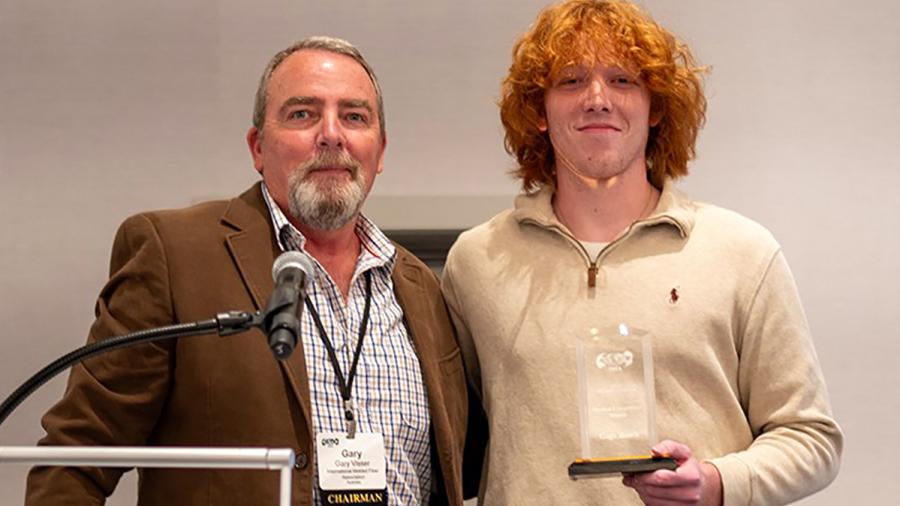 The UW-Stout team redesigned the BenQ desk lamp by replacing the materials for sustainability and reducing cost by reducing the size of the packaging. Their design cut the size of the lamp box by 78%, largely because molded pulp can nest, or be layered, as opposed to the existing packaging. 
The team estimated that if 10 trucks were filled with the old packaging, the number could be reduced to three trucks with the new boxes. Also, 4½ times more lamps could be shelved in the same space as currently allowed in a retail outlet.
Rusch was sponsored by IMFA to attend the annual conference Oct. 4 in Scottsdale, Ariz., and present the winning design. The team also received $1,000.
Sustainable efforts at PackExpo
In September, seven packaging students along with Associate Professor Min DeGruson, the program director, participated in the PackExpo in Las Vegas. 
UW-Stout had a booth about its program sustainability efforts, and it was one of the four universities selected to display a research project, led by Liu, centered around sustainability.
Also, student Nick Harpstead, a sophomore from Plymouth, Wis., was on a team that took second place in the student Amazing Race competition. A total of 23 teams from 13 universities tried to conquer challenges in a timed event that involved nearly one million square feet of exhibit space.
UW-Stout also offers an undergraduate program in plastics engineering. Students are researching how the plastics industry can be more sustainable, including by using more recycled materials, as they prepare for their careers.
###