Three UW-Stout students recently were awarded first place and a $3,000 scholarship for a packaging design they developed in just 48 hours.
The 14th annual 48HR REPACK Student Design Competition, created by the Institute of Packaging Professionals, challenges students from across the country to design and develop creative packaging solutions in a limited time frame, while considering responsible use of materials, functionality and practicality.
Packaging students Ethan Myers and Lukas David and video production student Zach Hoffmire won with their Modular E-commerce Box. They split the $3,000 IOPP scholarship.
The team received six prompts, from which it chose to design an e-commerce shipper package that would protect small, fragile items with no protective primary packaging, Myers explained.
The team's promotional video for the Modular E-commerce Box

/

Zach Hoffmire
The Modular E-commerce Box can be folded down to a desired size to protect products. It minimizes shake and eliminates the need for cushioning or any inserts. It also falls within Amazon's frustration-free packaging requirements.
"In 48 hours, we were required to have physical samples, images, a promotional video, as well as a writeup defending our design," said Myers, of Pleasant Prairie.
They completed their design at UW-Stout, their submission was accepted and they flew to Atlanta for the competition and awards ceremony. Their expenses, except for food, were covered by IOPP.
Teams from Miami Ad School won second and third place.
A cross-disciplinary experience
David and Myers, and a second team that did not place, learned about the competition from Assistant Professor Kate Liu during a packaging class. They jumped at the opportunity. Myers knew Hoffmire, of Kenosha, who brought important skills to the team.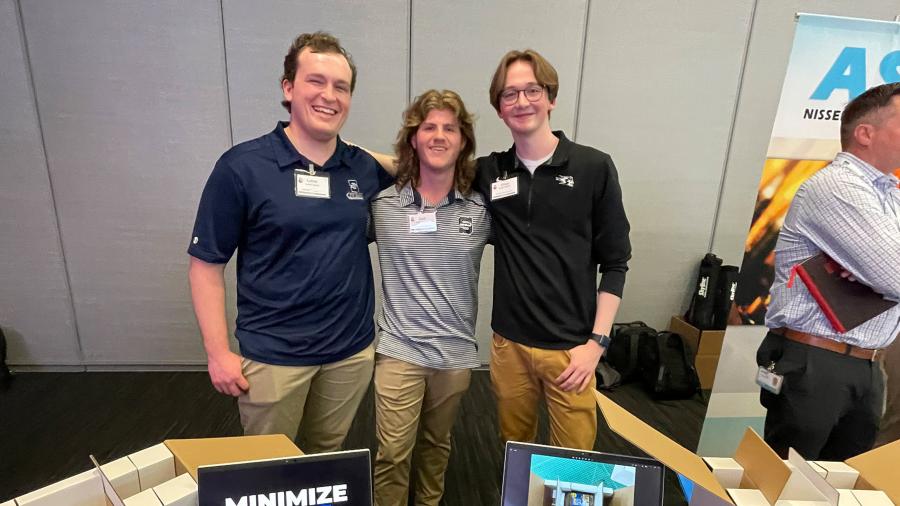 "I decided to enter because it is a great opportunity to try new things in packaging, and a mentor told me his only regret in college was to do more competitions," said David, of Johnson Creek.
"The UW-Stout packaging program always encourages students to participate in national student design competitions to connect with industry professionals. These experiences are valuable for students to learn, practice and grow so that they will impact the future of packaging," Liu said.
"We appreciate that UW-Stout has strong programs for collaboration and supports cross-disciplinary work, like between packaging and video production, strengthening our students' design and helping them to win the competition and success in their future careers. We are very proud of our talented students like Ethan, Lukas and Zach. They are awesome," she added.
The team had many ideas for its e-commerce shipper, but a few goals led to the award-winning design.
"We wanted a box that used modularity and not deformity. We wanted a professional look and not a bubble wrap replacement," Myers said. "Keeping our box to one solid piece was also a big goal. We didn't want to have to deal with multiple parts to assemble. We wanted it all included in one blank."
David liked the endless opportunities over the 48 hours, brainstorming and the design process. "The team worked great together, and everyone was involved in the process, which was awesome," he said.
"The concept of staying up until 3:30 a.m. to make the design, just to get up at 6 a.m. and keep working was nothing new to me," Myers said. "The biggest shift was how little time was provided for brainstorming. Usually, I get to sleep on project ideas for a while, but not this time."
Stepping into the labs
For the 48HR Repack competition, Liu opened the Packaging Lab for the students on the weekend. She also arranged for the Graphic Communications Lab to be set up ahead of time in case they needed to print a product.
Myers' and David's prior experience in the lab helped, as lab assistants aren't available on the weekends. "We had to rely on our own knowledge and experience for everything," Myers said.
"The use of the Kongsberg digital cutting table as well as the know-how to create packaging designs on 2D software was great for creating the samples needed for the video and to make the best possible packaging," David added.
"A huge thank you to the Stout packaging program for letting our team use the lab, and to everyone that has helped us along the way," David said. "We had a lot of fun with this project and are thankful that we have been put in this position."
David and Myers will graduate this December. David would like to work in consumer packaging, while Myers loves the design aspect.
This is the first time UW-Stout has won the competition, with another team placing third in 2016. The team has also submitted its design to the IOPP Student AmeriStar Awards competition.