A Celtic tale mixed with Japanese manga comic form influenced a University of Wisconsin-Stout senior to create a full-length comic.
"Caliburn" created by Erin Jackson, who is majoring in entertainment design-comics, tells the story of Fionn, who sets out to visit three fairies with a sword handle to build Caliburn, a mystical and magical sword.
"I drew on Celtic folklore mostly for the story," said Jackson, of Chippewa Falls, who graduates in May.
The comic is 135 pages and reads left to right, the style of Japanese manga.
It  is one of more than 100 projects that will be featured in the University of Wisconsin-Stout Senior Show. The virtual show premieres from 5 to 9 p.m. on Friday, Dec. 18 and will remain open for several months. It features work from students in entertainment design, interior design, game design and development, industrial design, graphic design and interactive media and studio art.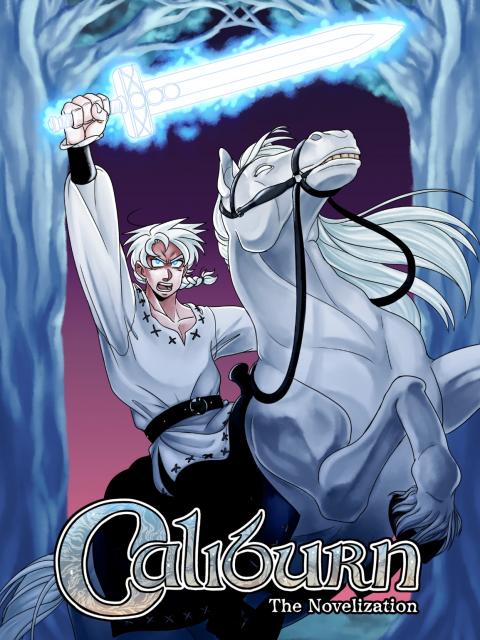 School of Art and Design Director Dave Beck said one difference with the fall Senior Show compared with the first one in May is that students prepared projects to be in a virtual online environment. "The work will have more of an intentional virtual experience in mind," he said. "Last spring students had to pivot to an online show due to the surprise of the pandemic."
On Friday the School of Art and Design's Facebook, Instagram and Twitter accounts will have periodic updates featuring works of art in the show. "It will deliver bite-size bits for viewers to experience the show with the live, in-the-moment feel," he said. "But people will be able to go back and experience more of the show in-depth at their own pace. "Jackson became interested in Japanese magna  in middle school. She started watching Dragon Ball Z, a Japanese anime television series that follows the adventures of Goku, who defends the Earth against villains. The series was created by Akira Toriyama, one of Jackson's artistic influencers.
Jackson likes manga comics' broad range of genres from action, adventure to fantasy, history, horror and more.
"Manga also has a huge variety of art styles," Jackson said. "It can have characters that are more cartoon-like with big eyes or be very realistic."
Jackson draws primarily cartoonish with a few semi-realistic elements.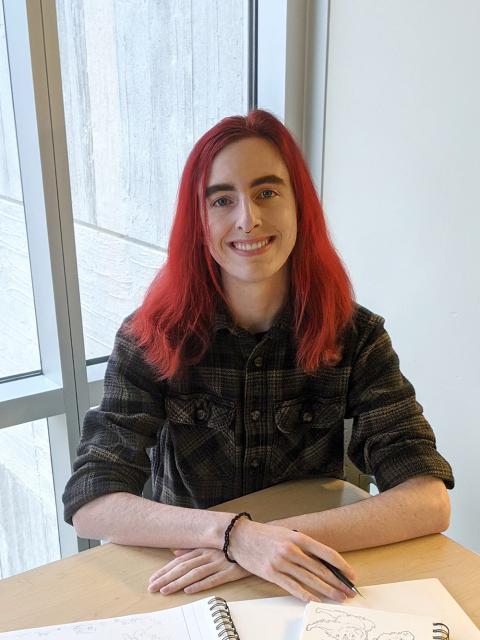 "People can tell a story with a sequence of pictures," she said. "I think that is awesome. It can be very dynamic and sends you into different worlds."
Tale of Hubris
Dury Nelson, a senior majoring in entertainment design-comics, will share his 28-page short comic called "Six Peat Under." The comic follows two middle school-age students who collect cattails for a school project. It is influenced by the tale of Hubris of having excessive confidence.
"This is kind of an autobiographical tale," said Nelson, of Cumberland. "I exaggerated and added an element of horror."
Nelson's illustrations are influenced by field guides. "I do close-ups of plants, birds, fungi, moss, and they are in-depth illustrations," he said.
Nelson, who has been drawing since he was four or five years old, said he decided to attend UW-Stout because the university offered his major and was close to home.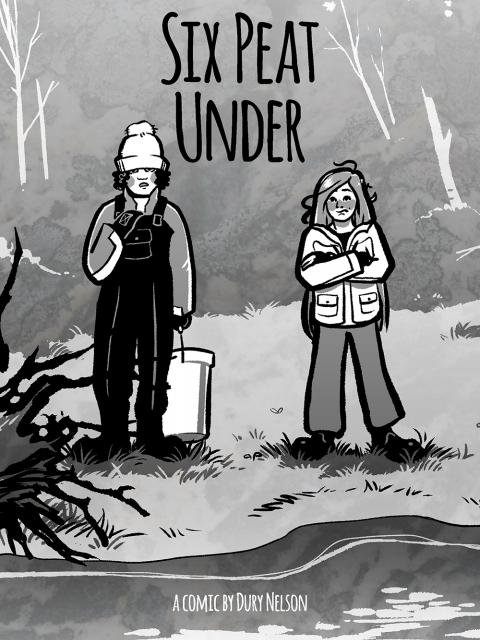 Having the comic online for friends and family across the country to see is an advantage to the virtual Senior Show. However, he will miss being able to show the comic in-person to others.
Nelson, who graduates in May, is seeking an internship to use his drawing and illustration skills.
"I just want to be in a spot eventually where I can draw my own comics and make a living at that or be collaborating with a writer and illustrating," Nelson said.