Students in UW-Stout's Product Photography and Video classes recently gained working knowledge of the relationship between creative direction and photography teams from a multimedia design alum.
Ferenc Andaházy, a 2006 graduate, is creative director with Smartpress, a web-to-print and visual merchandising company in Chanhassen, Minn. Andaházy presented recently with Tim Galdunick, his director of photography, who owns Tim and Madie Photography, in St. Paul. 
In 2022, Smartpress decided to increase the number of videos it produced, Andaházy explained to the classes. He, Galdunick and their small team worked for months creating the company's spring 2022 video ad.
They contracted and collaborated with many others to bring their video to life – from concept brief to mood boards to "the pitch," from setting a budget to scheduling shot locations, renting gear, creating custom-designed prints featured in the ad, casting hand models and voiceover actors and hiring score and sound designers, and finally, the set-up before the final cut and post-production.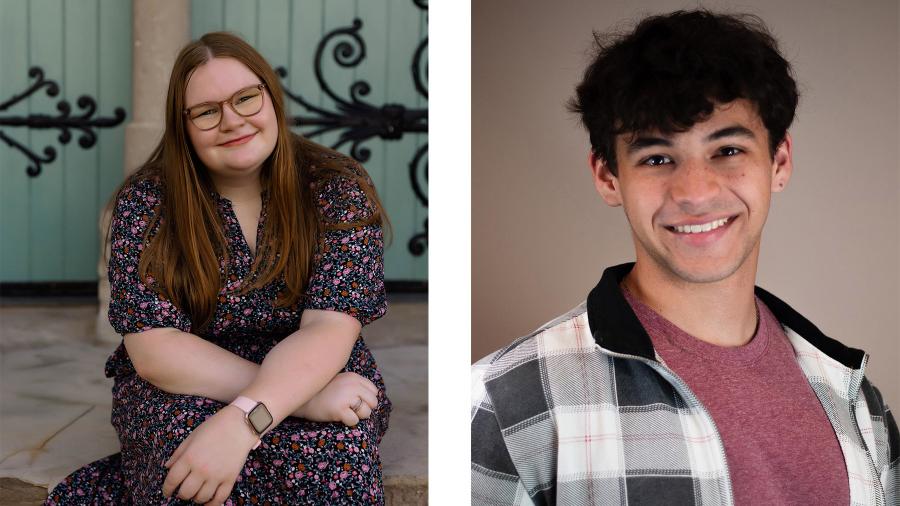 Lucas Falkavage, a video production major, and Gabby Granger, a digital marketing technology major, learned from the presentation that being able to work with others is one of the most important aspects of video and photo production. They list clear communication, initiative, responsibility and empathy as the most important skills for teamwork.
Falkavage, of Stevens Point, saw the amount of problem-solving that goes into creative projects, even at professional levels. "It's really good for students to see industry professionals and their processes. From using a camera they weren't familiar with, to creating a rig out of PVC to create the perfect slow-motion shot. Creative work means problem solving at all levels," he said. "Teams can do so much more than individuals. When the time comes to fulfill your role, take charge and do it to the best of your ability."
Granger, of St. Paul, was most interested to learn about the importance of having different areas of expertise to support an idea. "Everyone has a role they need to execute, and they must work together to achieve the project's goals," she said. "When working on a project, everyone has their unique job and role. It is extremely important to be able to work together to ensure a successful project."
Video production Program Director Keif Oss said the course "is designed to represent the interdisciplinary aspect that reflects the industry. We train our students to work as both a creative and production team in roles such as director, director of photography, camera operator, lighting gaffer, digital image technician, set design, styling and more.
"Ferenc is a great example of this," Oss added. "His background in e-commerce, graphic design and, ultimately, creative direction put him in a place where he had to know the fundamental mechanics of photo and video work to direct aspects of his campaigns. Guests like Ferenc and Tim bring value to our classroom by showing students the approaches they are learning are real and applicable. They validate the work we do, and we thank them deeply for their contribution of time, knowledge and experience."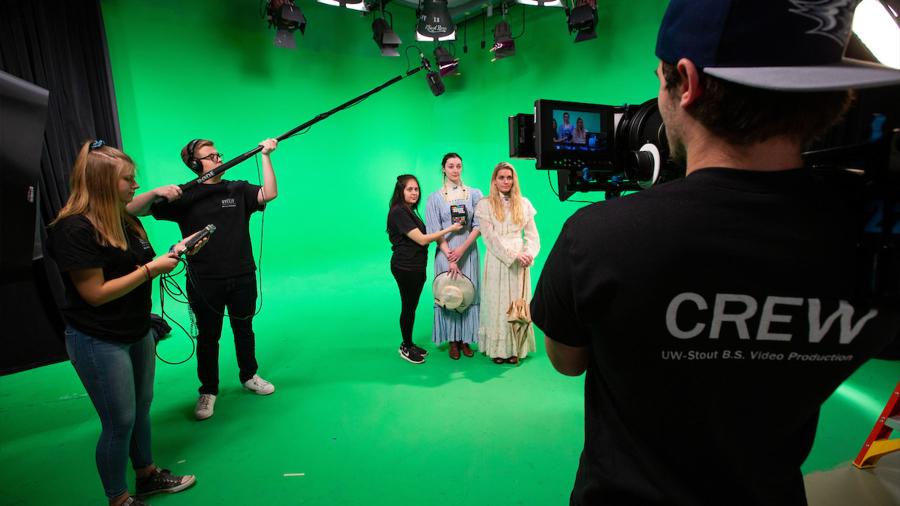 The course includes students with a photography and video minor, in majors including video production, DMT, graphic design and interactive media; and fashion and retail.
"Inclusion of the minor students is important as students may find themselves working together in the future, while from differing roles in a project's pipeline," Oss said.
"The course taught me valuable lessons about the importance of mastering product photos that appear in digital marketing projects like social media and web design," Granger said. "Understanding the process for creating high-quality product photos for the web will enable me to produce more impactful results. I am grateful to have this knowledge at the start of my career."
Focusing on creative careers
Granger chose the DMT degree because of its mix of creativity and technology. "I am able to use my creativity on projects like social media, web design and marketing; and my technology skills on projects like search engine optimization, coding and web programming," she said.
She graduated on May 6 and is looking for a career where she can contribute to the success of an organization and continue to learn and grow in the industry.
"I valued the willingness of professors to guide me along the way and pass along their industry knowledge. This allowed me to narrow in on not only what I enjoyed, but what I excelled in," she added.
Falkavage will graduate in May 2024 and wants to go into freelance video production and editing.
"I have always wanted to do creative work. I am inspired by filmmakers and videographers who are able to make people feel real emotions and show them new perspectives through video. My video classes give me the practice and portfolio work to build and show my skills, while the business and marketing classes have prepared me to be independent," he said.
Falkavage's short film "Shared Space" was recently featured at UW-Stout's Unspooled Film and Animation Festival.