More than 1,500 students at UW-Stout will connect with recruiters from more than 380 companies from across the United States during a four-day Career Conference Week.
Leading employers in engineering, packaging, plastics, design, hospitality and more will be on campus from Monday, Sept. 25, to Thursday, Sept. 28, for five industry-focused fairs hosted by Career Services, at the Memorial Student Center.
As one of the largest career conferences in the Midwest, with more than 2,350 employers attending the past eight semiannual events, it contributes to the success of recent graduates, who have an employment rate of 99.4%.
Not only do employers connect with students graduating into the workforce, they connect with juniors and seniors looking for paid internships and other opportunities to enhance their applied learning. The Cooperative Education and Internship Program helps to coordinate students' required experiential learning components and builds partnerships between employers, students, and university faculty and staff.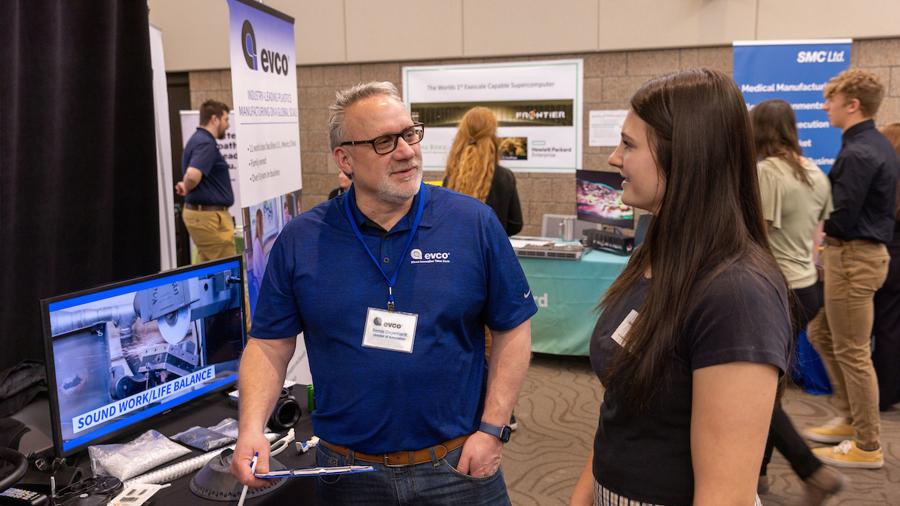 Fortune 500 companies attending include Boston Scientific, Ecolab, Graphic Packaging International, Hewlett Packard Enterprises, Hilton, International Paper, Kimberly Clark, Kohl's, Marriott, Parker Hannifin, PepsiCo, Sherwin-Williams and Sonoco.
Companies with Wisconsin facilities representing the different industries include EVCO Plastics, Great Northern Corp, Green Bay Packaging, Harley-Davidson, Heartland Business Systems, Kohler, Landmark Resort, Market & Johnson, Marshfield Clinic Health System, Menards, Milwaukee Tool, Phillips-Medisize, Prent Corporation, Rockwell Automation, Sand Valley, Skyward, Waupaca Foundry, Wilderness Resort and Xcel Energy.
Cole Amborn, a project engineering supervisor at EVCO Plastics, is a 2017 plastics engineering alum. He has attended the Career Conference as an EVCO recruiter for five years.
"Although I enjoy the nostalgia the UW-Stout Career Conference brings, it serves as a continual reminder of the longstanding quality of graduates that UW-Stout's programs produce," Amborn said. "EVCO is continually impressed with the preparedness of both interns and graduates and is actively looking to hire more."
During the 2022-23 academic year, EVCO Plastics donated $100,000 to the UW-Stout program to help students research sustainability in the plastics industry. EVCO, of DeForest, is a leading plastics manufacturing company with 12 facilities around the world.
Many companies attend multiple days of the conference to recruit students from across the career clusters, and students are encouraged to any and all days.
The week's events are:
Monday: Computing, Data, Software and Security

Tuesday morning: Packaging, Print and Design

Tuesday afternoon: Science and Engineering

Wednesday: Construction

Thursday: Management, Business, Hospitality and Human Sciences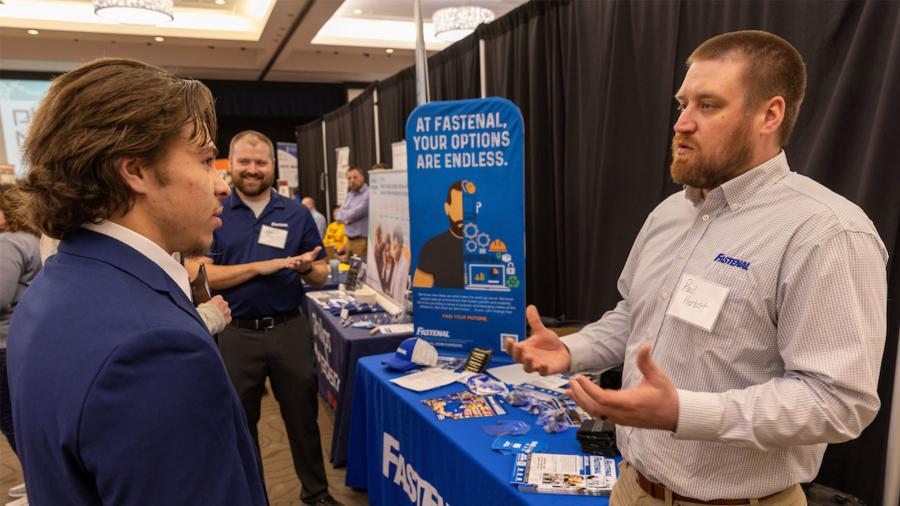 Charles Tornio graduated from UW-Stout in May with a business administration degree and a minor in sales and marketing. He's a sales associate with Fastenal, in Winona, Minn. Fastenal, the largest fastener distributor in North America, was awarded UW-Stout's Employer of the Year in 2022.
"Fastenal attends the fair in search of qualified applicants who would fit in well with our team," Tornio said. "UW-Stout offers a fantastic business program, and we understand that working with Stout interns not only helps them comprehend and practice the world of sales and business, but also helps us establish their careers within our company."
Career Conference Week kicks off the fall recruitment season of Career Services' programs and events for students, including Blue Devil Prep for Success, the MN Government and Nonprofit Career Fair, UMN Built Environment Career Fair, Internship Draft Day and Graduate Degree Fair. 
"UW-Stout's commitment to the future career success of our students is easily seen through our core polytechnic tenets, including applied learning, career focus and collaboration with industry," said Career Services Director Bryan Barts.
More than 1,100 students enroll each year in the Cooperative Education and Internship Program, with 59% of them working in Wisconsin. Over the summer, about 700 students completed co-ops and internships at more than 500 companies in Wisconsin and nationally.
"Our commitment to providing students with opportunities to explore career paths and apply classroom and lab learning through CEIP, and our continuous outreach and cultivation of organizations to connect with students help lead to the positive career outcomes for 99.4% of our graduates," Barts said.
Career Services' Career Outcomes site provides First Destination and CEIP reports. Student success is the leading goal of UW-Stout's FOCUS2030 strategic plan.
The Spring 2024 Career Conference will be held Monday, Feb. 26, to Thursday, Feb. 29.