UW-Stout's Bachelor of Science in Cybersecurity is an interdisciplinary collaboration with a focus on all aspects of cybersecurity. This includes security of data, software, component, connection, and systems, as well as human, organizational, and societal security. The Cybersecurity program provides you with hands-on training in a "real-world" cybersecurity laboratory setting.
Cybersecurity is one of today's highest-paying technology-related careers. Our curriculum will broaden your knowledge and skills needed for the growing cybersecurity job market. Cyber breaches have devastating effects on every industry and aspect of life in today's society. Professionals in this field will continue to be needed by every business that uses technology.
You'll learn all the theoretical and practical knowledge needed as well as the opportunity to pursue critical cybersecurity certifications and Department of Defense (DoD) 8570 mandated certifications, such as Cyber Operations (Cyber Ops), Certified Ethical Hacker (CEH), Certified Information Security Manager (CISM), GIAC Digital Forensics & Incident Response, and Cloud Computing Security.
Program Objectives
Upon completion of the Cybersecurity program, you'll have the ability to:
Analyze a complex computing problem and to apply principles of computing and other relevant disciplines to identify solutions.
Design, implement, and evaluate a computing-based solution to meet a given set of computing requirements in the context of the program's discipline.
Communicate effectively in a variety of professional contexts.
Recognize professional responsibilities and make informed judgments in computing practice based on legal and ethical principles.
Function effectively as a member or leader of a team engaged in activities appropriate to the program's discipline.
Apply security principles and practices to the environment, hardware, software, and human aspects of a system
Analyze and evaluate systems with respect to maintaining operations in the presence of risks and threats.
Use the Request Information form to receive a program summary and learn more about the Bachelor of Science degree in Cybersecurity.
Online - Value for Your Money
The B.S. Cybersecurity program offers customized instruction for online delivery. Customized Instruction (CI) at UW Stout can be described as programs that are designed with the adult learner in mind. If you're comparing UW-Stout's online degree customized instruction (CI) tuition to our competitors, keep in mind:
Customized instruction tuition rate includes the textbook rental fee.
There are no additional university-based semester or technology fees.
Students in customized instruction programs pay the same rate of tuition regardless if Wisconsin residents, out-of-state or international participants.
There's more to value than just tuition. UW Stout also provides:
Program Director – faculty with discipline expertise.
Student Services adviser – one point of contact, providing support to students for each program.
Course sequences and matrices – know what courses are offered and when so you can plan ahead.
Courses and programs may be stackable for use in another program.
Courses are flexible and convenient for working professionals.
Other universities will present costs and value differently - make sure you compare apples to apples.
Center for Cybersecurity and Cyberdefense
On October 6, 2017, the University of Wisconsin Stout was designated as a National Center of Academic Excellence in Cyber Defense for academic years 2017-2022 by the National Security Agency (NSA) and the Department of Homeland Security (DHS). UW-Stout is the first four-year university in the state of Wisconsin to receive this prestigious designation.
The National Security Agency (NSA) and the Department of Homeland Security (DHS) has certified that the curriculum at UW-Stout meets or exceeds the requirements, as cited by the National Information Assurance Education and Training Program (NIETP).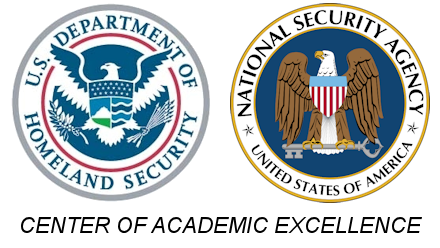 As a result of the designation, students attending cyber defense programs are eligible to apply for scholarships and grants through the Department of Defense Information Assurance Scholarship Program and the Federal Cyber Service Scholarship for Service Program.
Official letter of notification for the designation was sent to the university's administration, the Wisconsin governor, members of the U.S. Congress, and appropriate congressional committees.
This University of Wisconsin-Stout initiative serves to equip students to deliver excellence in the cyber defense field. The initiative includes serving as a National Center of Academic Excellence (CAE) in Cyber Defense Education, a program jointly sponsored by the Department of Homeland Security and the National Security Agency which the University is currently seeking.

Through dedicated faculty and support from administration, the cyber defense initiative provides a core structure whereby UW-Stout can help reduce vulnerability in our national information infrastructure. We accomplish this by a disciplined approach to course content and program guidance, communicating with industry about current cyber defense information, and by providing leadership through collaboration among students, faculty, and other institutions. We help produce outstanding graduates.

As "Wisconsin's Polytechnic University," our goal is to "offer high quality, challenging academic programs that influence and respond to a changing society." Through this initiative our graduates will understand key ideas such as data analysis, scripting, fundamental security and information assurance design, cryptography, ethics and compliance, programming, digital forensics, penetration testing, and much more. Preparing our students for these demanding responsibilities is of utmost importance.
Cybersecurity Program Advisory Board
Cybersecurity Advisory Board
| | | | |
| --- | --- | --- | --- |
| Greg | Garneau | Chief Information Security Officer | Marshfield Clinic Health System |
| Josh | Moore | Solutions Architect | Elevity |
| Darin | Pettis | Vice President - Senior Project Manager Network Enablement | US Bank |
| Travis | Phillips | Technical Architect | Terso Solutions |
| Tyler  | Thomas | Assistant Professor | Mathematics, Statistics & Computer Science Dept. |
| Holly | Yuan | Program Director | UW-Stout |