A professor from University of Wisconsin-Stout has received a prestigious UW System grant to conduct research on a growing worldwide issue, software security.
Saleh Alnaeli, an assistant professor of computer science, will lead a nine-person team of researchers in 2019 and 2020 at UW-Stout and UW-Parkside. He will work closely with colleague Zaid Altahat of Parkside and a team of students.
Their proposal has been named one of three winners of the 2019 UW System Regents Scholar Award, resulting in a $50,000 grant. They will be recognized along with the other awardees Thursday, March 7, at the Board of Regents meeting in Madison.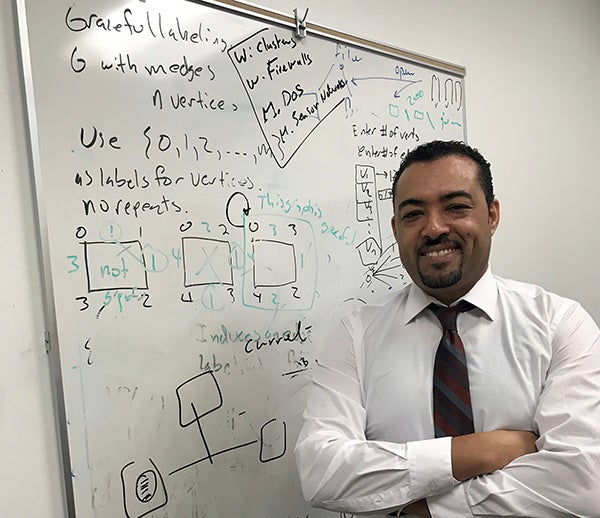 A total of 19 proposals were submitted across the UW System. Professors from UW-Oshkosh and UW-Platteville also received awards.
"Our vision for the Regent Scholar program is to encourage the continued growth of a culture of innovation and entrepreneurship across the UW System," said Dr. Eve Hall, a UW System Regent and chair of the Board's Research, Economic Development and Innovation (REDI) committee, which administers the Regent Scholar grants.
"UW System's faculty and students are engaging in significant undergraduate research projects each day on every campus," said UW System President Ray Cross. "The Regent Scholar program recognizes the importance of discovering new pathways to commercialization and highlights the power of partnership with business and industry, which is key to Wisconsin's economic vitality."
Alnaeli is excited about the research and the additional benefits the grant will bring — the opportunities to collaborate across the UW System, develop a student research team and promote the study of computer science at the schools.
The title of the project is Empirically Examining the Source Code Security and Vulnerabilities in General-purpose Software Systems. The research will help software instructors better design and plan courses that provide secure coding practices for undergraduate students and software developers.
"There's a big issue with vulnerability when it comes to security standards. Are the software systems we're using safe or not? If not, how can we fix them?" Alnaeli said. "This is a sensitive issue and a really important project."
The study will examine large-scale systems such as those used by Google and Microsoft. Researchers will analyze how to improve software safety for coders, engineers and higher education instructors by examining threats posed by "vulnerable and unsafe functions."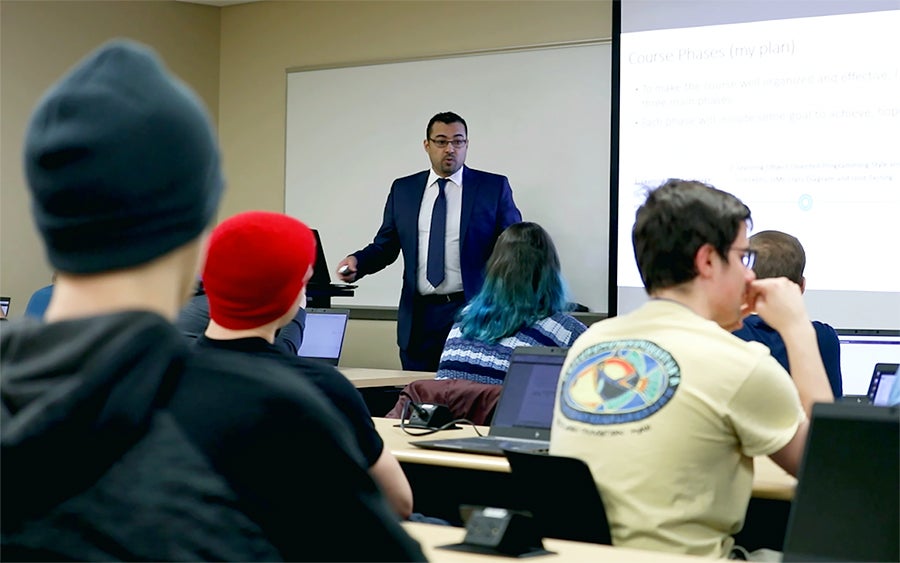 Alnaeli and Altahat previously published several related papers together when they taught at UW-Fox Valley, leading to this larger project. Alnaeli expects the new study to result in several more published papers and conference presentations.
He also hopes the project will "be a seed" and lead to national grants and more research.
Alnaeli teaches in the mathematics, statistics and computer science department, which includes the Bachelor of Science program in computer science.
"As a new professor to the department, Dr. Alnaeli has an impressive start to his career. He is a consummate professional who is proliferating the UW-Stout experience for undergraduate students," said Chuck Bomar, dean of the College of Science, Technology, Engineering, Mathematics and Management. "This applied research will benefit student skill sets and further ensure they are ready to meet the demands of a dynamic industry environment upon graduation."
At UW-Stout and UW-Parkside, Alnaeli and Altahat will develop software security labs where the research will take place. "I really want to build something here and establish a well-known research group," Alnaeli said.
Up to seven student researchers from UW-Stout, UW-Parkside and possibly other UW System schools will gain important skills by being part of the project, Alnaeli said.
"The grant will allow us to hire student researchers at competitive rates. Students will be exposed to real-life source code systems. It will help them be industry-ready and improve their chances of being hired," Alnaeli said.
"A lot of students have shown interest. If we care about the quality of the students we want to attract, we have to make sure they are exposed to the national and international research community," he added.
Alnaeli, in his first year at UW-Stout, has three degrees in computer science, a doctorate from Kent State University, a master's from Technical University of Ostrava, Czech Republic, and a bachelor's from University of Zawia, Al Zawia, Libya.
He is editor until 2021 for the Midwest Region of the Consortium of Computer Science in Colleges.
###
Photos
Saleh Alnaeli is an assistant professor at UW-Stout.
Saleh Alnaeli and a colleague from UW-Parkside have received the UW System Regents Scholar Award, including a $50,000 research grant.
Saleh Alnaeli, who teaches computer science, lectures in a class at UW-Stout.