Creating functional, yet trendy backpacks and pet carriers was the task of one University of Wisconsin-Stout class inspired by a campus executive in residence program.
Students in Functional Design and Development taught by apparel design and development Professor Jongeun Rhee worked with Sue Fuller, founder of the startup handbag and accessories company Oliver Thomas.
Fuller was the featured executive at the 2019 Cabot Executive in Residence program on campus in November. She received video of the students presenting their projects.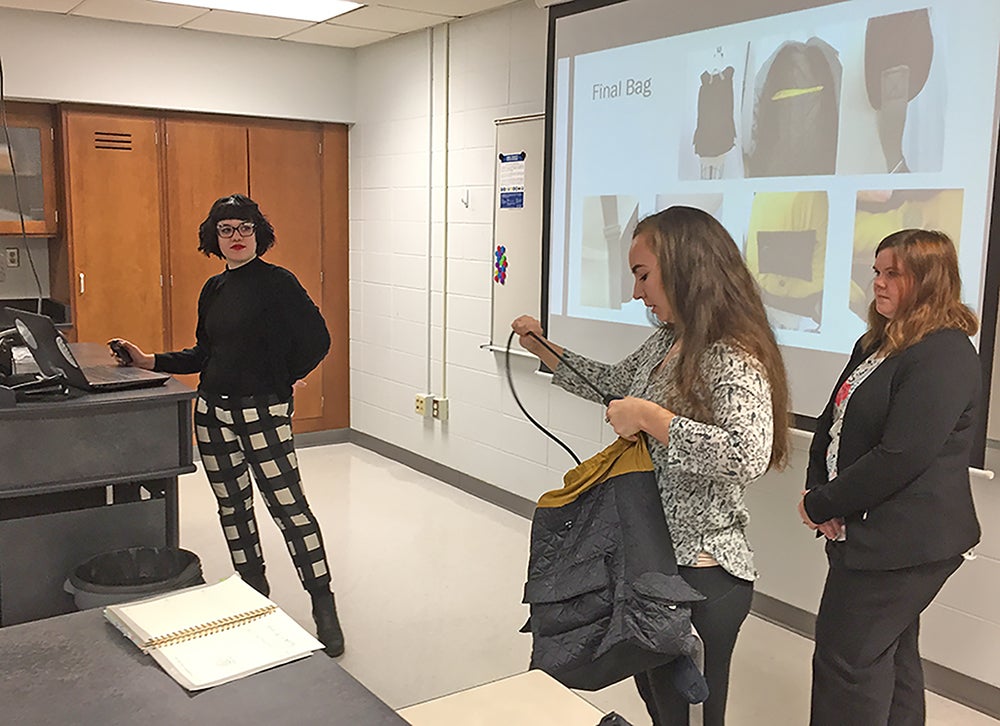 Seniors Stephanie Mathison, of Mendota Heights, Minn.; Amanda Nelson, of Rice Lake; and Lily Peterson, of St. Paul, developed the Wanderer's Backpack. "We wanted to create a backpack that was good for traveling," Mathison said. "But it also has magnetic pockets that are useful for everyday use."
The bag features an invisible pocket against the wearer's back to keep valuables safe. It has a solar panel to charge electronics, such as a cell phone, and flashlight capability. A locked wire cable runs around the top of the backpack to prevent thieves from cutting the bag and stealing valuables.
"We had really never made a bag before," Nelson noted. "It was a lot to figure out. We also had never done solar before."
The backpack would meet airline standards for both under the seat and carry-on luggage. It would retail for about $160.
The Ruffle Bag, created by senior Emma Smerud, of La Crosse, junior Kalli Kohlmeyer, of Chatfield, Minn.; and  senior AnneMarie Lovrine, of Burlington, is a convertible pet and duffel bag.
"We decided to create a bag people could use for travel or to travel with their pets," Kohlmeyer said.
The bag features attachable rolling wheels, a replaceable liner and an invisible fence that allows pets to go off leash. A pet collar in the bag can be integrated with a cellphone app to tell owners the health of their pet and if the animal is suffering stress while traveling.
The bag is large enough to carry two smaller pets, with a weight limit of up to 30 pounds. The top opens wide to easily get pets in and out of the bag. The bag would sell for about $220 with the wireless pet fence.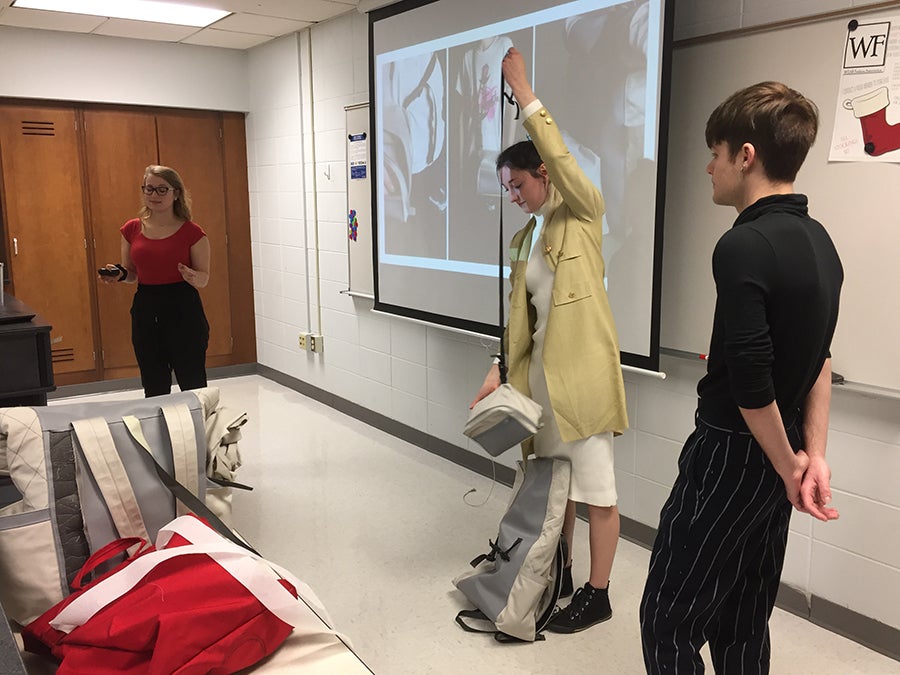 The Lifestyle Backpack, a convertible travel backpack and crossbody bag, was developed by senior Kennedy Gorres, of Maple Lake, Minn.; senior Cambria Sinclair, of De Pere; and Tyler Wagner, a junior from Circle Pines, Minn. The backpack has slash-proof and high visibility material. It also features lights in the bag.
"One thing customers really liked was you can remove the lights, and it is completely washable," Sinclair said.
The crossbody bag also could be used as an insulated lunch bag. It would retail at about $167.
Fuller founded Oliver Thomas, named after her dog, in 2017 after working in a variety of capacities for several national companies, including Kohl's, Ralph Lauren, L.L. Bean and Vera Bradley.
She launched the company in four months.
Cabot Executive in Residence Program
This is the 35th year of the Cabot Executive in Residence Program, which is named in honor of Arthur R. Cabot, a successful pet products manufacturer. His son, Scott Cabot, earned a bachelor's degree from UW-Stout in 1978 and a master's in 1979.
Recent Cabot executives have included alumnus Todd Wanek, president and CEO of Ashley Furniture Industries; Stephen Marcus, chairman of Marcus Corp.; and alumna Shelly Ibach, CEO of Sleep Number.
A Cabot Wall of Honor, featuring plaques of previous Cabot presenters, was established in 2014.
UW-Stout is Wisconsin's Polytechnic University, with a focus on applied learning, collaboration with business and industry, and career outcomes.
###
Photos
UW-Stout students created a Wanderer's Backpack that features an invisible pocket to keep valuables and a locked wire cable to prevent thieves from cutting the bag.
Student Cambria Sinclair, in center, shows how the Lifestyle Backpack converts to a travel backpack and crossbody bag.