A University of Wisconsin-Stout senior spent the summer working to sustain king salmon fishing near Sitka, Alaska, and he will be going back soon to help others learn to dive.
Anthony Walloch, of Fall Creek, an environmental science major scheduled to graduate in December, traveled to Alaska in January.  Walloch attended the University of Alaska Southeast to learn scuba diving, a skill he always wanted to acquire.
"I find it is remarkable to be able to breathe underwater and look at the different life under the ocean," he said. "There was kelp, sea urchins and rockfish. We would see a lot of sea stars."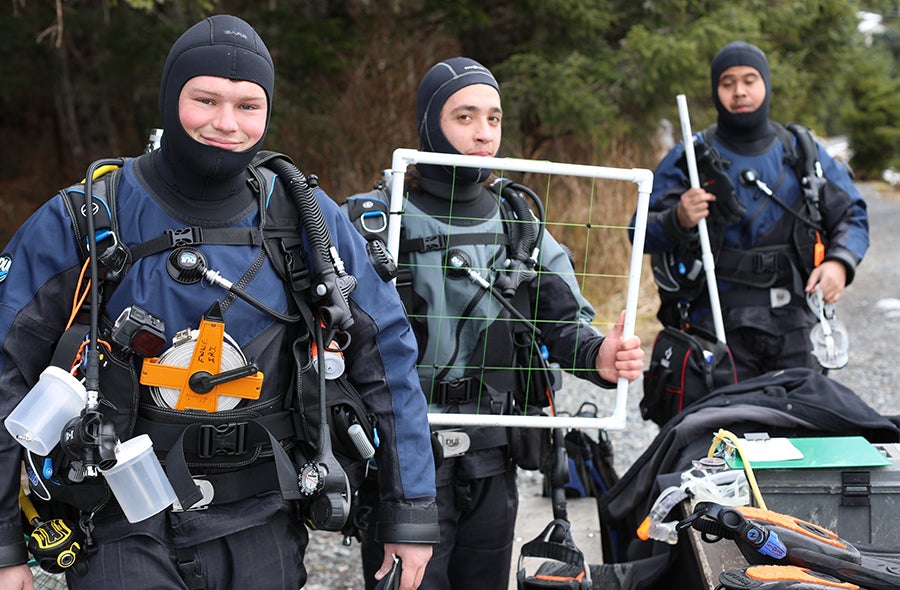 In addition to scuba diving, he also learned how to operate a skiff and outboard motor maintenance and repair.
After finishing scuba diving classes at Alaska Southeast in April, Walloch in May was able to find work at the Alaska Department of Fish and Game as a fisheries technician. He held the summer position until August. "We collected data for the Pacific Salmon Treaty," Walloch said.
After graduation, Walloch plans to return to Sitka and work with the University of Alaska Southeast as a teaching assistant to help others learn to scuba dive and get his dive master certification. "I will be able to relate to people having been through the program and learning," he said. "Sitka is very beautiful, and there were lots of things to do outdoors."
The treaty between the U.S. and Canada agreed to cooperate in the management, research and enhancement of Pacific salmon stocks, with the goal to prevent over-fishing and ensuring that both countries receive benefits equal to the production of salmon originating in their waters.
Walloch would go to various harbors in the Sitka area, a small town in southeast Alaska on Baranof Island, and talk with fishing boat captains about their catch, where the fish were caught, what species and would measure the fish, particularly king salmon, and take scale and head samples.
"Usually people were friendly," he said. "They understood my job was to help gather information to help create regulations to have sustainable fish populations."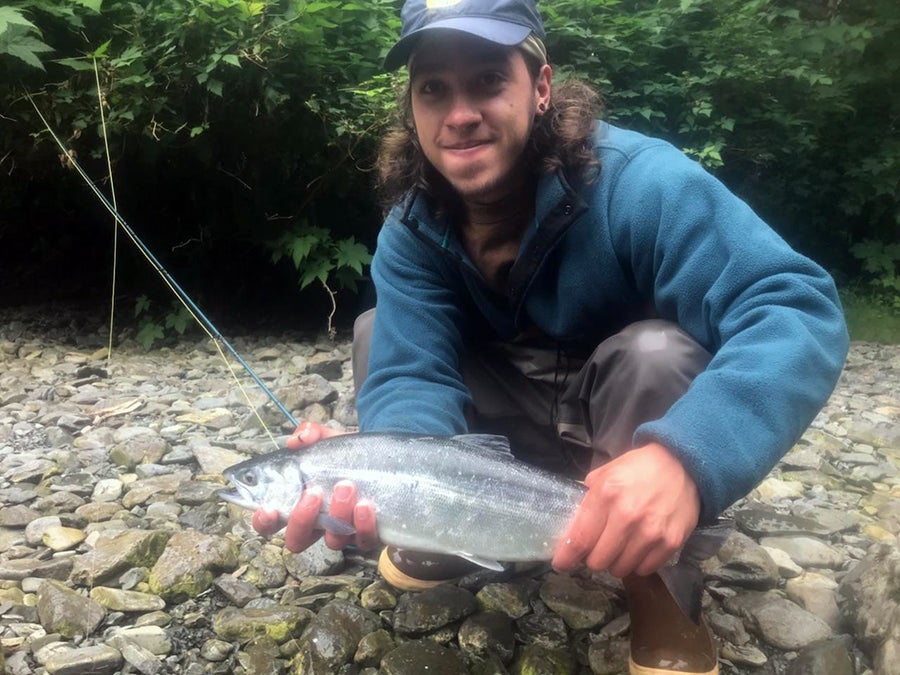 Walloch found the experience and having the opportunity to work in Alaska both enjoyable and valuable.
"I thought they were valuable learning experiences, learning about the way of life in Sitka and how they value the ocean," Walloch said, noting the indigenous people in Sitka are the Tlingit. "For a lot of the locals, the ocean is a way of life to gather food for their families and to make a living. There are a lot of people who work on a fishing boat or who own a fishing boat. Coming from Wisconsin I didn't have much knowledge about the ocean. I was able to learn a lot about different species in the ocean and the different substrates of the ocean floor."
Walloch would recommend other students take advantage of the opportunity to study at another university. "You gain a lot of valuable experience in different communities and about different ways of life and how people interact with each other." He also was able to meet students from across the country.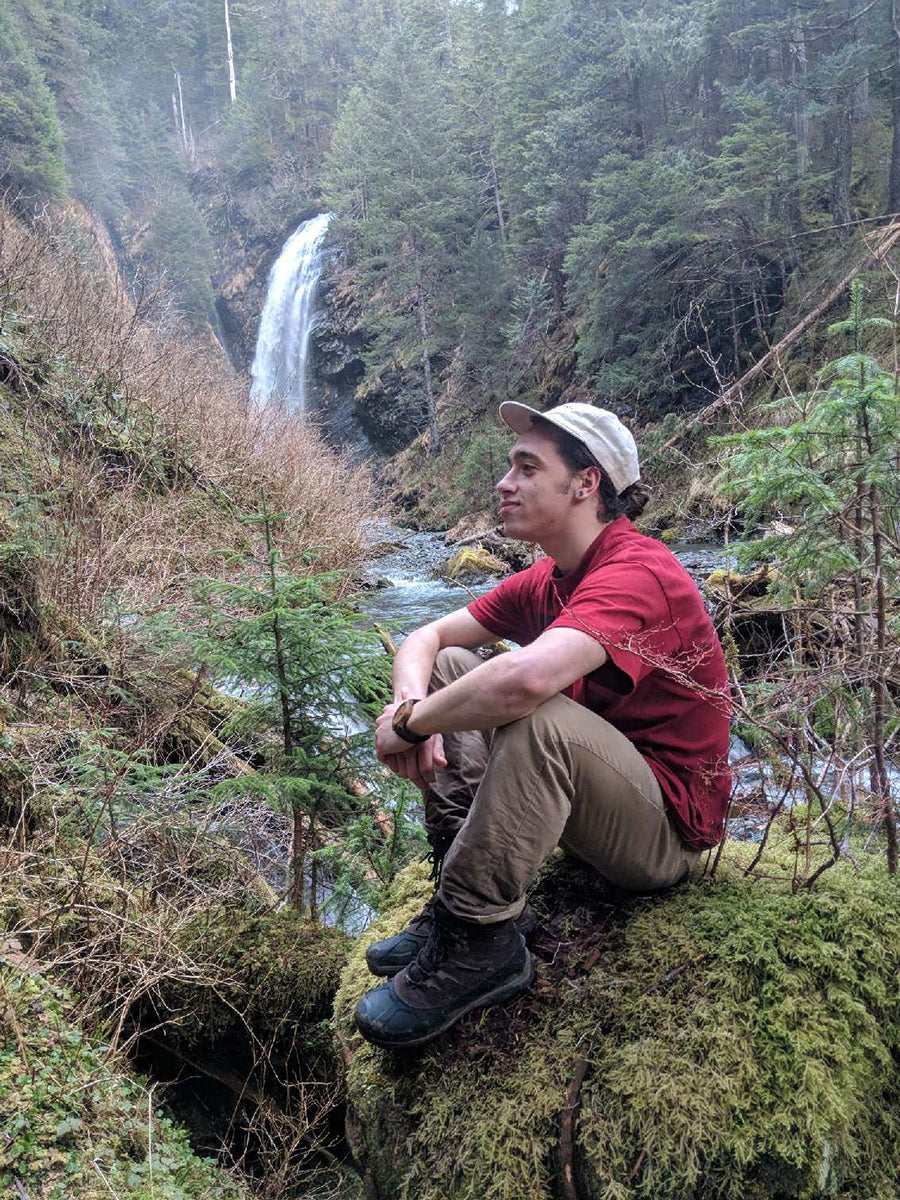 Krista James, UW-Stout environmental science program director, said she and other environmental science faculty are proud of Walloch's accomplishments. "He gained skills that will help him with his future career in environmental science," James said. "He not only learned basic dive skills but also how to conduct research on fish and invertebrate species. Because of the leadership and skills that Anthony demonstrated during this student exchange program, he was hired as a summer intern with the Alaska Fish and Game Department, and this experience helped expand his skills even further."
Reid Brewer, University of Alaska Southeast professor of fisheries and program director of fisheries technology, taught Walloch scuba diving, small vessel operations and outboard motor repair and maintenance as well as cold water survival. "Anthony was an exemplary student who worked hard, volunteered to help others and was a great team player," Brewer said. "I was very impressed with Anthony from the very beginning. We are doing our best to have him come back to Alaska and help us teach our next courses."
Joel Markis, an assistant professor who teaches fisheries management and scuba classes at University of Alaska Southeast, said Walloch was eager to learn about diving and excelled, especially in hands-on components. "Throughout the semester he became more and more of a student leader, planning dives and boat trips out into the wild Alaskan ocean, leaning heavily on his leadership skills and the thorough training he received," Markis said.
UW-Stout offers a Bachelor of Science degree in environmental science with concentrations in aquatic biology, environmental health and natural resource.
UW-Stout is Wisconsin's Polytechnic University, with a focus on applied learning, collaboration with business and industry, and career outcomes.
###
Photos
While at the University of Alaska Southeast, Anthony Walloch, center, learned basic dive skills. He plans to return to Alaska in January to be a teaching assistant helping others learn to dive.
Walloch, pictured with a sockeye salmon, said the study abroad program helped him learn about different people and different ways of life.
The views in Sitka, Alaska were beautiful, according to Walloch.