UW-Stout inspiring graduate and Stout Scholar Nathan Thompson did in four years what might take others more – graduated with a double major in applied science and mechanical engineering.
With high school college credit and by enrolling in summer and Winterm classes, Thompson, of Woodville, met his goal and graduated with honors, Summa Cum Laude, on May 6, one of 1,173 graduates.
"The double major is a great opportunity to expand your horizons and delve into topics you may not have seen before. It's a rewarding experience to take classes in different backgrounds, and there are several minors available," he said.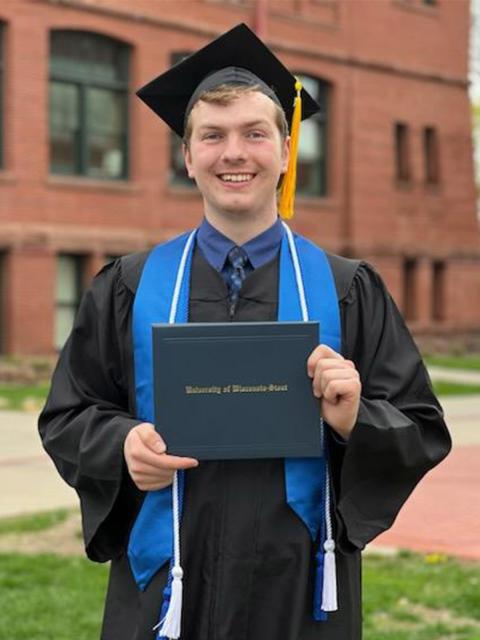 Thompson earned his applied science concentration in physics and minors in materials science and mathematics, which he was able to complete with no additional classes because of the double major.
He is interested in manufacturing and materials science research, which applies him to draw on his interests in physics and his engineering skillset and apply them to the manufacturing industry. He also plans to return to UW-Stout to earn his Master of Science in manufacturing engineering.
"It's embracing the best of both worlds," he said. "I want to explore all of my options for post-graduate education. I have my eye on UW-Stout. The master's program is entirely online, offering a lot of flexibility. Wherever I end up taking my career, I can still continue my education.
"My UW-Stout experience has helped me to become more eager to learn and be more curious about industry. The education at UW-Stout is pivoted toward industry, and course requirements provide skills that can jump-start careers. The wide variety of labs and co-op experiences help expose you to where your education can take you after UW-Stout."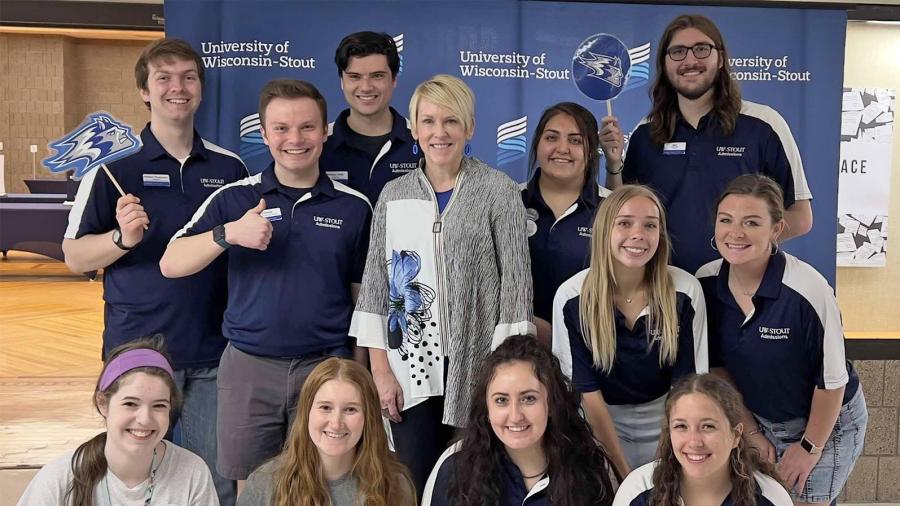 Continuing his family legacy, Thompson is a third-generation UW-Stout graduate. His mother, Kirstin (master's in education, 1999), and grandparents, Richard (B.S. in technical education, 1965; and master's in counseling, 1970) and Mary (B.S. home economics, 1965; and master's in home economics, 1969), celebrated with him at commencement.
The Stout Scholars Scholarship awards three outstanding incoming students each year with $5,000, renewable for up to four years, for a total of $20,000. Stout Scholars represent UW-Stout's commitment to students' success in their studies and their career readiness.
This is the fourth and final story in a series following Thompson's college experience at UW-Stout. Fellow Stout Scholar Erin O'Brien, applied mathematics and computer science graduate, shared her experiences as well.
Collaboration is key in capstone and engineering
For his senior capstone project, Thompson was assigned to complete the Lawn Dice Marking Project, along with team members Joseph Patterson, of Hudson; Sydney Robinson, of Lakeville, Minn.; Rebeka Wesenick, of Aniwa; and Sam Wesenick, of Wausau. The team was tasked with marking six-sided dice. Another team was tasked with rounding the edges of the dice, and a team from the previous semester designed an automated system for cutting 4-by-4 posts into the uniform dice blocks.
The dice will be given to visitors, families and supporters who tour the engineering department.
While some programs have students complete solo capstones, the engineering capstone was a team project. Thompson, the team lead, believes it is "absolutely essential to be able to work in a team environment in the engineering field. Engineering requires a diverse skillset. You may collaborate with a manufacturing engineer or computer and electrical engineer. There's a broad range of backgrounds involved. You must be able to work with people whether or not they have the same education as you.
"The engineering capstone course pushes students into realistic experiences, giving a background in project management, team leadership, work deliverables and allows them to explore what an industry project would look like, as well as connecting with other students and developing a social network," he added.
Thompson and his team created an automated hopper system to feed the wooden blocks into place between six aluminum branding plates and brackets, which they also designed and engineered. They tested the temperature and duration needed to mark each side simultaneously. Their system marks one die in 30 seconds, with six dice completed in three minutes.
The team explored creative ideas for the side marked with the single dot. Thompson custom-designed a branding plate featuring the UW-Stout 'S' in the Computer Assisted Design Lab and machined it in the CNC Lab in Fryklund Hall.
Their project was sponsored by UW-Stout's Robert F. Cervenka School of Engineering.
"Nathan is a bright, engaging and passionate student. He raises the level of a class just by being there and being himself – asking questions and bringing constant positivity," said mechanical engineering Program Director Vincent Wheeler, capstone project adviser.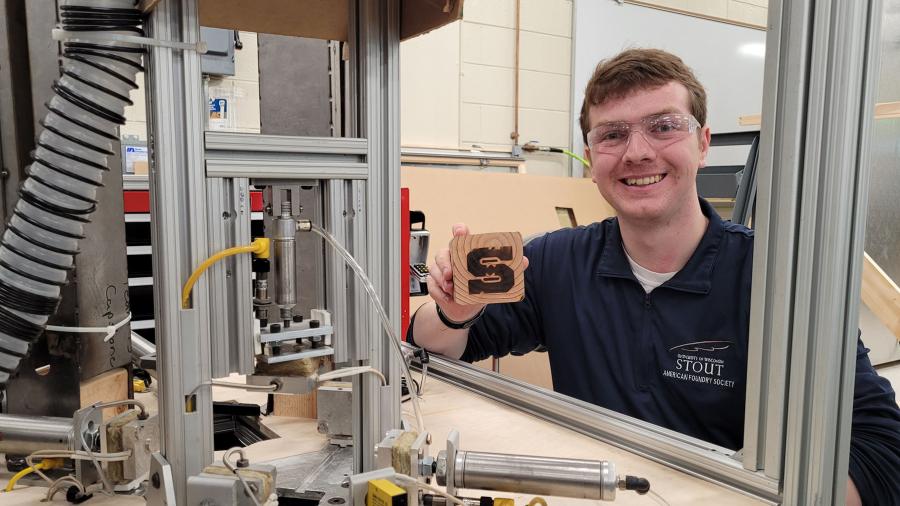 As an Honors College student, Thompson explored more of his interests. "There are plenty of enhancement events to explore a wide variety of topics and to work with faculty who are passionate about their subjects. With a faculty mentor, you can complete a project you've always wanted to do," he added.
Thompson's Honors College project was to design a mechanical engineering task for high school students entered in SkillsUSA Wisconsin, a regional competition held each February at UW-Stout. He and his mentor Associate Professor Devin Berg tasked students with building a structure using a variety of tools, including straws, craft sticks and tape, to model an elevated housing unit in a flood zone.  
The event, however, was canceled because of a snowstorm, but "hopefully the materials can be used again next year," Thompson said. "The project was meant to expose students to that realm of engineering, thinking about climate change and sustainability."
Working with him on his honor's contract, Berg found Thompson to be a "thoughtful leader who contributed his creativity to the design of an engineering team challenge for high school students."
Volunteering and reaffirming students' decisions
Volunteering is a big part of Thompson's life. It was a highlight of his college experience, and he plans to continue to volunteer as a graduate.
"There are a great many ways a company can be involved in their area, like how UW-Stout is so involved in the Menomonie community," he said. "I would like to continue to volunteer once I get my foot into the industry."
He mentioned the industry partners, like Graco, Advanced Molding Technologies, OEM Fabricators and F&M Plastics, which sponsor capstone projects, as an example. "Industry partners offered up projects for students to complete, and then students can look to those professionals and connect with them, helping to steer them into the industry."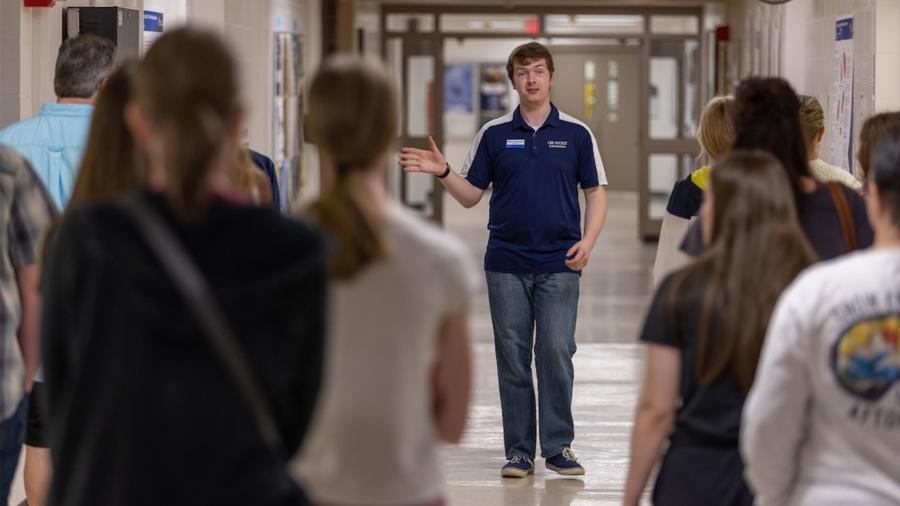 -
Thompson served as a campus guide with the Admissions Office, leading more than 50 tours this academic year. During Campus Preview Days, he led visiting prospective students, families and supporters on tours, as well as students interested in engineering on a more specialized tour of the engineering facilities in Fryklund Hall.
"Campus Preview Days offer an opportunity for visiting families to meet with Admissions Counselors, Student Services and University Housing representatives. Before the tour, there's a Q&A session with a panel of student tour guides, where families can ask about students' personal experiences on campus. The experience adds a level of authenticity for prospective students that are nervous about college life," Thompson said.
"Preview Day is the event that I attended as a high school senior that helped guide my decision to enroll at UW-Stout," Thompson said. "Students on these tours are in the same position I was in four years ago. I didn't know exactly what I wanted to do. I wanted to know would I feel safe? Would I be working on projects every day? What skills would I learn? Is it affordable?
"Ultimately, my goal is to help students reaffirm their decision to attend UW-Stout and encourage prospective students to apply. Students come from every background. They come from out of state and right here in Menomonie. A lot of them are still deciding where they want to go. There are many universities in Wisconsin, but few polytechnic universities in the nation, and that's something that should always be pushed when someone is considering UW-Stout," he added.
Thompson received a lot of questions from parents and student supporters during tours, like, "Is UW-Stout a suitcase campus?"
His answer for them is, "UW-Stout is a university where there is always something going on, even on the weekends, to get involved on campus. There are concerts, music, dances and craft nights. You can hike, bike, canoe and walk along our nature trails, including the Red Cedar Trail."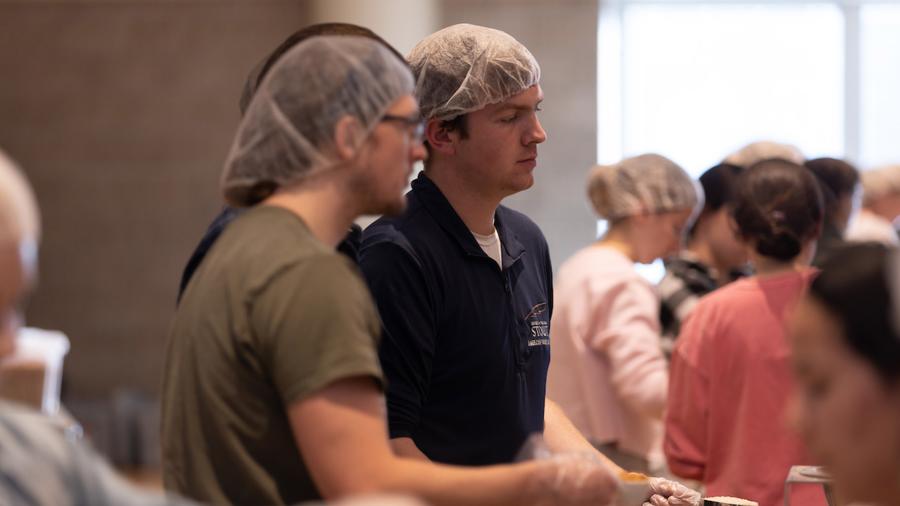 Over his four years at UW-Stout, Thompson was also involved with the American Foundry Society, Engineers Without Borders and Lutheran Campus Ministry and volunteered at events like the Rotary Meal Pack-a-Thon.
"I'm proud of everything I've accomplished in my four years here," Thompson said. "I'm proud to have made an impact on students who plan on coming here and who are already here and to have been able to do so much for the community as a student. It's a most rewarding experience."