Nathan Thompson chose UW-Stout because of its polytechnic aspect. It offers him the career development and hands-on education he needs to start his career in the STEM field, he believes.
"I want to use Stout's career exploration service to help me find my calling in STEM," Thompson said. "I want to find a job that appeals to my love of science and engineering and lets me make an impact on my community."
By attending UW-Stout, Thompson is also adding to his family legacy. He is a third-generation Blue Devil – following in his mother's footsteps. And his maternal grandparents met each other on campus.
Stout Scholars Scholarship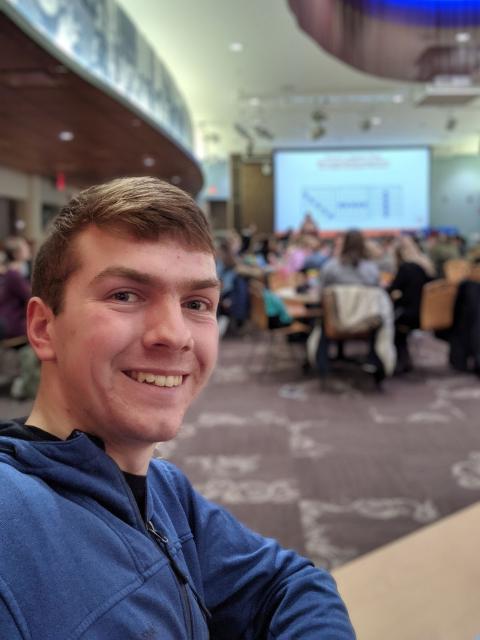 Thompson discovered the Stout Scholars Scholarship on the university website. The scholarship is $5,000, renewable for up to four years, for a total value of $20,000. Applicants are invited to Stout Scholars Day in late January the winter before their first semester. The day was full of activities, including an interview as part of the application process.
"I understood very few qualify for the scholarship, so I was ecstatic when my Stout Scholars Day invitation came in the mail," Thompson said.
Thompson had a wonderful time at Stout Starters Day with his mother and grandmother. They toured campus, visited Career Services and talked with faculty and staff.
Three first-year students are awarded each year based on ACT score, class rank and grade-point average. Recipients are announced each June. Thompson, of Woodville, found himself within the prestigious group for 2019.
A passion for STEM and hands-on learning
Thompson's interests in STEM are broad. In high school, he learned he works best with hands-on activities through his involvement in 4-H, Science Olympiad and robotics. His experiences ignited his passion for solving real-world problems.
Double-majoring in applied science and mechanical engineering, Thompson looks forward to finding out more about the expanding STEM field.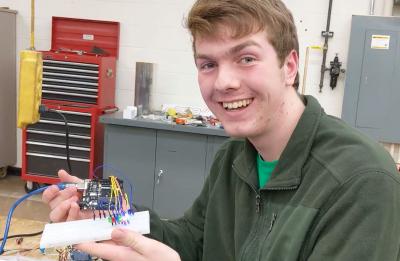 "I'm geared toward the mechanical engineering and technology field," Thompson said. "I discovered that I loved designing a product from pitching the idea to realizing it in the Intro to Engineering course. That's something I could certainly see myself doing!"
Thompson discovered the double-major through the Advisement Center. "The Advisement Center is where you go if you want to change your classes, you want to find out about graduation or you just want to find out more about your major. And all of the advisers are really helpful," he said.
Thompson joined many student organizations his first year, including the American Foundry Society. AFS is a group of faculty, staff and students who advocate for and educate about the manufacturing processes used in the metal casting industry, he explained.
Through his involvement in AFS, Thompson created metal casts in the foundry on campus and visited nearby foundries to see professional casting processes.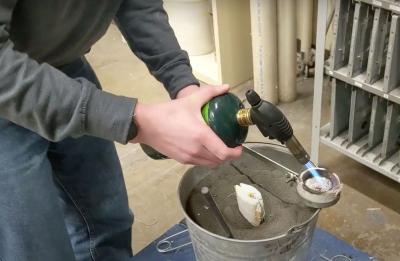 "It's very fun to see how all of our metal casting that we do in the small lab setting actually applies to what is used in the real world. Our cars, trucks, houses, sewer lines, aerospace – all of those applications are used based on metal casting and foundry practices," he said.
One of Thompson's biggest challenges was time management. With classes in different parts of campus on different days of the week, he needed to adjust to his college schedule.
"All of the people in these classes come from a variety of different majors," he added. "So, learning to be a good communicator, learning to work in groups and studying with other people was a really great skill to learn."
Impacting the community through involvement
Thompson's involvement helps shape his character and values and gives him the chance to volunteer in the Menomonie community and at home, he said. 
He joined UW-Stout's Academic Honor Society, a student-led organization based on career development and community service that supports organizations like the local food pantry and community nursing homes.
The AHS organizes many events for students to meet their requirements, including senior research presentations. The presentation Thompson attended inspired him on how to present an abstract idea or project to a professional audience, he said.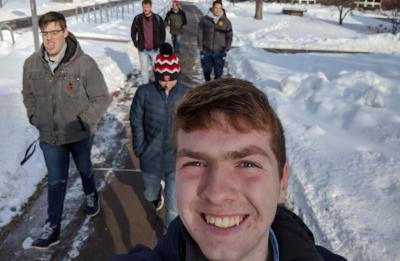 Thompson is also still involved in activities back home too. As a junior exhibitor with 4-H, he shows poultry and raises chickens and sheep.
"This February, we had lambs. It was a very exciting season for us," he said. "And in this past year, I earned my Youth Showmanship judge's coat. Someday, I hope to obtain my judge's license and carry on the tradition. I want to become a 4-H leader and share my experiences with youth."
Looking ahead during COVID-19
When UW-Stout moved to alternative learning methods in March 2020 because of COVID-19, Thompson moved home to his family's farm. The adjustment to online classes was challenging for Thompson but he was also excited to see how he could apply his lessons to study the pandemic.
"One of my classes had us take numbers from COVID-19 infection rates and calculate an infection curve. That was kind of cool to see how our education at UW-Stout applies to the real world," Thompson said.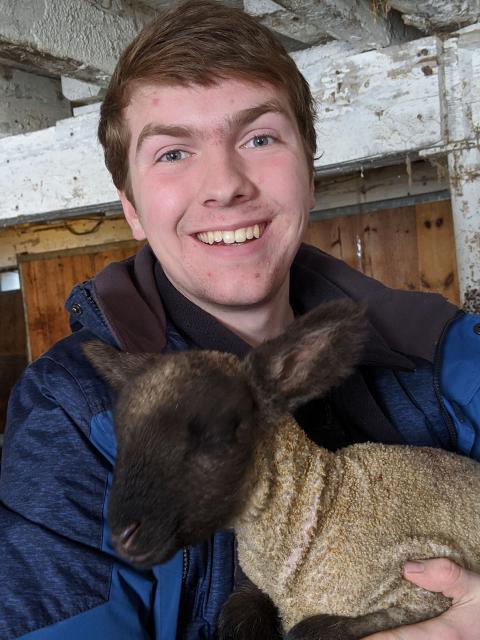 "Life was pleasant for my family and me. We were together at home and safe," he added. "In my spare time, I worked with Arduino code, which I learned in my Impacts of Engineering class. And I completed many home crafts while I was away from my usual summer activities."
Returning to UW-Stout this fall, Thompson looks forward to exploring more involvement opportunities. He hopes to join more student-led organizations he found on the Connect App.
The Stout Scholars Scholarship gives Thompson the financial support he needs to have the free time for his extracurricular activities.
"I really love Menomonie. I love all of the organization and club and campus activities," he said. "While some of my peers are supporting themselves at Stout's employment opportunities, I will be supporting others as a volunteer and leader."