There are so many wonderful people here at UW-Stout who add to our vibrant community. Some, your student might see every day, like their program directors and instructors. Some work more behind the scenes in various departments, supporting every aspect of campus life.
Each and every person at the university helps us feel more Stout Proud. We wanted to share a little bit about who we are and what we do.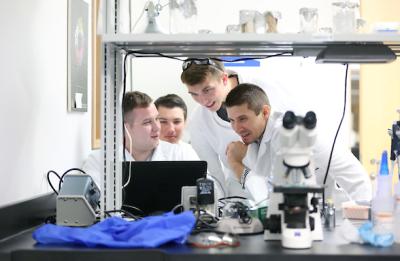 This month, get to know:
Josiah Ray, Lab Manager
What are your main duties on a daily basis?
As a lab manager, I spend most of my time preparing labs and maintaining lab equipment for the biology and chemistry & physics departments. I also teach one to two labs, usually general chemistry or biochemistry, each semester. This combination of duties provides a really nice balance of routine work that also allows me to interact with students on a regular basis.
Why do you love your work and UW-Stout?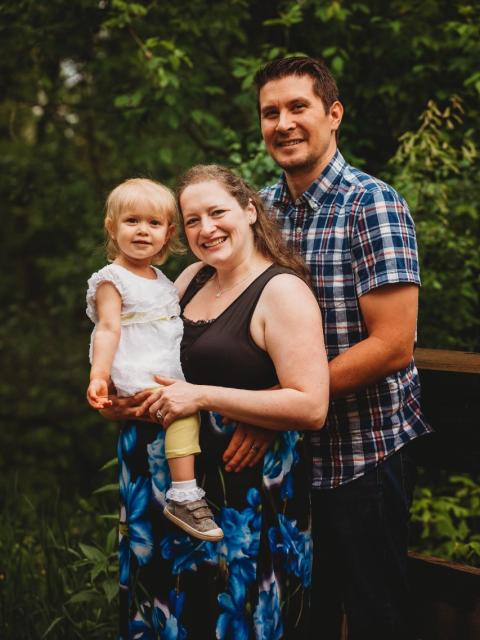 I have the most incredibly considerate and kind co-workers that anyone could hope for. Imagine getting a chance to work with some of the smartest people that you have ever met, who have given up the chance at a higher-paying career to educate the next generation of young adults. It is also very rewarding to help students develop the skills necessary to become capable professionals.
What piece of advice would you give to students?
I think the question "What career should I choose?" becomes a source of anxiety for many students as they enter college. They are under an incredible amount of pressure to decide on a career before they have had a lot of practical or real-life experience. Your path will become clear as you gain confidence in your skills and grow as a person. Just challenge yourself to put in your best effort.
Past Highlighted Faculty and Staff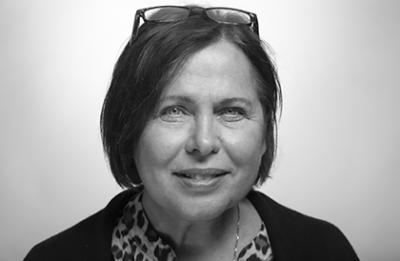 Renee Carrell, Furlong Gallery Assistant Director
What are your main duties on a daily basis?
Most of my duties are at Furlong Gallery. The assistant director is responsible for the operation of the gallery, training student gallery assistants, creating a work schedule, supervising gallery repairs and maintenance, assisting with installations, promoting upcoming exhibits in select venues and social media, planning receptions and management of the art library loan. I am also responsible for the scheduling and maintenance of Gallery 209 and the Library Art Lab.
Why do you love your work and UW-Stout?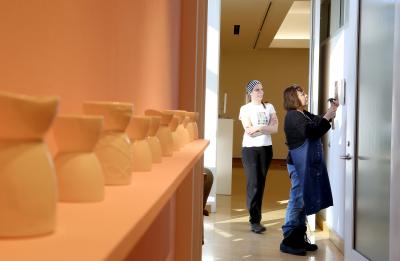 I am an alum of the UW-Stout art department, now the School of Art and Design. Like many Stout alum, I treasure my experience and education here at Stout. As a student, I worked at Furlong when it was housed at Ray Hall. I have become very familiar with the Permanent Art Collection and enjoy sharing it with other members of the campus community.
I also enjoy working with students and watching their progress as young artists. I am very proud of our university, particularly the School of Art and Design.
What piece of advice would you give to students?
Most of our students are bright, success-oriented persons who do not need my advice. But if there is one thing I would say, it is this: Remember the generosity, support and encouragement you received at UW-Stout and pay it forward in your own chosen profession and life.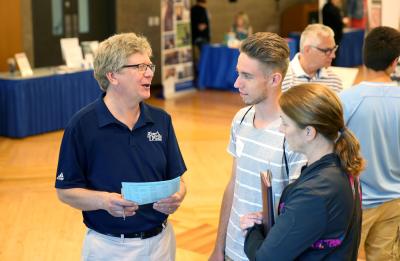 Layne Pitt, Sports Information Director
Years at Stout: 30
Office: Sports and Fitness Center
What are your main duties on a daily basis?
My office is charged with promoting not only the UW-Stout athletic department and our student athletes but the entire university. The Blue Devils' athletic website and social media are based out of our office. We write the stories, the student athlete bios and game previews; keep the statistics and record books; nominate student athletes for awards; create action visuals in both still photography and video; livestream the home events; and do myriad other things.
Why do you love your work and UW-Stout?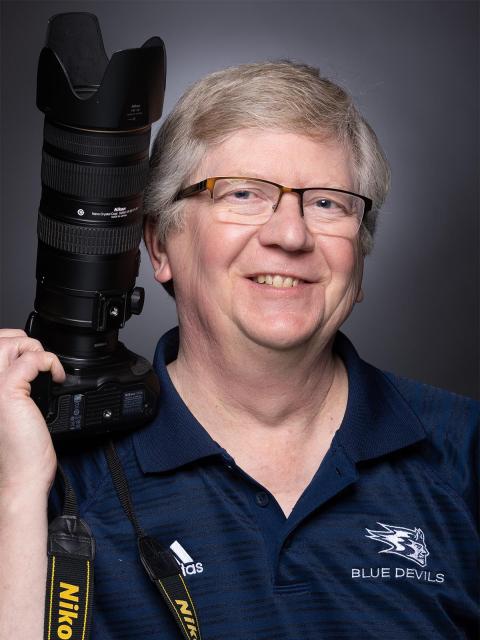 I am a Stout graduate who never left Menomonie. I learned to love Stout and the surrounding community as a student and through my years with the local newspaper. How can you not love a job where you are paid to watch other people's kids play sports? I enjoy talking and interacting with the student athletes, our close-knit athletic staff and especially with my student worker staff of about 20. My passion has always been photography, and I have been able to capture action photos of our 19 sports both on the field and in the studio.
What piece of advice would you give to students?
Get involved but not just as a resume builder. Your time at Stout gives you a chance to explore many different opportunities. Find an area, a club, an organization or job that you are passionate about and learn as much as you can. I discovered my passion with the student newspaper, the Stoutonia, my first week on campus and have been involved the last 44 years.
Layne retired in October 2022.