Jackson Yang's education at UW-Stout has given him confidence in himself and his artwork, but his journey was deeper than his degrees.
While earning his Bachelor of Fine Arts in graphic design and interactive media, he struggled with the concepts and there were times when he wanted to break down and drop out.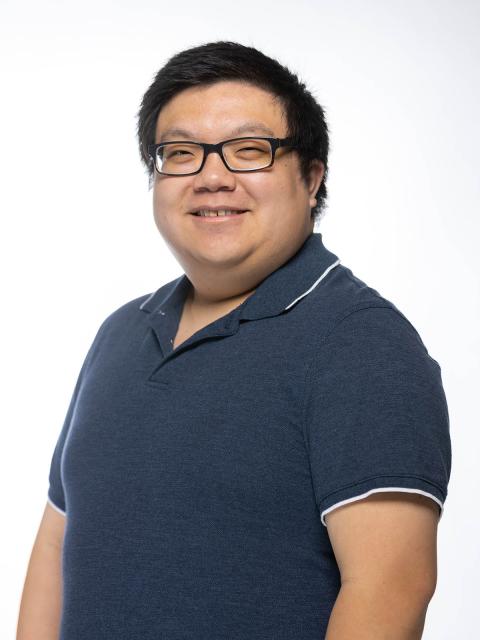 "My family, friends and girlfriend, Amy, helped me through some rough times," said Yang, of Wausau. "They had my back. And Amy is constantly here for me. Her love and compassion keep me going. She reminds me, 'Don't compare yourself to other people. Just be better than yourself.'"
Yang earned his undergraduate degree from UW-Stout in 2019, but he felt he hadn't reached his full potential. He will graduate with his Master of Fine Arts in design from UW-Stout on Saturday, May 6.
"I'm proud of how my art and design improved and seeing where I am now," he said.
"For a long time, I was selling myself short. My family and Amy helped me to keep going. You need that support system. I want to make them proud and keep pushing myself. I want to help other students know that tomorrow you'll be better than you are today."
Yang's education also led him on a spiritual journey of rediscovering his Hmong culture through the arts.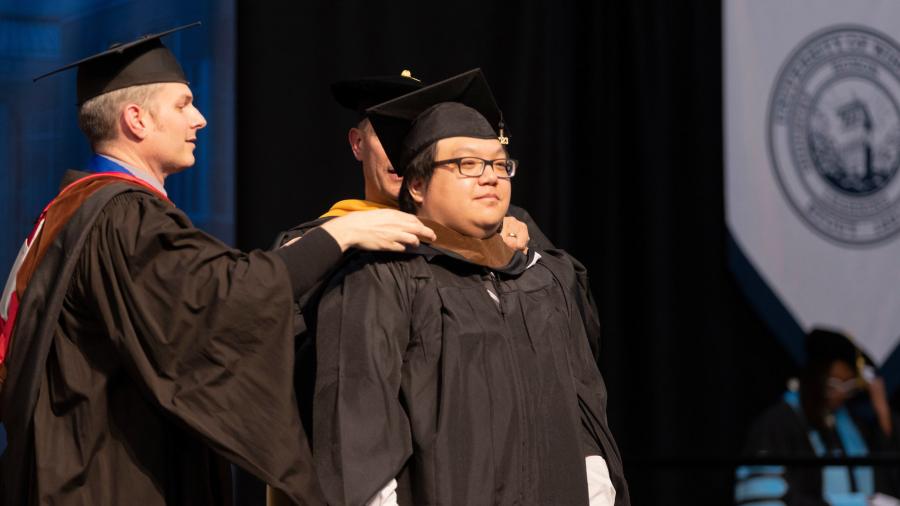 Finding a gateway back into his culture
Yang struggled to embrace his culture for much of his life, until the second year of his undergrad.
"I grew up rejecting that part of my identity, and Stout helped me find love for my community again and to dive into and re-embrace my culture," he said.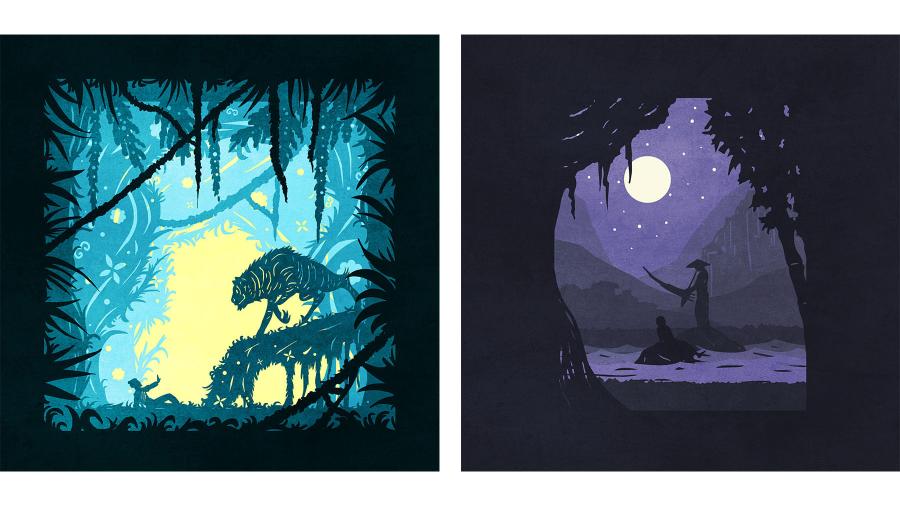 During his undergrad, Yang joined Hmong Stout Student Organization, and his cousin Kalvin, a student team member in the Multicultural Student Services office, helped him learn about traditional Hmong arts.
"It was the art and wanting to make my mom proud that was my gateway back into the Hmong culture. I want to pay respect to my culture," Yang said.
And for students who want to re-embrace their culture, he thinks, "You have to find something that you can connect with. It could be something simple or big. It all comes down to who you are as a person."
Transforming tradition into modern-day storytelling
As a graphic designer and illustrator, Yang's dream is to work with the Hmong community, teaching the next generation about the traditional arts through design, children's book illustrations or comics.
Kalvin, who had pointed Yang in the creative direction for his undergrad senior show, was also instrumental in helping Yang establish the theme for his master's thesis: "A Thread Through History: How Interlinking Contemporary Art with Paj Ntaub Can Connect Generations."
His graduate research is dedicated to Hmong culture, bringing elements of traditional story cloths and flower cloths – Paj Ntaub – and their embroidered motifs and aesthetics into contemporary digital storytelling.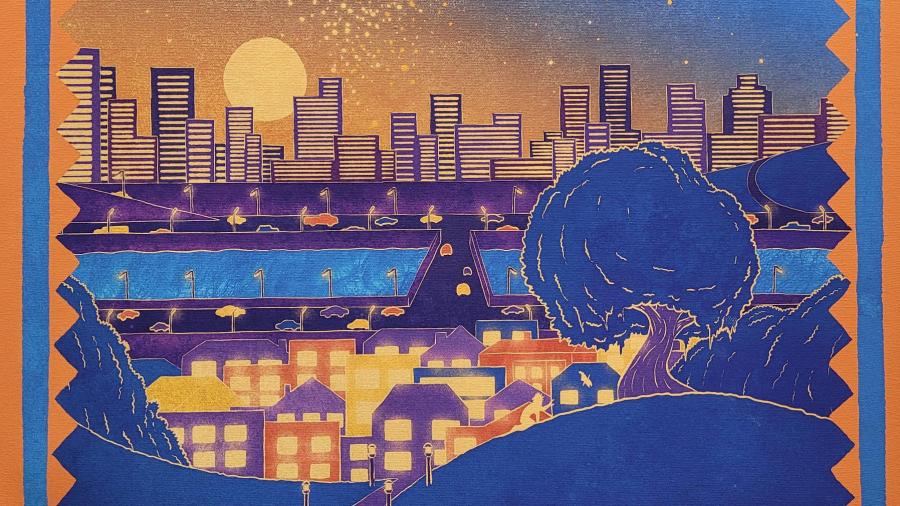 "Jackson explored these themes through the lens of a children's book for kids who find themselves navigating between two cultural identities," said Erik Evensen, MFA in design program director and Yang's thesis adviser. "Working with Jackson has been nothing short of delightful. He is incredibly thoughtful and motivated, and his work is well-crafted and quite beautiful."
While sharing the history of Paj Ntaub, Yang also illustrates the story of "To Broken Souls," using the story cloth style, telling the story of Ben, a young Hmong man, and a leaf frond spirit and the connections they make.
Yang's mother played a role in his educational journey as well. "A large portion of why I wanted to reconnect with my culture was for my mother. I wanted to make her proud and show her just how much she means to me, which was one of the reasons why I pursued the MFA and focused on the Hmong arts.
"She loved making flower cloths, so her eyes would always light up when I showed any kind of interest in it, especially for my education," Yang said.
Yang learned the story cloths and Paj Ntaub were art forms pioneered by women. He studied their selection of colors used in the textiles, the spacing of images and texture. "The embroidery creates a natural texture, even in the placement of the direction of the stitches," he said. "I admire the intricate designs of the folding and sewing techniques they use. It's very difficult."
Yang always thought story cloths were an older art form, but in learning more about them, he found that they are relatively new in terms of Hmong history, dating back only to the 1970s. As a way to remember their lives in Laos and share their memories with future generations, women began to sew their family stories while refugees after the Vietnam War.
Paj Ntaub are a more ancient art form, with several legends of their own. One legend, Yang said, tells of the books of knowledge said to contain the entire Hmong written language. Under the oppression of Chinese rule, it was made illegal to speak or write in the Hmong language and the books were destroyed. Hmong women used their skills in needlework to sew their language into their clothing, secretly preserving it, developing Paj Ntaub.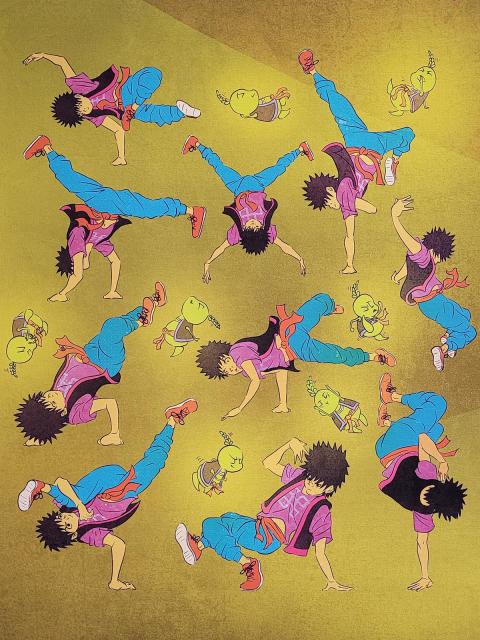 "Whether the legend is true or not is debated – but it speaks to the importance of the art form," Yang said. "Paj Ntaub became a way for women to communicate and preserve their language and culture."
Yang is thankful for the support he received during his time at UW-Stout, naming mentors Tanya Gunkel, Educational Materials Center librarian; Aubrey Huff, former librarian; as well as his thesis committee members – Evensen; Associate Professor Mitchell Ogden, English, philosophy and communication; and Assistant Professor Mary Climes, of comics.
Yang's mother died a little over a year ago from COVID.
"I had originally wanted to include my mother in some capacity for my thesis. She unfortunately will never be able to see what I had planned for the future after graduation," he said. "My brother, sister-in-law and sister have supported me in my mother's place."
New Library Art Lab
Yang's thesis show was recently displayed in the new Library Art Lab, on the first floor of the University Library.
The exhibit space was created in collaboration with faculty and staff of the library and the School of Art and Design, led by Sue Lindahl, assistant director of Cataloging and Access Services; Professor Charlie Lume; and Renee Carrell, Furlong Gallery assistant director. 
"There was a need on campus for more art exhibit space for students, and since the library has such a solid history of supporting art and design, the partnership was a logical fit," Gunkel said. "Art is a universal language. The library is a place that breaks down barriers and is accessible no matter someone's background."
Yang is a graduate assistant at the library and also serves on the Library Public Relations Committee, chaired by Gunkel. He creates book displays and posters, some of which have been accepted into the University Archives, an exciting accomplishment for any student, Gunkel said.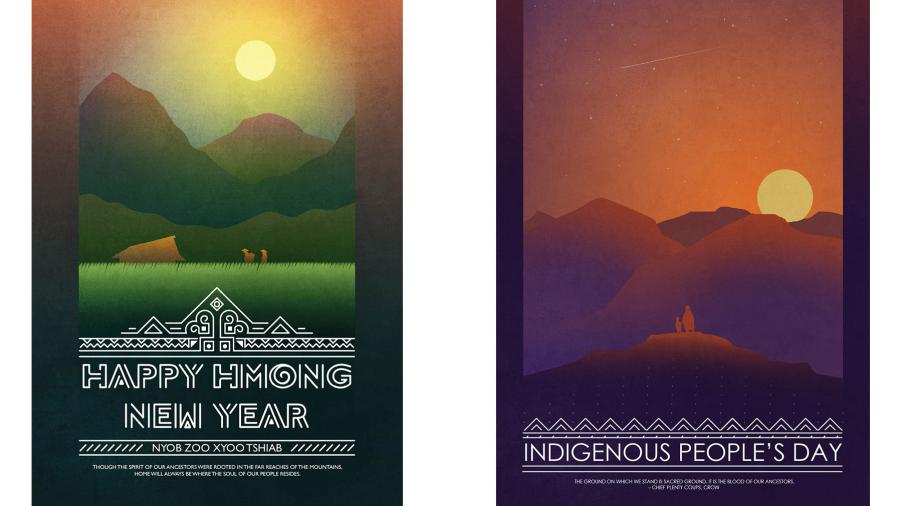 "Tanya and Aubrey played a huge role in allowing me to push the boundaries of what I was able to design for my graduate assistant position," Yang said.
A large portion of Yang's portfolio that he shows to potential employers comes directly from projects he created in his role as a library graduate assistant.
"Jackson has been an important part of our team and has built a sense of belonging through his artwork," she added. "He's helping other students see themselves in the displays and posters he creates. This can make a difference in a person's day. He probably never stops to think about it, but he's helping build student retention.
"He's original, innovative, has a strong work ethic, is talented and creative. I don't know who would be better in a new design role than Jackson," Gunkel said.
Along with design and graphic design, the School of Art and Design has five other BFA programs, including animation and digital media and studio art. It offers two Bachelor of Science degrees in arts administration and entrepreneurship and video production.