Our Master of Fine Arts in Design program, a 60-credit terminal degree, combines practical problem-solving, 'change the world' mentality and innovative teaching in an art school experience that will help you grow as a designer, provide cross-disciplinary opportunities, and prepare you for creative leadership or teaching.
You'll reach across multiple design disciplines to find a unique focus area tailored to your interests.

/

UW-Stout
With its outstanding reputation for undergraduate art and design programs, UW–Stout is uniquely positioned to offer this cross-disciplinary graduate program. Our program is uniquely broad and interdisciplinary.
Our Cross-Disciplinary Setting
Graphic design
Game design
Industrial design
Interior design

Interactive media
Digital Cinema
Animation
You will work with our dedicated faculty to create a focus area tailored to your interests through our robust course offerings and independent projects. Our customized instruction model can accommodate working adults as well as day students
The program provides a unique opportunity for experiential learning and design-based research through collaborative faculty-student projects that reach across design disciplines. Courses will be delivered through a Customized Instruction model that accommodates working adults as well as day students.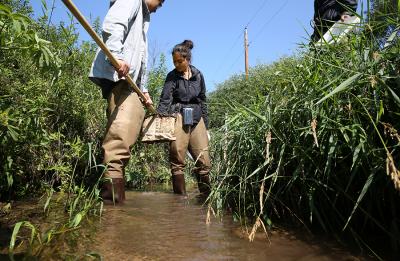 Design class looks into outdoor museum on blue-green algae awareness
A group of Master of Fine Arts in Design students, working with the university's LAKES REU project, recently created the concept of having an outdoor museum in Menomonie that would help educate visitors about the blue-green algae issue on Lake Menomin and, in turn, possibly gain more advocacy about cleaner water.
"Design research consists of strategies and techniques designers use when tackling creative projects," Erik Evensen, M.F.A. Design program director said. "At the graduate level, it usually means using research to dive into complex, interdisciplinary problems, just like the phosphorus pollution issue in the watershed. These students took on this challenge, utilized some intimidating research practices, and executed some really thoughtful and exciting solutions. I think this project has a lot of potential for real-world applications. We're definitely starting a conversation about what this could actually look like here in Menomonie."
Global competition, a workplace that increasingly values creative workers, the increasing role of evidence-based design, and the search for sustainability have created the need for a new model for graduate education in design. The MFA in Design will prepare you to become transformational practitioners and educators with a focus on innovation, breaking boundaries, design leadership and sustainable models of practice.
"I really enjoyed my time in the M.F.A. Design program. As an international student, the program director and faculty helped me a lot with both my schoolwork and life. The program challenged my ability and encouraged me to explore my potential. I am more confident about my communication skills and critical thinking. Both traits will help me be competitive in the industry."
-- Liang Wu

M.F.A Design
Tuition & Fees
Customized Instruction at UW Stout can be described as programs that are designed with the adult learner in mind. If you're comparing UW-Stout's customized instruction tuition to our competitors, keep in mind:
$1010 per graduate credit — customized instruction tuition rate includes the textbook rental fee.
There are no additional university-based semester or technology fees.
Students in customized instruction programs pay the same rate of tuition regardless if Wisconsin residents, out-of-state or international participants.
Value for your Money
There's more to value than just tuition. UW Stout also provides:
Program Director – faculty with discipline expertise.
Student Services adviser – one point of contact, providing support to students for each program.
Course sequences and matrices – know what courses are offered when so you can plan ahead.
Courses and programs may be stackable for use in another program.
Courses are flexible and convenient for working professionals.
Other universities will present costs and value differently - make sure you're comparing apples to apples.
Example Course Plan
This is an example of a three-year course plan. Please review the Graduate Bulletin for the official program planner, credit requirements and course descriptions.
The First Year (21 credits)
Fall Semester
DES-700 Design Seminar I (3 cr.) core
ARTH-720 History of Design Seminar (3 cr.) core
DES-XXX (3 cr.) studio elective
Spring Semester
DES-725 Research Strategies in Design (3 cr.) core
DES-712 Sustainable Design Practice (3 cr.) core
DES-561 Transmedia Studio (3 cr.) studio elective
Focus Elective (3 cr.)
Second Year (21 credits)
Fall Semester
ARTH-756 Special Topics in Design History (3 cr.) core
ART-614 Color Seminar (3 cr.) studio elective
Focus Elective (3 cr.)
Spring Semester
DES-710 Ethics in Design (3 cr.) core
DES-730 Critical Issues in Design Education & Practice (3 cr.) core
DES-XXX (3 cr.) studio elective
Focus Elective (3 cr.)
Third Year (18 credits)
Fall Semester
DES-800 Design Seminar II (3 cr.) core
DES-870 Creative Thesis in Design (3 cr.) core
DES-799 Independent Study (3 cr.) studio elective
Spring Semester
DES-870 Creative Thesis in Design (3 cr.) core
DES-XXX (3 cr.) studio elective
DES-XXX (3 cr.) studio elective
Admission Requirements
Due to the unprecedented Coronavirus situation, the MFA in Design's priority deadline has been extended to June 1, 2020.
General UW-Stout Graduate School Application
All prospective graduate students at UW-Stout must follow a standard application process through our Graduate School. Beyond that, each graduate program has specific requirements that must be met to be successfully admitted to the program:
Program-Specific Admission Requirements
To apply to the M.F.A. Design program, please submit the following additional application materials:
15-20 examples of creative/professional work from your area(s) of expertise:
A single, multi-page PDF document including 10-15 samples of creative/professional work and a list with brief written descriptions. Total PDF size should be no more than 20 MB. File-naming structure example: Nelson_VisualPortfolio.pdf
A limit of 5 motion/video images will be accepted as part of the total 15-20 examples. Each motion/video submission shall be no more than 3 minutes in length. Website links are also acceptable, but if a website is utilized, limit the work to the required number of examples.
All work must be created by you, the applicant. Failure to follow this rule will result in immediate rejection. If your work is the result of a group project, highlight the role you played in its creation within the written description list.
This two to three-page statement should describe your goals for graduate study, your potential research question(s) for exploration, and also reference and contextualize your work included in the visual portfolio. Submit in PDF format. Please include as a digital file saved as .doc, .pdf, or .rtf, and titled with your last name (i.e. Nelson_StatementOfInterest.pdf).
Please include as a digital file saved as .doc, .pdf, or .rtf, and titled with your last name (i.e. Nelson_CurriculumVitae.pdf).
Candidate Recommendation Form | online form
You must secure three (3) individuals who can qualify you as a potential graduate student and attest to your academic performance and experience within your profession. Each recommender must complete the Candidate Recommendation Form and submit it directly to the Program Director, either by e-mail or hard copy mail.
All program application materials (with the exception of the Candidate Recommendation Form) should be submitted digitally to: http://tinyurl.com/MFA-2017-2018.
MFA Design Advisory Committee
2020 Design Advisory Board
| | | | |
| --- | --- | --- | --- |
| Erik | Evensen | Program Director | Department of Design |
| Seth | Berrier | Associate Professor | Department of Mathematics, Statistics, and Computer Science |
| Robert | Fraher | Associate Professor | Department of Design |
| Amelia | Kennedy | Design Manager | 3D Design Studio - Target |
| Kimberly | Long-Loken | Assistant Professor | Department of Design |
| Rochelle | Maresh | Senior Interior Designer | Target |
| Joan | Menefee | Professor | Department of English & Philosophy |
| Sarah | Murawski | Graphic Design Manager | Great Northern Corporation |
| Julie | Peterson | Associate Professor, Program Director, Chair | Department of Design |
| Vincent | Pontillo-Verrastro | Assistant Professor | Department of Art & Art History |
| Glendali | Rodriguez | Associate Vice Chancellor | Provost's Office (ex-officio) |
| Shane | Sanders | MFA in Design | Student Representative |
| Elizabeth | Sanders | Associate Professor | Department of Design, The Ohio State University |
| Fred | Sklenar | Creative Director | Great Northern Corporation |
| Rich | Walters | Product Design Manager | LSR |
| Julie | Watts | Professor | Department of English & Philosophy, Founding Director of MSTPC |