Korean, Farsi, Greek, Tamil, Tajik.
Over a dozen different languages will be heard from University of Wisconsin-Stout faculty, staff and students and members of the Menomonie community during the International Mother Language Day Celebration from 6:30 to 8 p.m. on Thursday, Feb. 20, at the Mabel Tainter Center for the Arts. The free event is sponsored by the UW-Stout Literature Committee, Menomonie Public Library and Mabel Tainter.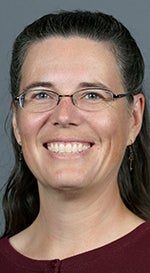 The event celebrates International Mother Language Day held on Friday, Feb. 21. The day was proclaimed by the General Conference of the United Nations Educational, Scientific and Cultural Organization in November 1999 "to promote the preservation and protection of all languages used by peoples of the world," according to the International Mother Language Day website. "Today there is growing awareness that languages play a vital role in development, in ensuring cultural diversity and intercultural dialogue, but also in strengthening co-operation and attaining quality education for all, in building inclusive knowledge societies and preserving cultural heritage, and in mobilizing political will for applying the benefits of science and technology to sustainable development," the site stated
At least 43% of the estimated 6,000 languages spoken in the world are endangered, the site noted. Only a few hundred languages have genuinely been given a place in education systems and the public domain, and less than a hundred are used in the digital world.
Every two weeks a language disappears taking with it an entire cultural and intellectual heritage, the site noted.
The readers will pick a poem, an article and in one case recipes and read them in their mother language for about five minutes, according to Ann Vogl, University Library systems librarian and a member of the Literature Committee.
"This event will raise awareness of the diverse backgrounds in the community," Vogl said. "I want everyone to come and to enjoy listening to the different languages. It will help us appreciate and keep alive the cultures and languages in our community, which is what the day is about."
Those speaking will take the time before or after talking in their mother language to explain what they are saying for the audience.
The idea for the event started with Susan Lindahl, co-director of the University Library, who learned of a similar event in Door County.
Nilu Umarova, a Tajikistan native and a sophomore studying hotel, restaurant and tourism management, will read a poem written by Tajik poet, Loiq Sherali about his mother. "This poem is very dear to my heart," Umarova said. "The poem is one of my mother's favorite poems, and she taught me it when I was very young. Being away from my mother for almost three years now I go through a lot of difficulties of homesickness, and this poem reminds me so much of the wonderful moments that I have spent with my mother. The hardest challenge that I faced living in a different country were not academics or adaptation to a different culture, it was not seeing my mother.
"My language is one of the most unknown languages," she noted. "This event is an opportunity for me to educate people and share and promote my culture. I want those attending to be able to see and experience emotions transcend through my poetry and a different language. I think one can appreciate the beauty even if they don't understand the language. We need linguistical diversity to enhance our understanding of the world."
Umarova wanted to be part of the celebration as soon as she learned about it from her English professor, Lopamudra Basu. "Language by itself is a huge representative of a culture and by hearing a different language we get to be aware of a culture," Umarova said.  "I am an advocate for diversity and cross-cultural understanding. By being part of this event, I am promoting my language and a culture that is unknown to most of the world. Every year many languages disappear and with that a tradition a huge part of one's culture dies. In my personal opinion, if we all would appreciate the beauty of languages and learn them or learn about them, this world would be a better place."
UW-Stout is Wisconsin's Polytechnic University, with a focus on applied learning, collaboration with business and industry, and career outcomes.
###
Photos
Ann Vogl