In the lower level of the Memorial Student Center, Monday evenings means mask-making for some University of Wisconsin-Stout students.
While some of them cut fabric, others pin it together. In another area, a sewing machine is set up to finish the masks.
The students are working toward the goal of 2,000 masks to give to Menomonie elementary schools to help protect children, curb the spread of COVID-19 and give to others.
Megan Otte, a sophomore studying interior design, started the group after deciding she wanted to help the Menomonie community in some way. When she learned of the need for masks through the United Way of Dunn County, she broke out her sewing machine and started making them on her own with fabric she had and that others had donated.
She expanded the project and invited other students to join.
The students are making three sizes of ear loop masks,  4-by-6 inch, a 5-by-7 ½ inch and a 6-by 9-inch. The sizes are for different age children and an adult size in case teachers need them, Otte said.
So far about 100 masks have been completed, Otte said. "Right now, we are encouraging people to work on them when they have time," she said. "School obviously comes first."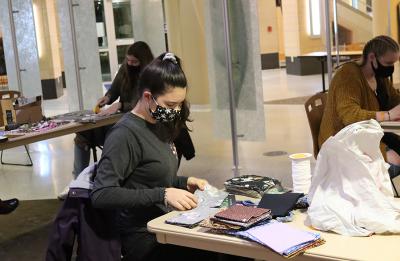 Otte, who started sewing when she was 5 with her grandmother, began sewing masks last spring with a neighbor in St. Michael, Minn.
When she came to UW-Stout and heard of the need for masks, she knew it was a chance to help the community. "It was something I knew how to do," she said. "I figured there was a demand. I was surprised at first how many masks were needed at the elementary schools. I enjoy giving back to people."
In particular she wants to give back to her new community as she attends UW-Stout, Otte said.
Otte connected with other students through the UW-Stout parent page on Facebook. About a half-dozen students have attended Monday sewing get-togethers, with about a half-dozen more interested, Otte said.
At a recent work session, Otte pinned together fabric as fellow student Maggie Brehmer cut bright orange fabric featuring Pete the Cat, and Leah Dischinger sewed the masks on her  machine.
Brehmer, a sophomore interior design student from Sun Prairie, said her mom told her about the project after seeing it on Facebook.
"It is fun to be able to help out," Brehmer said. "It is something to do. I get out of my dorm and get to take a break from schoolwork. I can help other people, have a good time and make new friends."
Dischinger, a first-year fashion design major from Anoka, Minn., was thrilled to get involved. "I really love sewing," she said, noting she has been sewing since she was five years old too.
"I have been making masks for a lot of friends and family. Anything to do with sewing is fun. This is a time to sew and do that with people who love to sew too. A mask is a really important thing for people to have to wear right now. It's good for people to have extra masks on hand."
When there isn't a need for facial masks, the students plan to continue to sew together. Otte already has ideas for community service projects students could create. They  include canvas bags for the homeless or stuffed bears that hospitals or firefighters could give to children.
"We want to keep going to help the community," Otte said.