University of Wisconsin-Stout student Amara Miller filled a light blue balloon with flour to create her stress ball Thursday, April 15. She laughed as she spilled flour on the table.
"I think it is important to take a break and have fun," said Miller, a junior majoring in environmental science from Andover, Minn. "It's nice to be able to get away from school for a little while and relax and have a good time."
More than 60% of students seeking support at their college counseling center report COVID-19 has negatively impacted their mental health, motivation or focus, and caused loneliness or isolation, according to the Center for Collegiate Mental Health.
UW-Stout's Counseling Center and Student Life and Services hosted the Self-Care is Everywhere event April 15 in the Great Hall of the Memorial Student Center to allow students to plant a flower, color or make a stress ball or glitter bottle to help relieve stress, which tends to increase as final exams loom.
The center created bystander intervention posters to help students understand and identify warning signs if their peers are struggling. The center also is hosting virtual and in-person support sessions called Let's Chat. The goal is to provide support for students in need or those who want to help their peers.
The virtual sessions will be held on Teams from 3 to 4 p.m. every Thursday through the end of the semester. In-person events are planned from 11:30 a.m. to 1:30 p.m. on Monday, April 19, in the Birch Room at student center; 5 to 7 p.m. on Tuesday, April 20, in Merle M. Price Commons Elk Creek Room; 11:30 a.m. to 1:30 p.m. on Wednesday, April 21, in the Birch Room of the student center; and 5 to 7 p.m. on Thursday, April 22, in the Hay River Room of Price Commons. University Dining will be providing meal vouchers to students who attend the in-person sessions.
Faculty and staff volunteers are handing out about 300 care packages around campus throughout April to students. They will include prepackaged food from University Dining, Counseling Center resource bookmarks, information on signs of mental health issues, resources available on campus and a positive message.
The care packages will be handed out on Tuesday, April 20, through Thursday, April 22; Tuesday, April 27; and Thursday, April 29. The event also allows students to have a casual conversation with staff.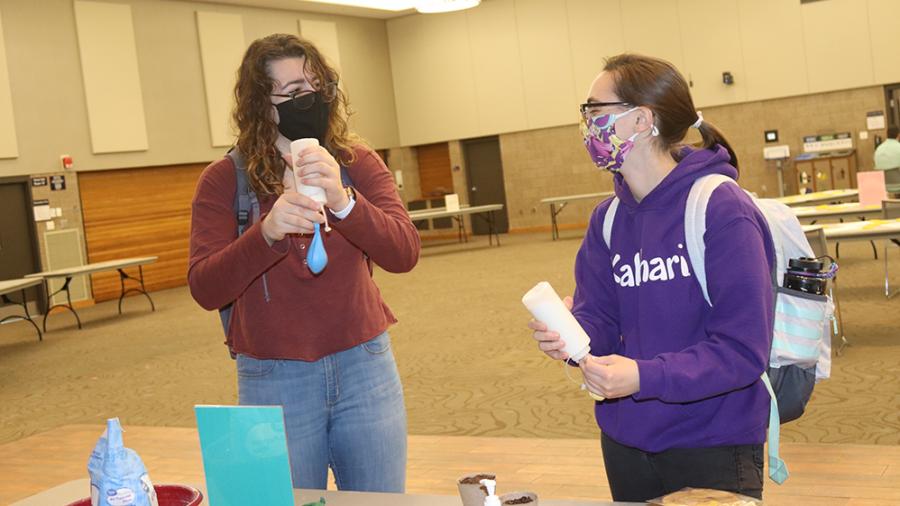 "Students all over the UW System and at UW-Stout are struggling with their mental health, including having suicidal thoughts, depression and anxiety and being isolated," said Chasidy Faith, interim director of the Counseling Center. "The care packages are an informal way to talk with them, show a friendly face and share our culture of caring. We care about our students. This is a way to interact and share the resources available."
COVID-19 isolation and the shutdowns to businesses and schools have added to the stress of many students, Faith said.
On Wednesday, April 21, from 4 to 6 p.m., the Counseling Center staff will have a table outside Price Commons with information on how to be a helpful bystander to someone experiencing a mental health concern or crisis, as well as information on self-care activities.
The center has been busy, Faith said, noting the staff is available to students through virtual appointments.
At the self-care event, UW-Stout senior Tori Williams, a psychology major from Blaine, Minn., planted some flower seeds into a peat pot. "It's nice not to focus on school right now," she said, as she added dirt to the pot. "This is just fun, and I enjoy it."
As finals get closer and students work to finish class projects, stress is building, said Levi Wilson, a junior majoring in health, wellness and fitness. Wilson works at the Counseling Center. He encourages students who may know of peers who are struggling to listen and help them connect with counseling services or other services they may need to succeed at UW-Stout. "There is no shame in it," said Wilson, of Minneapolis.
Michael Wilson, a junior psychology major from Cambridge, said having events to raise awareness about services available is important for students.
"When I was a first-year student, I did not take care of myself," he said. "Now I have been taking care."