The department of military science at University of Wisconsin-Stout will hold its spring commissioning ceremony Saturday, May 4, for one U.S. Army Reserve Officer Training Corps cadet, Preston Pierson.
Cadet Pierson will also be graduating that day. He will take the Oath of Office from Lt. Col. Jesse Johnson during the College of Education, Hospitality, Health and Human Sciences commencement ceremony at 1:30 p.m. in Johnson Fieldhouse.
Following commencement, Pierson will participate in a commissioning ceremony at 3:30 p.m. in the outdoor amphitheater at the Memorial Student Center, where the new U.S. Army second lieutenant will receive his first salute and have bars pinned on his uniform.
Pierson, of Oconomowoc, is graduating with a degree in hotel, restaurant and tourism management. He has been assigned as an active duty armor officer. He will train with the 2nd Cavalry Squadron 16th Cavalry Regiment out of Fort Benning, Ga.
He is recognized as a Distinguished Military Graduate by the U.S. Army Cadet Command. His awards include an Army Commendation Medal.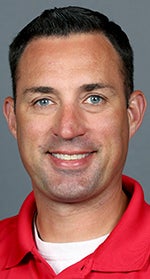 The ROTC program at UW-Stout is part of the Northwoods Battalion, which includes programs at UW-Stevens Point, UW-Eau Claire and UW-River Falls. Army ROTC is a program of study that combines electives in military science with practical leadership training to prepare men and women to become Army officers.
Upon successful completion of the Army ROTC program and graduation from college, cadets receive a commission as a second lieutenant in the Army, the Army Reserve or the Army National Guard.
Other cadets being commissioned this spring in the Northwoods Battalion, their major, assignment and hometown include:
UW-River Falls – Saturday, May 11
Luke Peters, business administration, Minnesota National Guard signal corps, Somerset

James Zimmerman, international studies, active duty infantry, Waseca, Minn.
UW-Stevens Point – Saturday, May 18
Tyler Cina, biology, active duty air defense artillery, Bonduel

Ryan Eastman, biology, National Guard Corps of Engineers, Berlin

 Matthew Esser, broad field social science, National Guard infantry, Madison

Trenton Galloway, business administration, active duty Quartermaster Corps, Prior Lake, Minn.

Andrew Johnson, wildlife ecology management and Spanish, National Guard Corps of Engineers, Ellsworth

Austin Krien, urban forestry, active duty infantry, Franksville

Ty Krueger, fisheries and water resources, active duty Transportation Corps,  Stoughton

 Joel Stevenson, psychology, National Guard infantry, Necedah
UW-Eau Claire – Saturday, May 25
Matthew Hanson, political science, National Guard Corps of Engineers, Shoreview, Minn.

William (Billy) Hinnenkamp, special education, National Guard Corps of Engineers, Shoreview, Minn.

Drew Tomasovic, information systems, National Guard armor, Menasha
Commissioning recognizes a cadet's transition from student to leader and is the last step taken before beginning a career as an Army officer. Ceremonies include a commitment to support and defend the U.S. Constitution. A cadet is granted authority to carry out the duties as a commissioned officer in the Army. The authority to grant a commission rests with Congress.
The Oath of Office taken by cadets at commissioning is similar to that taken by the President of the United States at inauguration. Family members, or others close to the individual, pin the new officer with gold bars followed by a salute from a noncommissioned officer of his or her choice.
Each year the battalion trains approximately 200 cadets across all academic levels and produces an average of 22 lieutenants.
In fall 2017 the battalion was named the top program in the 3rd Army ROTC Brigade for the second time in three years. The brigade includes 42 ROTC programs at colleges and universities in nine Midwest states and the Upper Peninsula of Michigan.
UW-Stout is Wisconsin's Polytechnic University, with a focus on applied learning, collaboration with business and industry, and career outcomes.
###
Photos
Lt. Col. Jesse Johnson