A University of Wisconsin-Stout alumna and six students in the apparel design and development program added some bling to the Minnesota State Fair this year.
Anita Sowle, an apparel design and development 2005 graduate, knew she needed help this summer to create, design and make western show and physique competition apparel. She contacted her alma mater seeking an intern.
After six apparel design and development students expressed interest and interviewed for the unpaid internship, she brought all six onboard to her companies Sparkle Ridge and Perfect Fit Gear.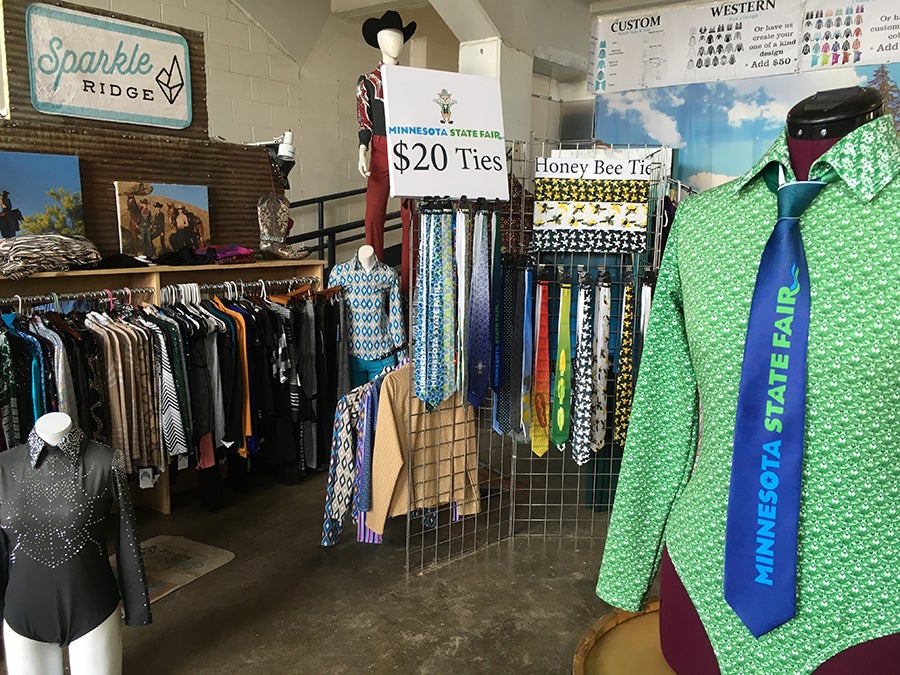 The students learned the steps of being a small business owner, Sowle said, while standing near her booth in the coliseum in late August during the Minnesota State Fair. "I wanted them to live the life of an independent designer. I made sure they took ownership of this internship. The students went from having an idea for a new product to developing and seeing it come to life."
The students learned about cutting patterns to order, how to put rhinestones on clothing, printing clothing designs and photo shoots to promote the clothing.
"I loved it," Sowle said of working with the students. "I had a blast with them. It was fun to have them around and talk apparel again."
Sowle, who runs her businesses with her husband, Riley, out of their home in Dayton, Minn., and home-schools her children, ages 6 and 3, made sure the internships were flexible to meet the students' needs. She also wanted to allow students the opportunity to experience a unique internship and experience a small apparel business serving two niche markets.
The student interns included: Jessica Cook, sophomore, Cadott; Brooklyn Haas, senior, Thorp; Stephanie Mathison, junior, St. Paul; Sonni Royal, junior, Tomah; Brandon Schmidt, junior, Cedarburg; and Pakou Vang, junior, Andover, Minn.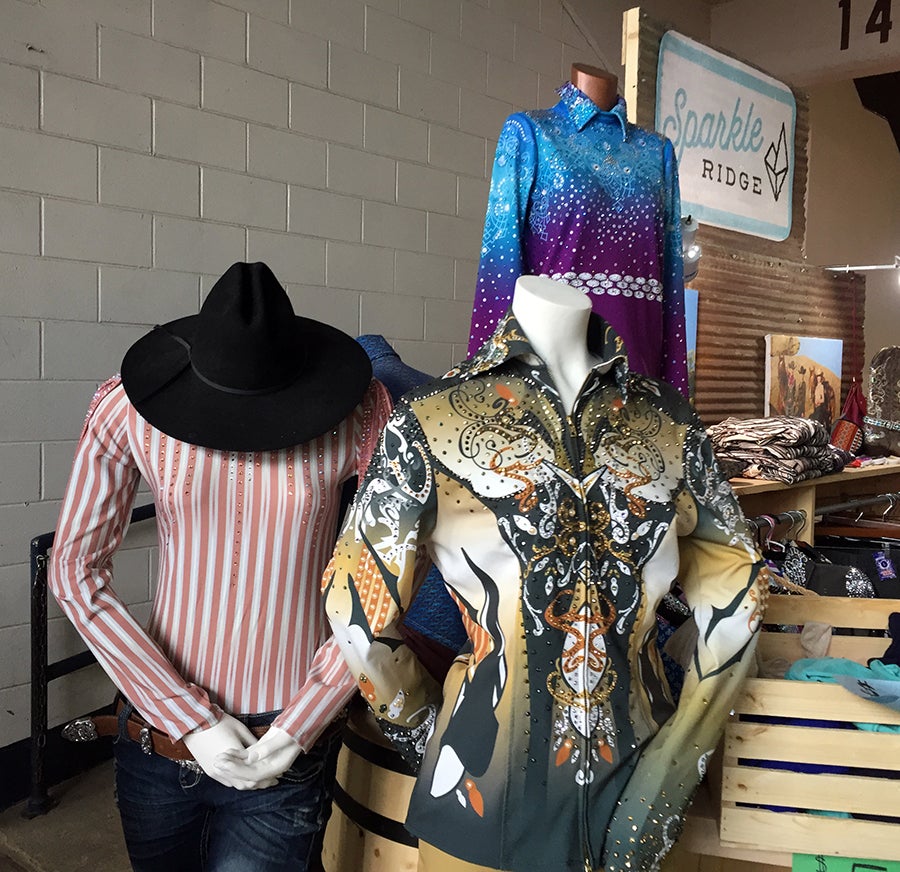 Haas said she learned a lot. "I enjoyed learning how Sparkle Ridge is developing their small company to become wholesale," Haas said. "It was beneficial to learn more about managing and owning a business, which is something I had never experienced before."
Haas designed a tie that was one of the biggest sellers at the fair booth. It had two yellow ducks and a gray duck, a nod to a game played by Minnesotans called "duck, duck, gray duck."
She also designed a tie with a corn dog on it and another with mini-doughnuts, two fair food staples. "One of the highlights for me was seeing someone purchase one of the ties I designed," she said.
Royal learned how to put rhinestones on clothing and how a press worked to make a design. "We had creative freedom," Royal said. "I enjoyed the internship. I can't stress enough how much I adored Anita. She's a great person. I feel very grateful to have had the opportunity and pleasure of working with her."
Sowle started Perfect Fit Gear in 2008, creating custom physique competition suits. Growing up with horses and being a barrel racer, Sowle also had an interest in western performance apparel and started Sparkle Ridge about two years ago.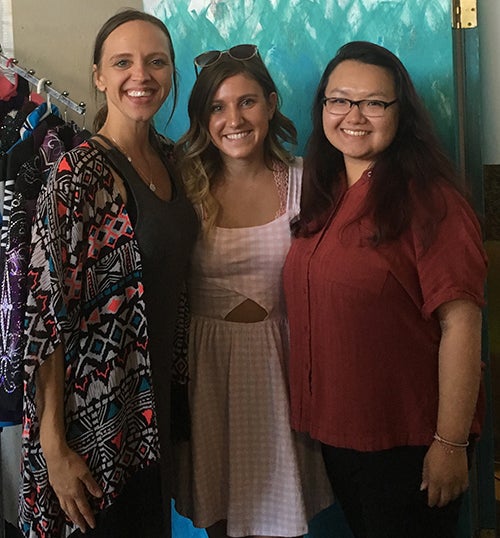 She creates the custom designs for the western wear on a computer and then puts the designs on a sublimation printer that she is then able to transfer to white fabric. A seamstress sews the shirts, jackets or vests, and then Sowle adds rhinestones to add sparkle.
"I look at trends," she said. "I look at to breed shows, who is showing, who is winning and what they are wearing."
Growing up in Brooten, Minn., Sowle wasn't sure what career she wanted. After going to Southwest Minnesota State University for two years, she transferred to UW-Stout.
In addition to the fair, Sowle also has a booth at the Minnesota Horse Expo, an equine trade show and breed exhibition at the Minnesota State Fairgrounds.
Sowle credits UW-Stout with helping her to find here career and preparing her to start her businesses.
"I was a unique person in high school," she said. "Stout is a unique college that is amazing and prepares you for an amazing career. Because of the unique college, I got a unique career."
UW-Stout is Wisconsin's Polytechnic University, with a focus on applied learning, collaboration with business and industry, and career outcomes.
###
Photos
One of the creations were custom ties sold at the fair.
Westen clothing designed by Sparkle Ridge.
Sowle, at left, with interns Brooklyn Haas, in center, and Pakou Vang, stands in the Minnesota State Fair booth.