Nilu Umarova is a hotel, restaurant and tourism management major from Tajikistan. Three years ago, she was an exchange student at Menomonie High School through the World Heritage program. After being in the U.S. for a year, Umarova liked the educational opportunities open to her and wanted to pursue her degree at UW-Stout.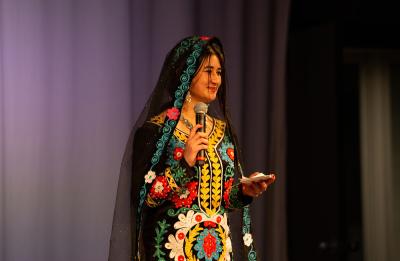 "I want to get a good education and a good job. It's very important to me. I knew Stout was a leader in innovative education with hands-on experiences," Umarova said.
The same quality education and opportunities are not available in Tajikistan. Seeing Umarova's drive to continue her education, UW-Stout's Glenda Jones, started a GoFundMe campaign for her travel and college fund.
"One of the biggest hurdles was simply getting the money for Nilu to travel back to the U.S. and register for her first semester," Jones said. "Most of the people who contributed had met Nilu while she attended Menomonie High. People in the community really love Nilu and want to see her successfully complete college and have a rewarding career.
But Umarova still needed financial aid. So, she applied for the International Student Tuition Scholarship.
"Without the scholarship, I would not be at Stout," she said.
In Tajikistan, Umarova was a youth activist, visiting schools and encouraging other young adults to volunteer around the country.
At UW-Stout, Umarova is a dedicated volunteer through her global involvement. She serves on Menomonie's Downtown Board and won a community award for helping with the 2019 Winter Daze parade. She also volunteers at Bridge to Hope, Stepping Stones, Lions Club, Rotary Club and the public library.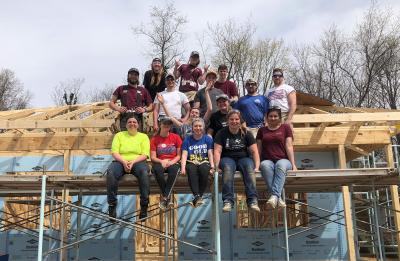 Umarova is president of UW-Stout's International Club, creating volunteer and cultural opportunities for her peers. She helps with new student orientation, Stout Career Services and UW-Stout's Habitat for Humanity student chapter. For spring break 2019, she traveled with 25 other students to North Carolina to help build homes after the hurricane.
"Just knowing that I am spending my break to help others and make a difference gave me a sense of purpose," Umarova said. "Every morning, we woke up really early and worked hard all day. It was challenging but being a part of a team and project that is greater than myself is the most awesome feeling. It taught me more about the importance of giving back."
This year Umarova will travel to Atlanta with Habitat for Humanity.
"Volunteering is my superpower," she said.
After graduation, Umarova hopes to get a job and gain more experience in her field. She thinks volunteering has prepared her to be a successful graduate.
"Volunteering is a great way for international students to learn the culture and gain new skills," Umarova said. "It can be an opportunity to learn something new and take it to the other side of the world."