Every spring, University of Wisconsin-Stout invites families, friends, students, alumni and the public to join in celebrating each other, the campus and the community.
However, in lieu of an in-person Family Weekend this year, a Virtual Family Day will be held on Saturday, April 10, as a way to keep connections strong and carry on the celebration.
"We're excited to connect with you virtually and look forward to the day when we can safely host families and guests in person again," said Involvement Coordinator Krista Proksch. "We invite you to register for events."
Contact the Involvement Center with questions at familyweekend@uwstout.edu.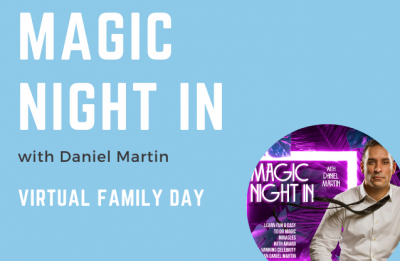 Virtual Family Day schedule
A number of virtual events are planned throughout the day, hosted by the university's Involvement Center. Past Family Weekend and student highlights will also be shared on the Family Day website for participants to enjoy at their leisure.
Past highlights
Families and friends can take time to explore compilations of past events and creative work over the past year, highlighting the talent of UW-Stout students.
Fashion Without Fabric

: An anchor event to Family Weekend each year, students from the School of Art and Design showcase their fashion works made of anything and everything but fabric. The university looks forward to being able to host this event again in person in the future.

4:51 Film Festival: Aspiring student filmmakers from across campus are invited to create a short cinematic adaptation of any published piece of literature. The films cannot be longer than 4 minutes and 51 seconds. "Best Of" videos from past film festivals will be shared on the Family Day website on Monday, April 5.

Band and Choir

: What happens when Wisconsin winter meets Brazilian Carnaval celebration, all during a pandemic? Brazilian artist Paulo Padilha's song, "Outro Carnaval," featured UW-Stout students and faculty playing alongside musicians in São Paulo.
The "Outro Carnaval" video is a collaboration between the Paulo Padila band in Sao Paolo, Brazil, and UW-Stout's choir and band programs.

/

Arts Midwest