Story by Audrey Tchaa, Arts Midwest contributing writer; Tchaa, of St. Paul, is a professional communication and emerging media senior at UW-Stout
Video production support by Jared Doran; Doran, of St. Paul, is a first-year computer science major at UW-Stout
What happens when Wisconsin winter meets Brazilian carnaval celebration, all during a pandemic? You get a new music video for Brazilian artist Paulo Padilha's song, "Outro Carnaval," featuring students and faculty at University of Wisconsin-Stout playing alongside musicians in São Paulo.
The "Outro Carnaval" video is a collaboration between the Paulo Padila band in Sao Paolo, Brazil, and UW-Stout's choir and band programs.

/

Arts Midwest
This unique collaboration started over a year ago, in fall 2019, when Padilha and his band first traveled through Menomonie and to UW-Stout as part of a touring program called World Fest. Run by regional arts organization Arts Midwest with support from the Wisconsin Arts Board, World Fest connects international musicians to Midwestern communities and fosters understanding and appreciation for global differences. 
During that tour, Padilha connected with UW-Stout music faculty members Jerry Hui (choir director) and Aaron Durst (band director). Working together, they enlisted UW-Stout choir and band students to perform at Padilha's concert at the Mabel Tainter Center for the Arts in Menomonie.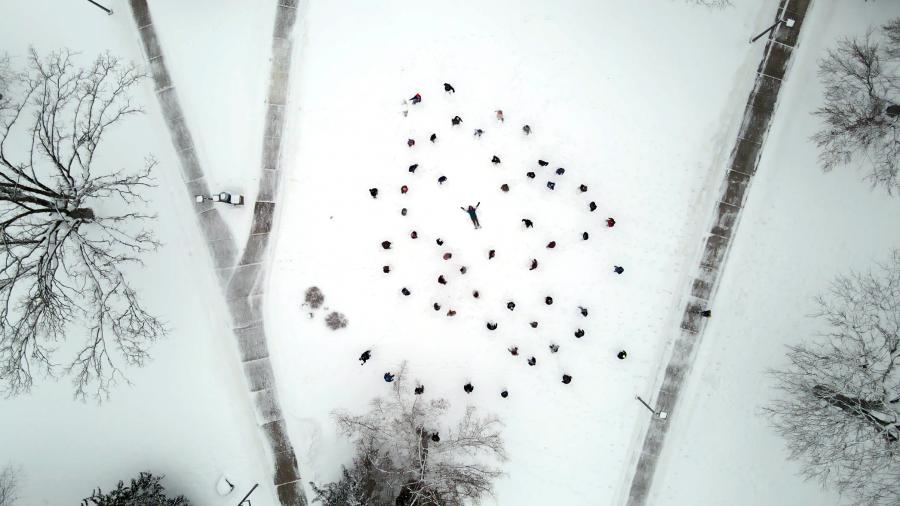 Padilha and his band had planned another World Fest tour for 2020, but as borders closed due to the COVID-19 pandemic, it was clear that the tour would need to move online. Padilha reconnected with Hui and Durst to see if they might be interested in collaborating virtually.
"It's lucky that we did have Paulo physically here back in September of 2019 when he visited Menomonie," said Hui.
Having already made this connection, Hui felt comfortable working with Padilha through the world's new virtual "normal." The professors proposed creating a music video for Padilha's song "Outro Carnaval."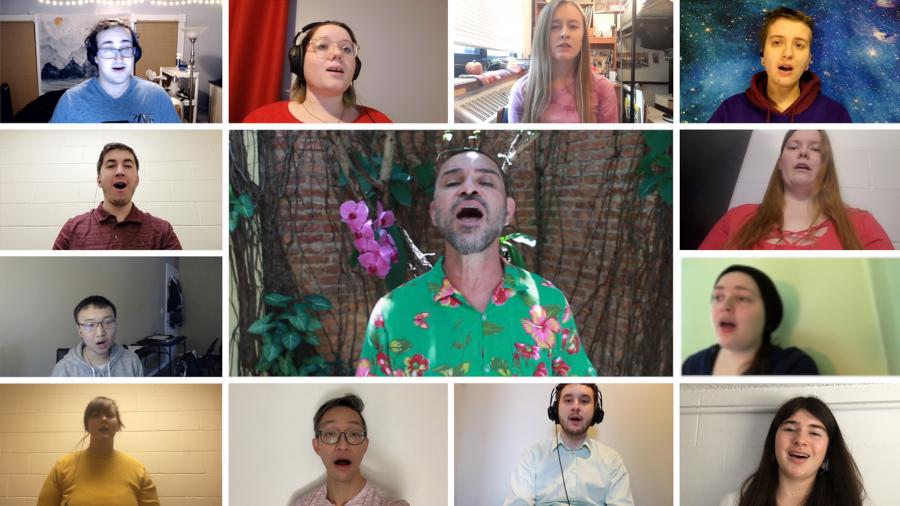 Carnaval is an annual Brazilian festival that marks the beginning of Lent. It brings together the country's varied cultural influences into two weeks full of parades, music and dancing. It's the most popular holiday in Brazil, and in pre-COVID times drew millions of people to the country. 
But  Padhila's "Outro Carnaval" is not a typical Brazilian carnaval song. Instead of the celebratory lyrics often associated with carnaval music, it highlights injustices that are currently taking place in Brazil. Padhila wrote the song after Brazil's former culture minister directly quoted Nazi Germany's propaganda chief Joseph Goebbels in a speech. The song's message speaks to Padilha's disagreement with the current Brazilian government and his dreams for the future.
 No, I'm not afraid of the darkness, I'm not
But I'm afraid of the clear disdain, that went beyond
No, I've already lived so many things in my life
But I don't remember of seeing the wound this way, so exposed
Lyrics from "Outro Carnaval"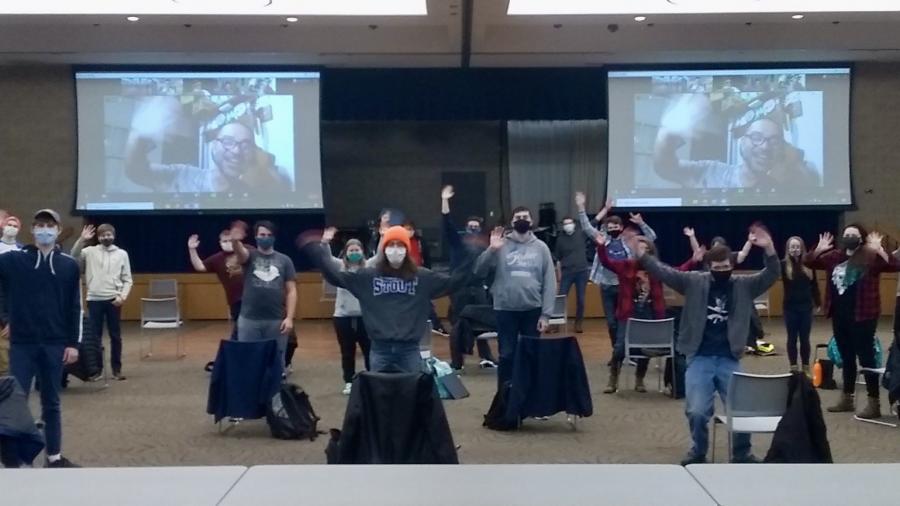 At 16,400 residents, Menomonie is a relatively small town, and some UW-Stout students come from even smaller ones. Durst and Hui agree that building connections with international musicians can expand students' perspectives and provide new insights into the lived experiences of people across the globe.
"If this was a university in a big city, we would have different groups coming in all the time, and there would be more opportunity to interact with global culture," Durst said. "Any time you get an opportunity like this, you should take it, grab it and experience it as much as you can."
Hui hopes that this experience will spark curiosity in students. "It's rare that we get to directly interact and collaborate with musicians internationally like this. You never know where these connections can take you."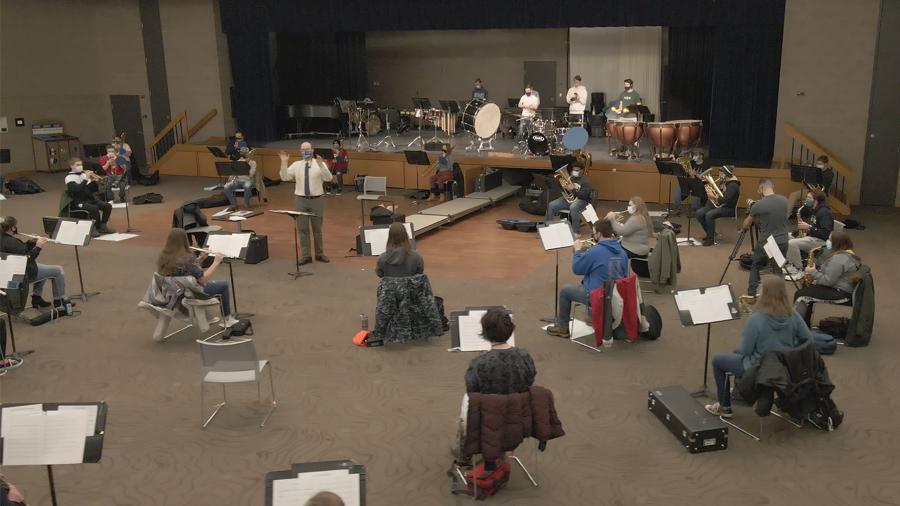 Virtual collaboration and new ways of rehearsing posed challenges. "At times, it was difficult and frustrating because of the distance," said Durst. They adapted, writing new arrangements for their students and testing new ways to produce a socially distanced performance.
According to students in the Symphonic Band and Symphonic Singers, the project was both challenging and fun. Having connected with Padilha in the past, they were excited to work with him again.
Dannica Borchardt, a singer and hospitality and tourism student, finds value in learning with Padilha and experiencing new music. "I've never had the opportunity to make international connections, especially through choir, which is something I've done for most of my life," Borchardt said.
Clarinetist and science education student Megan Klaver said, "We got to try different (ways) of rehearsing and recording that we had never done before. A couple of semesters ago, Paulo came to UW-Stout, and we all sang and played together; it was a great example of unity. Even now, thousands of miles away, we (still) glimpsed that kind of unity."
In the future, Padilha hopes to work on more collaborative projects throughout the U.S. and other countries. "It's not just about music," Padilha said. "It's about making connections too."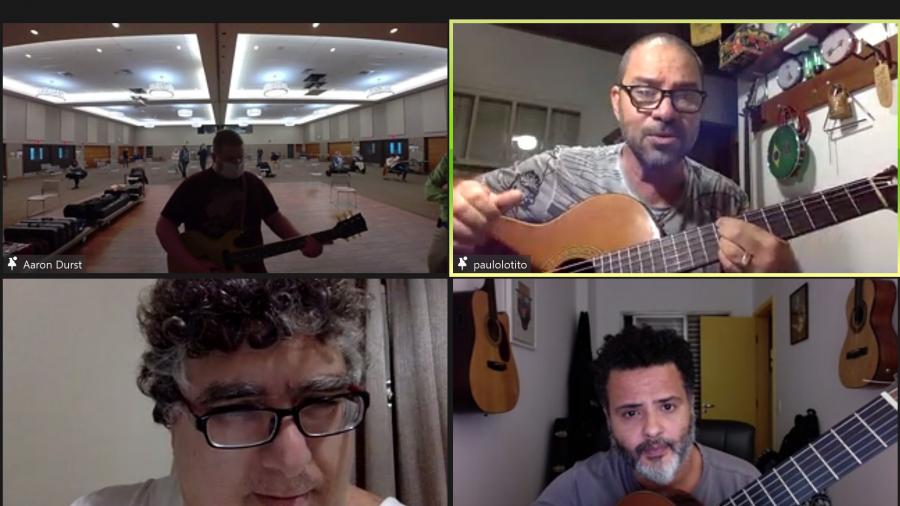 A program of Arts Midwest, the 2019–2021 World Fest cycle is generously supported by the Wisconsin Arts Board, the National Endowment for the Arts, 3Mgives, the Kaufman Family Fund for Israeli Cultural Exchange, the Japan Foundation through the Performing Arts JAPAN program, and BNSF Railway Foundation. Additional support is provided by the Ministry of Culture of the People's Republic of China for Choor.
###