A Brazilian music ensemble will help raise cultural awareness at University of Wisconsin-Stout and in Menomonie.
Paulo Padilha and Bando, a musical ensemble from Sao Paulo, Brazil, will host a question and answer session at Huff's Lounge in the lower levels of the Memorial Student Center from 2 to 3:15 p.m., on Monday, Sept. 30, as part of a cultural exchange.
The band will perform from 12:30 to 2 p.m. on Tuesday, Oct. 1, at Huff's Lounge. The ensemble will also meet with UW-Stout choir and band members while on campus.
The event is sponsored by the Diversity Bridge Team and the student-run SPEAK UP — Social Justice Programming for Engagement, Action, Knowledge and Understanding People.
Known for his humorous lyrics and nimble guitar playing, Paulo Padilha has produced a number of albums, including one entitled, "In the Dollar Store I Feel Like a Millionaire." The group includes accomplished musicians Leonardo Mendes on guitar, Sambo Sam, Dani Fried and Andre Magalhaez on percussion.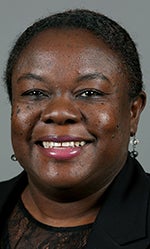 "Music is a good way to connect people," said Lystra Yates, a UW-Stout Intercultural Development ambassador. "Padilha has an educational background, so when he performs, he teaches about Brazil, the culture and music. I'm excited because it really lends itself to the intercultural development work being done on campus, by bringing cultural experiences to faculty, staff and students. Having the band perform affords us yet another opportunity to broaden the global perspective of our faculty, staff and students."
The ensemble will perform at the Mabel Tainter Center for the Arts for A Night at the Mabel Tainter in Menomonie on Saturday, Oct. 5. The fundraising event includes a 6 p.m. social hour, 7 p.m. live auction and a performance at 8 p.m. Learn more at the Mabel Tainter website.
"This year, with the purchase of a ticket to our Night at the Mabel fundraiser, your ticket also helps cover the cost of a ticket for someone in our community who might otherwise not be able to afford to attend a performance at the Mabel come and experience this amazing Brazilian ensemble. Helping the Mabel and helping others experience this amazing cultural ensemble — it's a win-win,"  said Andrew Mercil, Mabel Tainter Board president and a UW-Stout degree audit coordinator.
Paulo Padilha and Bando is part of 2019-21 Arts Midwest World Fest with Arts Midwest, one of six regional arts organizations in the U.S. During the two-year partnership, four international ensembles will visit Menomonie for weeklong musical residencies. The others will be from China, Japan and Israel.
Yates said UW-Stout will partner to bring in more cultural opportunities through the residencies.
Arts Midwest partners with program sponsors like the National Endowment for the Arts and 3Mgives to cover a substantial portion of the program cost so that communities throughout the Midwest can experience other cultures. Menomonie is one of nine cities to host the 2019-21 Arts Midwest World Fest and the only partner community in Wisconsin.
"Arts Midwest's goal is to make meaningful and lasting impressions on the communities that host this program, said Torrie Allen, president and chief executive officer. "We think visits by these wonderful international artists for weeklong residencies offer communities special opportunity to experience this music and culture.
"The residencies provide more opportunities for the ensemble and community members to connect with each other whether through workshops in schools, concerts in the greater community or through social gatherings. We want this to be a rich experience for the entire community," Allen said.
Arts Midwest support comes from many organizations, including the Wisconsin Arts Board.
###
Photos
Lystra Yates