The University of Wisconsin-Stout fall semester Digital Cinema Studio class will present an evening of short films at 6 p.m. on Tuesday, Dec. 18, in the Unspooled Film Festival.
The festival, in room 210 of Applied Arts, 415 13th Ave. E., is free and open to the public. Parking in UW-Stout lots is free after 4 p.m.
Films will emphasize fantasy, the unusual and the bizarre. The class is made up mostly of entertainment design majors, with a concentration in digital cinema.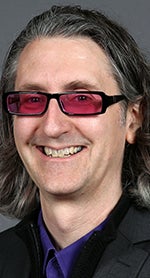 "The ambitious films pull out all the stops and feature everything from Super 8 film to drone photography to miniatures and loads of visual effects," said Michael Heagle, an assistant professor in time-based media. "This is the first semester I've taught the course, and I was looking for a way to up the stakes."
Showing their films in front of an audience of strangers on a large screen, with big sound is a different experience for students, Heagle noted. "Here the enthusiasm of the audience affirms their efforts. They find out whether the joke worked, or the audience shifted in their seats. It's a great way to get the finished product in front of a set of fresh eyes and see if their storytelling worked."
Some films are about a minute, others are up to 10 minutes, Heagle said. "They run the gamut from tone poems and environmental studies to elaborate mock documentaries and horror tales," he noted.
Connor Clark, a senior, is one of 14 students participating. His film "Seasons" is three minutes long.
"I wanted to film the changing of the season from fall to winter in the Midwest," said Clark, of Pine City, Minn. "It has lots of drone and time-lapse footage." The film is mainly cinematic, with an orchestral instrumentation, he noted.
"I've always done landscape videography and photography. I have strong roots here in the Midwest. I love showing the beauty of it," he said.
Clark is looking forward to sharing the film with an audience. "For me it's really exciting," he said. "We rarely get the opportunity to sit in the same room with multiple people seeing our film for the first time. I want them to enjoy what they are seeing and share a three-minute journey."
Clark hopes viewers will recognize the complexity of the work and the efforts that went into getting some of the shots, including drone footage taken during a snow storm.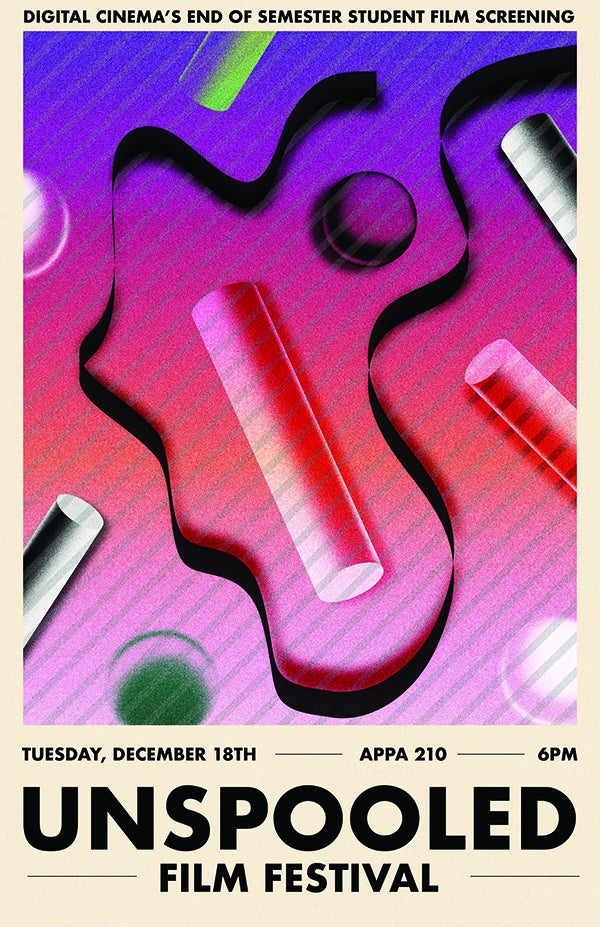 Other participants in the festival include:
"Spin," a surreal space opera, by Master of Fine Arts in design student Johnny Wheeler, Kohler

"Sasquatter," which asks the question, "What if Bigfoot was Your Neighbor?" Ashley Barningham, senior, Bristol

"Operation," three surgeons take their jobs very seriously in the operation room, Barningham
"Seasons," a film showcasing the beauty of nature, Connor Clark, Pine City, Minn.
"The Science of Pink," a colorful study of pink, Amanda Schroeder, Menomonie
"Into the Painted Grey," a showcase of winter in the area, Brendan Stave, Minneapolis
"Kwik Trip," a family tragedy helps explain why a young man's world revolves around a convenience store, Ahron Turk, Richland Center
"Somewhere, Nowhere," captures the stillness of small-town America, Nate Vrieze, Mantorville, Minn.

"No Further Comment," a reporter investigates some super beings, Zach Crotty, junior, Chippewa Falls

"Dog Boy," a student is haunted by a mysterious creature in her basement, Lorelei Jilek, sophomore, Rice Lake

"The Mirror," a young woman discovers a mirror with a dark past, Bridget Pionkowski, sophomore, Amherst

"Session 4," the adventure is beginning for a group of role-playing gamers, Zachery Porter, junior, Appleton

"Unwritten Problem," writer's block hits hard for a young man, Conor Quinn, junior, Minneapolis

"Watch at Your Own Risk," a young woman finds herself in a videotape full of MTV-era music videos, Frances Martin, senior, Bancroft.
Along with digital cinema, the Bachelor of Fine Arts program in entertainment design includes concentrations in animation; and in comics and sequential art.
UW-Stout is Wisconsin's Polytechnic University, with a focus on applied learning, collaboration with business and industry, and career outcomes.
###
Photos
Michael Heagle
The film festival will feature fantasy and unusual student films.